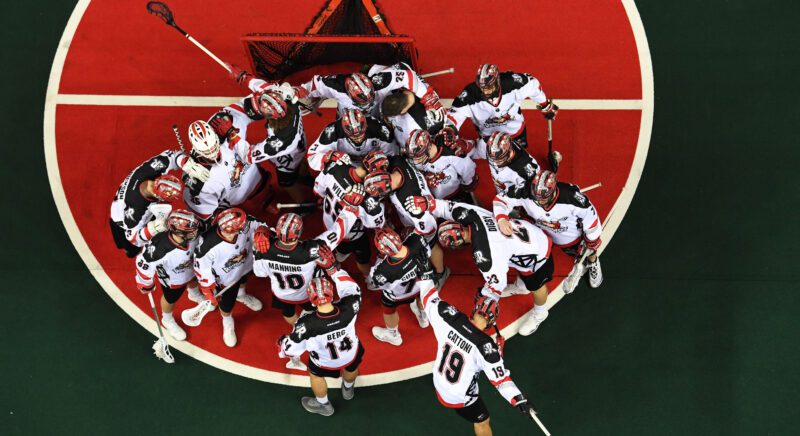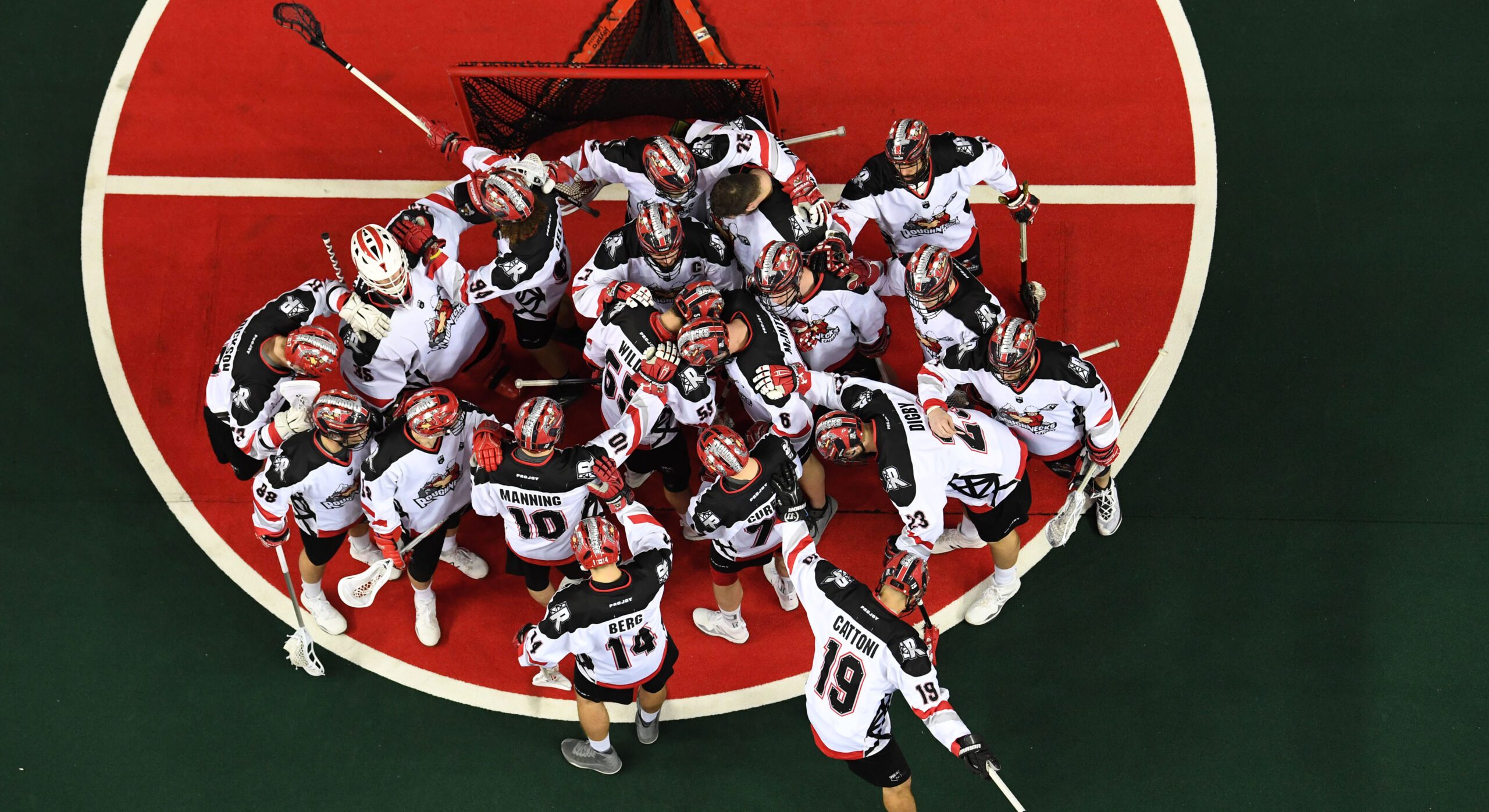 The Calgary Roughnecks are back on home turf tonight for Fan Appreciation Night, presented by Vision Travel, to face the Buffalo Bandits. Game time is 7:00 p.m. MT with $5 Rough House food and beverage specials beginning at 5:30 p.m. The Roughnecks will be donating the proceeds from tonight's 50/50 draw to help those affected by the Humboldt Broncos tragedy. Calgary is coming off last Sunday's 13-12 overtime upset against the New England Black Wolves. Early on, the teams kept it close, the Roughnecks with a 6-5 advantage heading into the halftime break. Stephan Leblanc netted a goal for New England just seven seconds left in regulation to force the game into overtime. Black Wolves forward Johnny Powless scored the overtime winner 47 seconds into the extra session. Wesley Berg (3g, 5a) led the Roughnecks with eight points while Dane Dobbie was next with seven and Holden Cattoni tallied five, all scoring a trio of goals for the visiting team. The Buffalo Bandits last saw action on Saturday, Apr. 7 when they defeated the New England Black Wolves 14-11. The Bandits have won six of their last ten games and are on a two-game winning streak.
NOTEWORTHY
BUFFALO: Tonight is the final of two regular season match-ups between the Roughnecks and the Buffalo Bandits. In their last meeting, the Bandits jumped out to an early lead with a five goal first quarter that proved too much for the Roughnecks to overcome. Buffalo snapped a two-game slide and improved to .500 on the season.
2018 Regular Season Series Recap
Jan. 6/18 at BUF: CGY 8 BUF 13 … The Bandits built quarter leads over the Roughnecks en route to a 13-8 victory at the Keybank Center. Buffalo received five-point efforts from Callum Crawford (4g, 1a), Jordan Durston (3g, 2a) and Dhane Smith (2g, 3a). Curtis Dickson recorded four goals while alternate captain Dane Dobbie followed with a pair of markers and one helper.
Shots on Goal: CGY 52 BUF 51
Power Plays: CGY 2-4 (50.00%) BUF 1-2 (50.00%)
All-Time Regular Season Records
All-Time vs. BUF: 5-7
All-Time at CGY: 4-4
All-Time at BUF: 1-3
Last CGY Win: Apr. 8/17, 13-8 at the Scotiabank Saddledome
Last BUF Win: Jan. 6/18, 13-8 at KeyBank Center
HEAD-TO-HEAD: 2017-18 REGULAR SEASON
| | | |
| --- | --- | --- |
| Category | Calgary (6-9) | Buffalo (8-7) |
| Home Record | 4-4 | 4-3 |
| Away Record | 2-5 | 4-4 |
| Goals For | 175 | 199 |
| Goals Against | 180 | 193 |
| Shots on goal | 799 | 844 |
| Power Play Pct. | 46.2 | 54.9 |
| Penalty Kill Pct. | 52.4 | 45.1 |
| Faceoff Pct. | 55.4 | 46.3 |
| Loose Balls | 1133 | 1221 |
| Points Leader – Season | Wesley Berg (68) | Dhane Smith (91) |
PLAYOFF BOUND: With Calgary's 13-9 victory over the Vancouver Stealth last Saturday at the Langley Events Centre, the Roughnecks have clinched a playoff spot in the West Division. Since their establishment, the Calgary Roughnecks have advanced to the post-season 15 out of 17 seasons.
ROUGHNECKS IN THE NLL TOP 10: Christian Del Bianco tops the NLL with a 0.795 save percentage and is second in the league with a 10.55 goals against average…Dane Dobbie is third in the NLL for penalty minutes with 40 and is tied for third with 12 power play goals…Wesley Berg is tied for seventh in the NLL with ten power play goals and is tied for eighth in power play assists with 13… Curtis Dickson is tied for first in the NLL with three shorthanded goals and is tied for tenth in power play assists with 12. He tops the league with 252 shots and with 65 turnovers and is third in the NLL in goals scored with 38… Tyler Pace is sixth in rookie scoring and is fourth in defence scoring with 19… Zach Currier tops the NLL for loose balls with 161 and is fifth in caused turnovers with 26.
ROUGHNECKS MONTH-BY-MONTH: December (1-2), January (0-3), February (3-1), March (2-2), April (0-1).
COACH'S CORNER: Assistant general manager and head coach Curt Malawsky is the winningest coach in franchise history with 50 victories. He passed Chris Hall's mark of 46 in the team's triumph over Colorado on Feb. 10. Malawsky was first-named to the job in August of 2012.
SPECIAL TEAMS WATCH: Calgary's power play is fifth in the NLL at 46.15%. The penalty kill is fourth in the league at 51.61%. Since Mar. 24, the Roughnecks have improved their penalty kill ranking from ninth in the league to fourth.
ROSTER MOVES: Mar. 22 – The Roughnecks have released Steph Charbonneau from the Practice Player List.
COMMUNITY SUPPORT: On Wednesday, the Calgary Roughnecks proudly announced that with their partnership with Cedarglen Living, the St. Patrick's Day-themed jersey auction, held at ElevateAuctions.com, raised $11,000.00 for the Alberta Children's Hospital Foundation. The Roughnecks donated $5,500, which was matched by Cedarglen Living. The limited-edition jersey was true to the original jersey design, but featured a distinct Irish flare with the caricature's outfit in the logo, the font of the name bars and shamrocks on the shoulders. This unique jersey made its one and only appearance of the 2018 National Lacrosse League season on March 17 when the Roughnecks hosted the Rochester Knighthawks in the team's first St. Patrick's Day Party presented by Cedarglen Living.
THE ROAD AHEAD: Following tonight's game, the Roughnecks head out on the road for their final two match-ups of the regular season. They will visit the Vancouver Stealth at the Langley Events Centre on Apr. 21 and on Apr. 28 will travel to the Sasktel Centre to battle the Saskatchewan Rush.
RECORD WHEN:
Leading at halftime …… 4-2 Outshooting opponent .…… 2-5
Trailing at halftime ……. 2-5 Outshot by opponent …..….. 4-4
Tied at halftime …….…. 0-2 Shots are tied ……..………… 0-0
UPCOMING GAMES
All times in MT. Schedule subject to change.
DATE
OPPONENT
TIME
BROADCAST
Apr. 21

Apr. 28

vs. Vancouver

vs. Saskatchewan

8:00 p.m.

7:00 p.m.

NLL TV

NLL TV