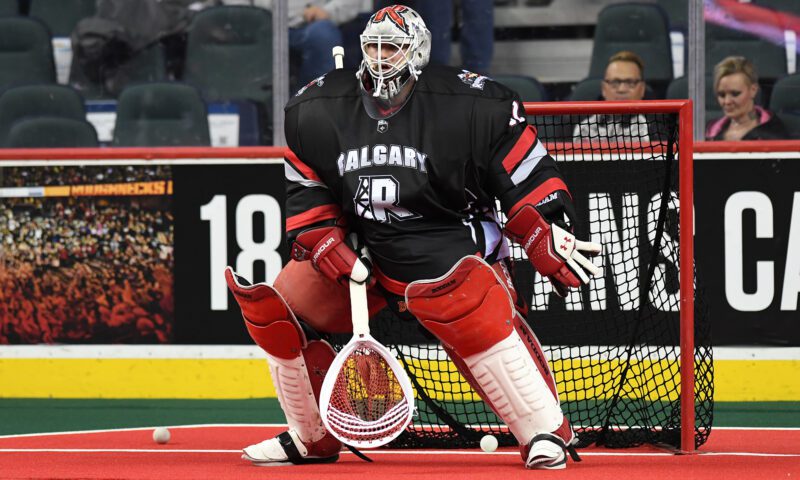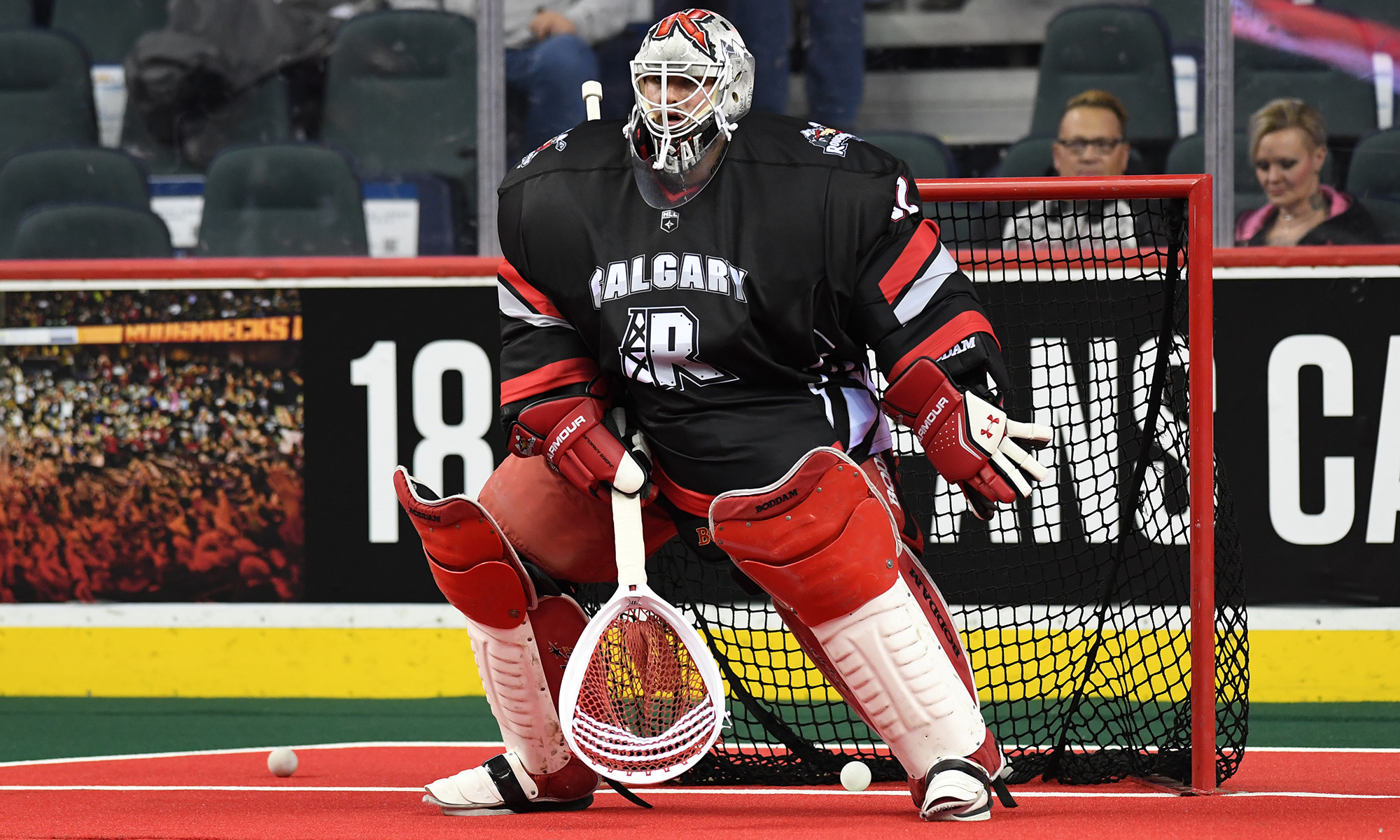 The Calgary Roughnecks open their 2017-18 regular season home schedule tonight when the Vancouver Stealth visit the Scotiabank Saddledome. New this year, the party in the Rough House begins with a $5 Happy Hour featuring food and beverage specials on the concourse. The $5 menu will run from 5:30 – 7:00 p.m. during all nine weekend home games. The Riggers will look to rebound following their 17-6 season-opening setback last Saturday in Rochester. An eight-goal second quarter powered the home side as Dan Dawson (3g, 3a) and former Roughneck Joe Resetarits (2g, 4a) finished the contest with six-point efforts. Captain Dan MacRae, Holden Cattoni, rookie Zach Currier, Greg Harnett, Curtis Manning and Riley Loewen each put one by Knighthawks goaltender Matt Vinc who made 40 saves to earn the game's first star. The Roughnecks' six-goal production tied a franchise low last set on March 14, 2008, in an 11-6 loss to the Colorado Mammoth.
VS. VANCOUVER: Tonight marks the first of four meetings between the Roughnecks and Stealth. Last season the two West Division rivals met four times with Vancouver picking up three wins in the series. Pre-season action ahead of the 2017-18 campaign saw the two clubs faceoff at the Scotiabank Saddledome on Nov. 18. Calgary earned a decisive 13-5 victory in the exhibition contest that was played in front of 12,857 fans. Next regular season meeting: Friday, Feb. 16 at 7:00 p.m., in Calgary.

2017 Regular Season Head-to-Head
| | | |
| --- | --- | --- |
| Category | Roughnecks (8-10) | Stealth (9-9) |
| | | |
| | | |
| | | |
| | | |
| | | |
| | | |
| | | |
| | | |
| | | |
2017 Regular Season Series Recap
Jan. 6/17 at CGY
: VAN 12 CGY 11 … The Roughnecks scored the game's final four goals but were unable to find the equalizer. Curtis Dickson led the Riggers with five points (1g, 4a) while Corey Small had a game-high eight points (3g, 5a) for the Stealth.
Jan. 14/17 at VAN
: CGY 14 VAN 10 … Calgary came out firing, producing a six-goal first quarter en route to a 9-5 halftime lead. Strong first-half performances from Curtis Dickson (4g) and Jeff Shattler (2g, 3a) carried into the third quarter as Calgary's scoring attack found the back of the net four more times.
Feb. 18/17 at CGY
: VAN 13 CGY 10 … Vancouver jumped out to an early 5-0 advantage and was ahead by a 10-4 margin at the halftime break. The Roughnecks began to narrow the deficit with a four-goal run that spanned the third and fourth quarters, but a pair of goals by Logan Schuss helped to secure the victory for the Stealth.
Apr. 15/17 at VAN: VAN 15 CGY 11 … A tight start had the clubs deadlocked at three apiece after 15 minutes. Curtis Dickson shined in the second quarter, rattling off a trio of markers to become the first player to hit 50 goals this season. Vancouver's offensive pushed in the final frame to register six goals while the Roughnecks responded with two.
Shots on Goal: CGY 195 VAN 206
Power Plays: CGY 7-19 (36.8%) VAN 10-25 (40.0%)
All-Time Regular Season Records

All-Time vs. VAN: 25-20
All-Time at CGY: 9-12
All-Time at VAN: 16-8
Last CGY Win: Jan. 14/17, 14-10 at the Langley Events Centre
Last VAN Win: Apr. 15/17, 15-11 at the Langley Events Centre
ALL-TIME IN HOME OPENERS: In their previous 16 home openers, the Roughnecks have a combined record of six wins and 10 losses. Tonight marks the sixth time Calgary has faced the Stealth in a home opener. The five previous meetings were: Jan.7/05 (12-10 L), Jan. 12/07 (17-16 OTL), Jan. 12/08 (13-12 L), Jan. 3/15 18-14 L and Jan. 6/17 (12-11 L).
NLL DEBUTS: Defencemen/transition players Zach Currier and Tyler Pace hit the turf in their first NLL game on Dec. 9 against Rochester. Currier, Calgary's third overall pick in 2017, recorded his first career goal in the contest and collected eight loose balls. Pace, selected by the Roughnecks ninth overall in 2017, registered five loose balls.
TRADE WINDS: Dec. 7 – Roughnecks acquired a fifth-round pick in the 2018 NLL Draft from the Buffalo Bandits in exchange for 25-year-old forward Vaughn Harris. Calgary selected Harris in the second round, 15th overall, in 2016. He suited up for two games with the Riggers last season.
LEADER OF THE PACK: Defender and transition player Dan MacRae wear the 'C' for the 2017-18 season. He succeeds Bruce Alexander (2002), Tracey Kelusky (2003-10), Andrew McBride (2011-15) and Mike Carnegie (2016-17) as captain. MacRae, who served as alternate captain from 2016-17, has spent his entire playing career with the Roughnecks. The Oakville, Ontario, native has appeared in 110 career games, recording 80 points (18 goals, 62 assists), 119 caused turnovers and 523 loose balls during that span. Calgary selected the 29-year-old defender in the first round, sixth overall, in 2010. This summer he completed his first season as head coach of the OLA Jr. A's Burlington Chiefs.
A TEAM: Defenceman Greg Harnett and forward Dane Dobbie return as alternate captains for the 2017-18 season while forward Curtis Dickson will don an 'A' for the first time this campaign. Dobbie, the franchise's all-time goals leader (335), is playing in his 11th season with Calgary. The 27-year-old Harnett is beginning season seven with the Riggers. For Dickson, the 2011 NLL Rookie of the Year, 2017-18 marks campaign eight in Calgary.
DID YOU KNOW?: Roughnecks video coach Shawn Cable was recognized in Avenue Calgary's Top 40 Under 40. Cable, named to the honourable list of educators, innovators and entrepreneurs in October 2017, played four of his seven NLL seasons with the Roughnecks. He is the founder and directory of Re-Matt Inc., Alberta's first and only mattress recycling company.
RECORD WHEN
:
Leading at halftime ……0-0 Outshooting opponent .……0-0
Trailing at halftime …….0-1 Outshot by opponent …..…..0-1
Tied at halftime …….….0-0 Shots are tied ……..…………0-0
ROUGHNECKS MONTH-BY-MONTH: December (0-1).
ROUGHNECKS VS.: (BUF 0-0), (COL 0-0), (GA 0-0), (NE 0-0), (ROC 0-1), (SAS 0-0), (TOR 0-0), (VAN 0-0).
HOW THE 2017-18 ROUGHNECKS WERE BUILT (20):
NLL Draft (15): Bell, Berg, Cattoni, Cummings, Currier*, Del Bianco, Dickson, Dobbie, Harnett, Kalinich*, MacRae, Manning, McIntosh, Pace*, Scigliano
Trade (4): Digby, Loewen, Reid, Wilde
Free Agent (1): Carnegie