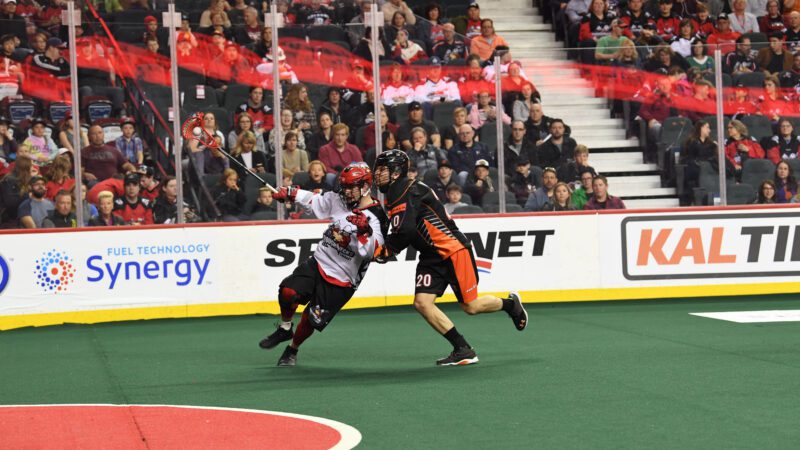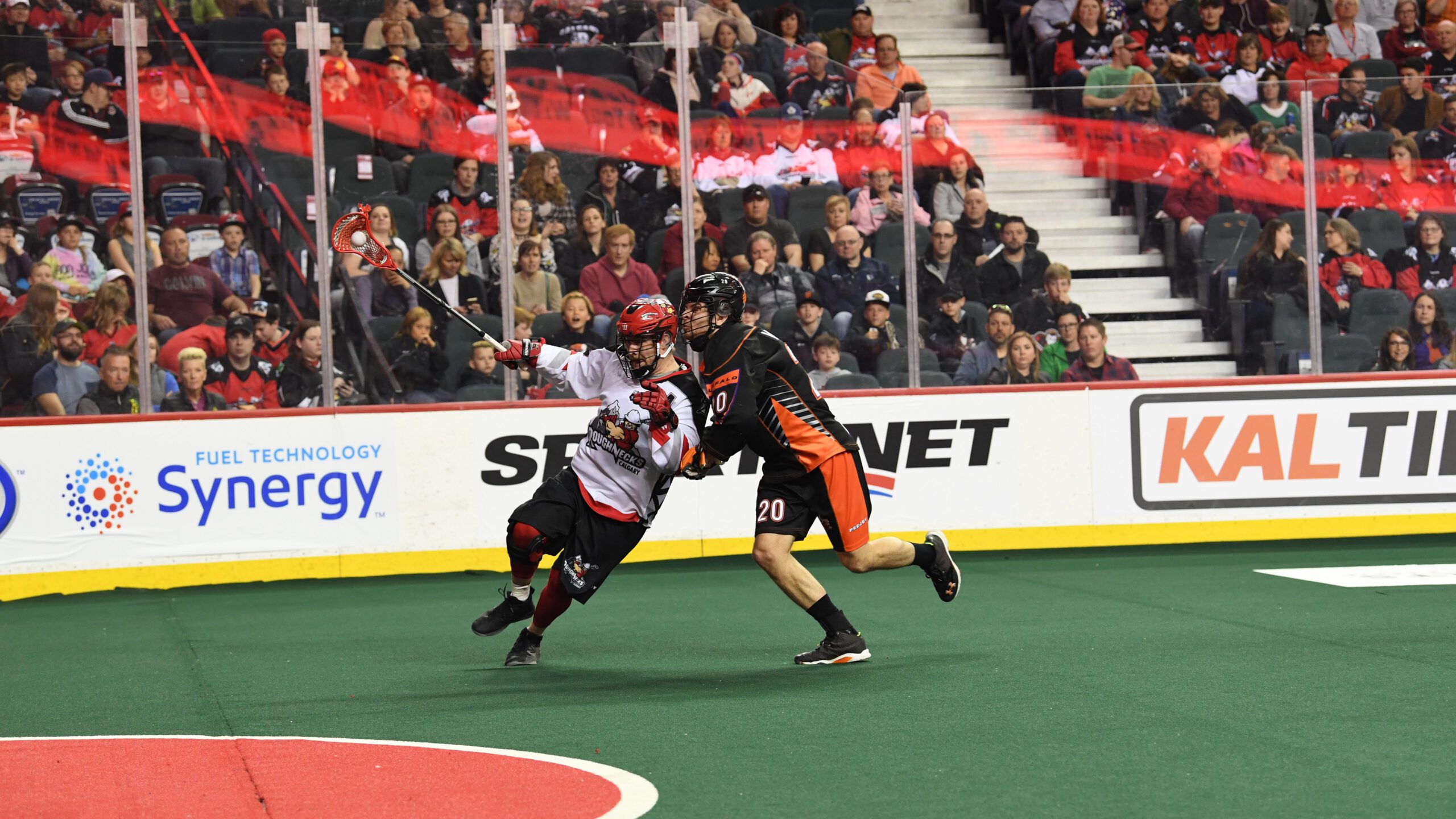 RIGGER RAMBLINGS: The Calgary Roughnecks are visiting Buffalo's KeyBank Center this evening for a 5:30 p.m. MT match-up against the Bandits. The contest marks the Roughnecks' second East Division battle after facing the New England Blackwolves on Jan. 12. Calgary was last in action on Feb. 9 when they strung together three five-goal quarters to overcome the Rush 17-12 at the SaskTel Centre. Saskatchewan jumped out to an early 5-2 lead but the Riggers regrouped and rallied passed the home team adding 15 goals to secure back-to-back wins. Three Roughnecks tallied four markers in the road win including Tyler Pace (4g, 3a), Curtis Dickson (4g, 7a), with a game leading 11 points, and Dane Dobbie (4g, 6a). Dobbie's 10-point effort pushed him passed the 800 NLL career point milestone marker. Four different players had a four-point showing with Robert Church and former 'Neck Jeff Shattler posting three goals and an assist each while Ryan Keenan and Mark Matthews rounded out the scoring. The Bandits, who are on a three-game winning streak, are coming off last Saturday's 19-9 road victory over the Georgia Swarm.
BUFFALO: Tonight marks the one and only regular season meeting between the Roughnecks and Bandits. The 2017-18 NLL season was the first time the two rivals met twice during the regular season since the 2003 campaign. The series was split 1-1 with Buffalo taking game one on Jan. 6 at the KeyBank Center while Calgary dominated the Bandits in their rematch on Apr. 14 at home. Each contest between the two teams since Apr. 8, 2017 has seen at least a five-goal differential.
2017-18 Regular Season Series Recap
Jan. 6/18 at BUF: BUF 13 CGY 8… The Bandits built quarter leads over the Roughnecks en route to a 13-8 victory.
Apr. 14/18 at CGY: CGY 16 BUF 9… The Roughnecks dominate the second half with a ten-goal run to bury bandits.
Shots on Goal: CGY 108 BUF 105
Power Plays: CGY 3-10 (30.0%) BUF 5-9 (55.6%)
All-Time Regular Season Records
All-Time vs. BUF: 6-7
All-Time at CGY: 5-4
All-Time at BUF: 1-3
Last CGY Win: Apr. 14/18, 16-9 at the Scotiabank Saddledome
Last BUF Win: Jan. 6/18, 13-8 at KeyBank Center
HEAD-TO-HEAD: 2018-19 REGULAR SEASON
| | | |
| --- | --- | --- |
| Category | Roughnecks (5-4) | Buffalo (7-2) |
| Home Record | 2-2 | 4-1 |
| Away Record | 3-2 | 3-1 |
| Goals For | 98 | 134 |
| Goals Against | 95 | 100 |
| Power Play Pct. | 40.91 | 52.94 |
| Penalty Kill Pct. | 63.41 | 60.53 |
| Faceoffs Pct. | 54.3 (125-230) | 40.9 (110-269) |
| Loose Balls | 648 | 657 |
| Points Leader – Season | Dane Dobbie (52) | Shawn Evans (61) |
ROUGHNECKS MONTH-BY-MONTH: December (2-1), January (1-3), February (2-0).
ROUGHNECKS VS.: (BUF 0-0), (COL 1-1), (GA 0-0), (NE 0-1), (PHI 0-0), (ROC 0-0), (SD 1-1), (SAS 1-0), (TOR 0-0), (VAN 2-1).
RECORD WHEN:
Leading at halftime …… 0-1 Outshooting opponent .…… 3-2
Trailing at halftime ……. 2-3 Outshot by opponent …..….. 2-2
Tied at halftime …….…. 3-0 Shots are tied ……..………… 0-0
SPECIAL TEAMS WATCH: Calgary's power play is eighth in the NLL at 40.91% while the penalty kill is second in the league at 63.41%.
ROUGHNECKS VS. DIVISION: West (5-3), East (0-1).
WE MEET AGAIN: Forward Shawn Evans, who currently leads the league in points with 61, spent four seasons with the Roughnecks from 2012-2015. While in Calgary, Evans amassed 426 points (137g, 289a) in 68 games.
ROUGHNECKS IN THE NLL TOP 10: Dane Dobbie tops the NLL with 146 shots and 109 shots on goal. He is fifth in the league with 52 points with 22 goals (tied for second) and 30 assists (tied for fifth). The forward is third in power play goals with seven and is second in turnovers with 39…Rhys Duch is tied for seventh in the NLL with 27 assists. He is tied for eighth for power play goals with four and for power play assists with seven… Greg Harnett is tied for seventh with 15 penalty minutes… Zach Currier tops the league with 21 caused turnovers while his 90 loose balls puts him at second… Dan MacRae is tied for seventh for caused turnovers with 13… Curtis Dickson is tied for tenth with 24 turnovers… Chad Cummings is tied for seventh among defensemen in scoring with six points… Chris Boushy is tied for fourth in rookie scoring with 13 points.
ENTER EAST: This week marks the second of six contests against an East Division rival this season. Calgary finished the 2017-18 campaign with a 3-5 record against opponents from the East.
DÉJÀ VU: Alternate captain Dane Dobbie is closing in on the franchise's all-time record of 416 assists, held by Jeff Shattler. Dobbie has 803 points (393g, 410a) in 169 games. Last season the forward became the franchise's all-time leading scorer finishing the season with 751 points (371g, 380a) in 160 contests to surpass the previous mark of 684 also set by Shattler.
MARCH PARTY PACK: For a limited time, the Roughnecks are excited to offer a two-game party pack for only $40 (plus applicable fees and taxes). Choose any two games in March and receive second-level seating at 57% off. All matchups take place on Saturday nights with 7:00 p.m. starts and feature the $5 Happy Hour starting at 5:30 p.m. Watch the Riggers take on the Toronto Rock on Mar. 9, the Colorado Mammoth on Mar. 16 during the St. Patrick's Day Party with an extended Happy Hour from 5:00-7:00 p.m., or battle the San Diego Seals on Mar. 30. Visit CalgaryRoughneck.com/partypack to score yours today.
DEL BIANCO'S ASSISTS FOR KIDS: On Dec. 15, Roughnecks goaltender, Christian Del Bianco, and the Roughnecks Foundation proudly announced a new charitable program, Del Bianco's Assists for Kids presented by Ascent Consulting Ltd. The partnership will see both Del Bianco and the Calgary Roughnecks Foundation direct $30 each while Ascent Consulting Ltd. donates $500 for every regular season assist recorded by the Calgary goaltender. In addition, Del Bianco is auctioning off his helmet on ElevateAuctions.com, which features the KidSport logo. Auction details will be communicated in the coming weeks. Del Bianco has already tallied five assists in nine games during the 2018-19 campaign so far and looks to increase his point total throughout the remainder of the season.
MILESTONE MARKERS: On Feb. 9, Dane Dobbie surpassed 800 NLL career points while Tyler Burton eclipsed 500 loose balls. On Feb. 2, Rhys Duch scooped up his 800 loose ball. On Jan. 20, multiple players hit milestones: Dane Dobbie recorded his 400th career assist while Mitch Wilde recorded his 50th career helper and Riley Loewen eclipsed 200 loose balls. On Jan. 18, Tyson Bell picked up nine loose balls to eclipse 300. On Jan. 12, Tyler Burton and Greg Harnett both played their 100th NLL career game while rookie Reece Callies recorded his first NLL goal on the same night. On Jan. 6, first round draft pick in 2018 Shane Simpson tallied his first NLL career point with a goal and two assists while Chad Cummings eclipsed 150 loose balls.
THE ROAD AHEAD: Week 11 of the 2018-19 NLL campaign is a bye-week for the Roughnecks. Then on Mar. 2 they travel to the SaksTel Centre for a re-match against the Rush before returning home on Mar. 9 when they host the Toronto Rock at the Scotiabank Saddledome. Game time is 7:00 p.m. MST featuring a halftime performance by the Drill Bits.