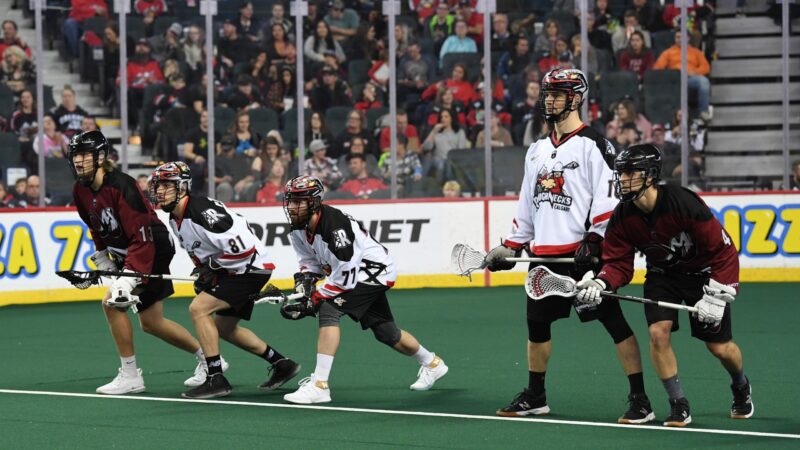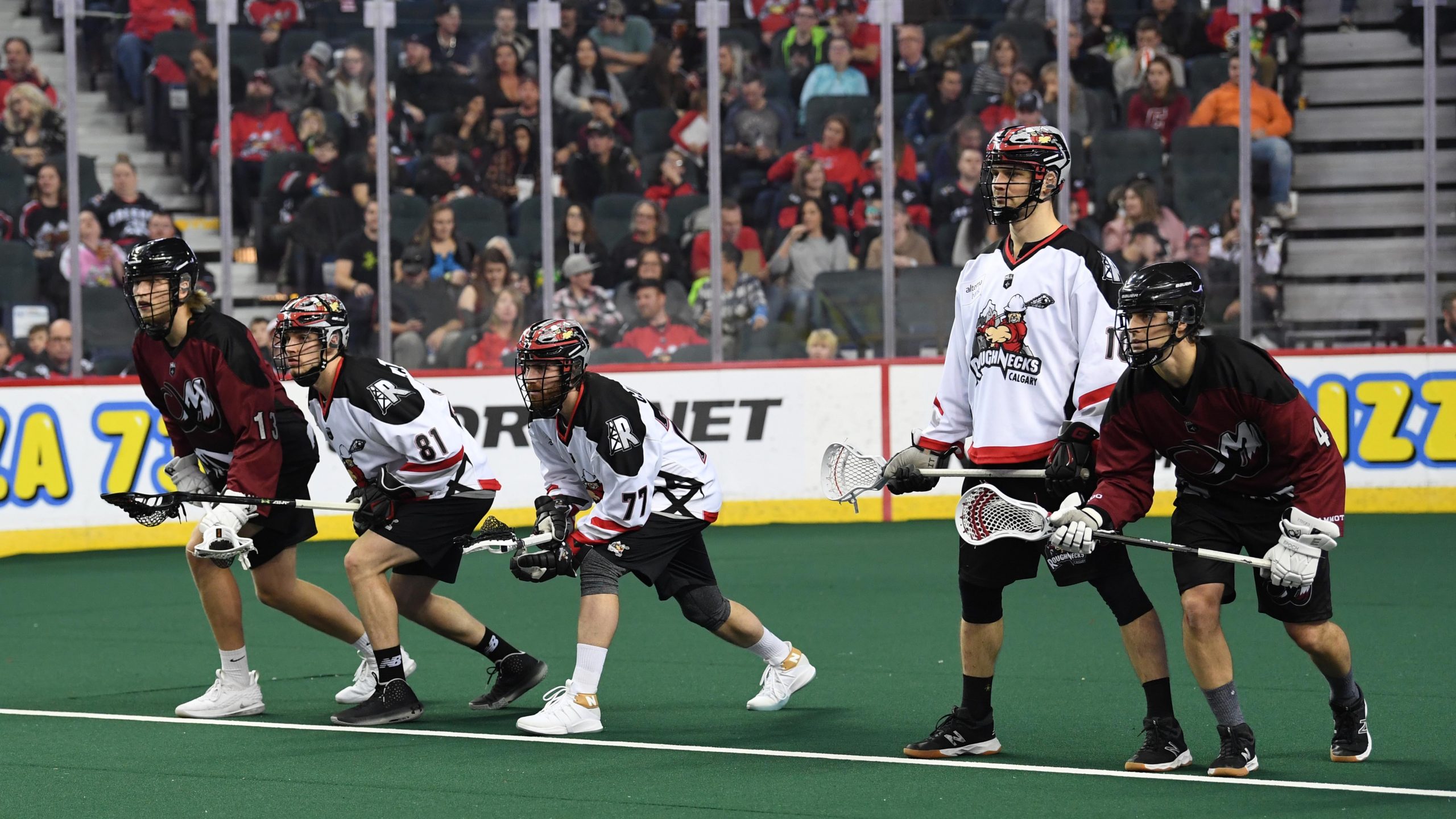 RIGGER RAMBLINGS: The reigning 2019 NLL Champion Calgary Roughnecks begin their 2019-20 home game schedule tonight as they welcome the Colorado Mammoth to the Scotiabank Saddledome. The 2019 NLL Championship banner will be raised to the rafters with the first 3,000 fans in the building to receive mini replica banners. Doors open at 6:00 p.m. for the $5 Happy Hour featuring food and beverage specials at all concourse concessions. The Frontiers, winners of 'Roughnecks Got Talent', will perform live during the halftime show while New Soul Duo will be performing in The Club for the post-game party. Calgary will look to build upon their season opener victory over the Vancouver Warriors when they extended a 5-2 frist-quarter lead to a 12-7 win at Rogers Arena. Seven different Riggers found the back of the Vancouver net including Curtis Dickson (2g, 3a) with a team-leading five points. Newly appointed captain Dane Dobbie (3g, 1a) and Tyler Pace (3g) each recorded a hat-trick, Dobbie in the first half. Jesse King (1g, 2a), Ryan Martel (1g), Zach Currier (1g) and 2019 NLL Entry Draft pick Marshal King (1g, 2a) each contributed single markers for Calgary. Mitch Jones was the top performer for the Warriors, matching Dickson's two goals and three assists while Logan Schuss (2g), Keegan Bal (1g, 1a) and Mike Mallory (2a) each tallied two points. Goaltender Christian Del Bianco picked up the win with an impressive 63-save effort while Eric Penney stopped 37 shots for the home team. Colorado is coming off a 9-8 loss to the Saskatchewan Rush last weekend.
COLORADO: Tonight marks the first of two regular season meetings between the Roughnecks and Mammoth. Last season, Colorado held the advantage in the series, picking up two of the three wins and outscoring Calgary by a combined 31-27. Riley Loewen (4g, 6a) led the Riggers with 10 points while Eli McLaughlin (5g, 7a) topped the Mammoth with 12. Calgary's next matchup against Colorado is March 20 at the Pepsi Center.
2018-19 Regular Season Series Recap
Jan. 6/19 at COL: CGY 11 COL 8… Roughnecks added six second half goals to overcome the Mammoth 11-8.
Jan. 20/19 at COL: COL 12 CGY 7… Colorado stretched a 3-1 first quarter lead to a 12-7 victory over Calgary.
Mar. 16/19 at CGY: COL 11 CGY 9… Colorado came back from a 4-1 first-quarter deficit to record an 11-9 victory.
Shots on Goal: CGY 122 COL 147
Power Plays: CGY 4-9 (44.4%) COL 4-16 (25.0%)
All-Time Regular Season Records
All-Time vs. COL: 20-26
All-Time at CGY: 13-12
All-Time at COL: 7-14*
Last CGY Win: Jan. 6/19, 11-8 at the Pepsi Center
Last COL Win: Mar. 16/19, 11-9 at the Scotiabank Saddledome
*Note: One loss was against the Washington Power in 2002.
HEAD-TO-HEAD: 2019-20 REGULAR SEASON
| | | |
| --- | --- | --- |
| Category | Roughnecks (1-0) | Colorado (0-1) |
| Home Record | 0-0 | 0-1 |
| Away Record | 1-0 | 0-0 |
| Goals For | 12 | 8 |
| Goals Against | 7 | 9 |
| Power Play Pct. | 50.00 | 75.00 |
| Penalty Kill Pct. | 75.00 | 25.00 |
| Faceoffs Pct. | 56.6 (13-23) | 38.1 (8-21) |
| Loose Balls | 73 | 76 |
| Points Leader – Series | Curtis Dickson (5) | Ruest and McLaughlin (5) |
| Points Leader – Season | Curtis Dickson (5) | Ruest and McLaughlin (5) |
ALL-TIME IN HOME OPENERS: In their previous 18 home openers, the Roughnecks have a combined record of seven wins and 11 losses. Tonight marks the third time Calgary has faced Colorado in a home opener with a record of 1-1.
WEEKEND WARRIORS: Tonight the Roughnecks begin a stretch that will see them play three games in eight days. During this span, Calgary will also meet San Diego (Dec. 27 on the road) and Philadelphia (Dec. 28 at home). The team will play three games in eight days on one more occasion between Apr. 17-25 and will play a season-high four games in 13 days between Mar. 8-20.
NLL DEBUTS: Defender Liam LeClair, selected in the first round, seventh overall in the 2019 NLL Entry Draft, and Marshal King (drafted 22nd overall in 2019) made their NLL debuts in last weekend's season opener. King recorded three points (1g, 2a) in the road victory while LeClair tallied one assist.
HOW THE ROUGHNECKS WERE BUILT (21):
NLL Draft (15): Bell, Cummings, Currier, Del Bianco, C. Dickson, H. Dickson*, Dobbie, Harnett, Kalinich, M. King*, LeClair*, Manning, Pace, Salama, Simpson
Trade (3): J. King, Taylor, Wilde
Free Agent (3): Burton, Duch, Richards
*Denotes rookie
SITTING OUT: Forward Dane Dobbie is serving game one of a six-game suspension tonight.
IN THE COMMUNITY: On Dec. 14, the Roughnecks visited the Ronald McDonald House to play Bingo with families staying in the home alongside REP Lacrosse kids. REP Lacrosse, a local grassroots program that combines competitive box lacrosse instruction, drills and scrimmage with monthly outings in the community, raised $3,815.40 for the House through various initiatives. The Calgary Roughnecks Foundation matched their donation for a total contribution of $7,630.80 to the Ronald McDonald House, which provides a home-away-from-home to families seeking vital medical treatment for their seriously ill or injured children.
ROUGHNECKS LAUNCH APP: The Calgary Roughnecks unveiled a new mobile app where fans can find all things Roughnecks in one place. The Official Calgary Roughnecks app, available for FREE download now at the iOS App Store for Apple customers and at the Google Play Store for Android users, will serve as a platform for fans to have access to the features including: live scoring updates, a news feed containing the latest team news, photos and videos, team stats, schedule, buy tickets, contests, exclusive in-app deals, and more!
ELEV8 CLASSROOM LACROSSE: The Roughnecks commit to a second year as presenting sponsor of ELEV8 CLASSROOM Lacrosse. Calgary Roughnecks will provide funding for 25 local schools in the Calgary and Rockyview school districts to take part in learning the fundamentals of the game of lacrosse. In addition, they will donate two home game tickets to every student who participates in the program for the 2019-20 school year. Last year ELEV8 CLASSROOM Lacrosse visited 32,935 students in Calgary and surrounding area and brought 10,000 new fans to Roughnecks games.
DEL BIANCO'S ASSISTS FOR KIDS RETURNS: Roughnecks goaltender, Christian Del Bianco, and the Roughnecks Foundation are proud to once again partner with Ascent Consulting Ltd. to present Del Bianco's Assists for Kids in support of KidSport Calgary. The program, now entering its second season, will see both Del Bianco and the Calgary Roughnecks Foundation direct $30 each while Ascent Consulting Ltd. donates $500 for every regular season assist recorded by the Calgary goaltender. In addition, Del Bianco is auctioning off his helmet on ElevateAuctions.com, which features the KidSport logo. Auction details will be communicated in the new year. In its inaugural season, the initiative saw a total of $14,180 directed to KidSport Calgary.
MILESTONE MARKERS: On Nov. 29, five Roughnecks recorded NLL career milestones: Zach Currier eclipsed 400 loose balls, Curtis Manning surpassed 600 loose balls, Tyler Richards played his 150th game, and rookies Marshal King and Liam LeClair recorded their first NLL points. King with a goal and two assists, LeClair with an assist.
BY THE NUMBERS:
1 – Dane Dobbie is one assist shy of 450
1 – Mitch Wilde needs one caused turnover for 50
2 – Curtis Manning is two assists back from 50
3 – Curtis Dickson is three goals away from 400
3 – Greg Harnett needs three penalty minutes for 200
5 – Anthony Kalinich is five loose balls back from 50
5 – Zach Currier needs five points for 50
7 – Greg Harnett is seven loose balls back from 300
8 – Dane Dobbie is eight loose balls away 600
8 – Shane Simpson needs eight loose ball for 50
8 – Tyler Burton is eight caused turnovers away from 100
PRE-GAME IN SADDLEROOM GRILL: New this year, the Saddleroom Grill located above section 212, will be open before all Roughnecks home games. The pre-game meal, which begins two hours prior to puck drop, features a brand new Roughnecks menu with great prices including platters that start at just $13 per person. Visit Roughnecks.com/Saddleroom or call 403-777-3694 for more information.
POST-GAME AUTOGRAPHS: After each home game, fans are invited down on the turf through Section 103 where they can meet the Roughnecks players and get autographs.
GET YOUR TICKETS: Fans are encouraged to take advantage of the preferred pricing zones offering the same great entertainment but with an enhanced fan experience. Returning this season are the Family Zone available for $25, the Student Zone for $15 and the Rough House Reserved for just $21 per seat (all prices are plus applicable fees and taxes). Also available is the Family Pack for $110 (plus applicable fees and taxes) including four tickets and a $20 Saddledome Gift Card.
THE ROAD AHEAD: The Roughnecks now head to San Diego to face off against the Seals on Friday, Dec. 27 at the Pechanga Arena. It's a double-header weekend for the Riggers as they make a quick trip home to host the Philadelphia Wings on Saturday, Dec. 28 at the Scotiabank Saddledome. Game time is pushed back to 8:00 p.m. to accommodate for team travel. The Roughnecks will be gathering donations to The Veterans Food Bank of Calgary with collection bins outside the entrances to both the West Lobby and The Club Lobby. Fans are encouraged to bring all non-perishable food items, toiletries, blankets or grocery store gift cards.