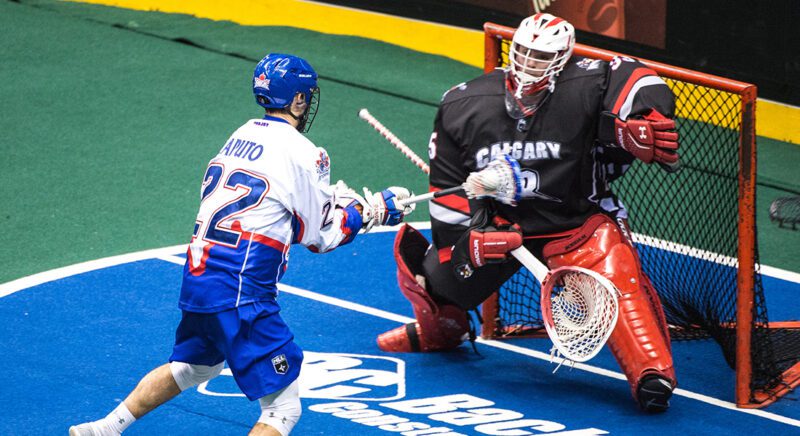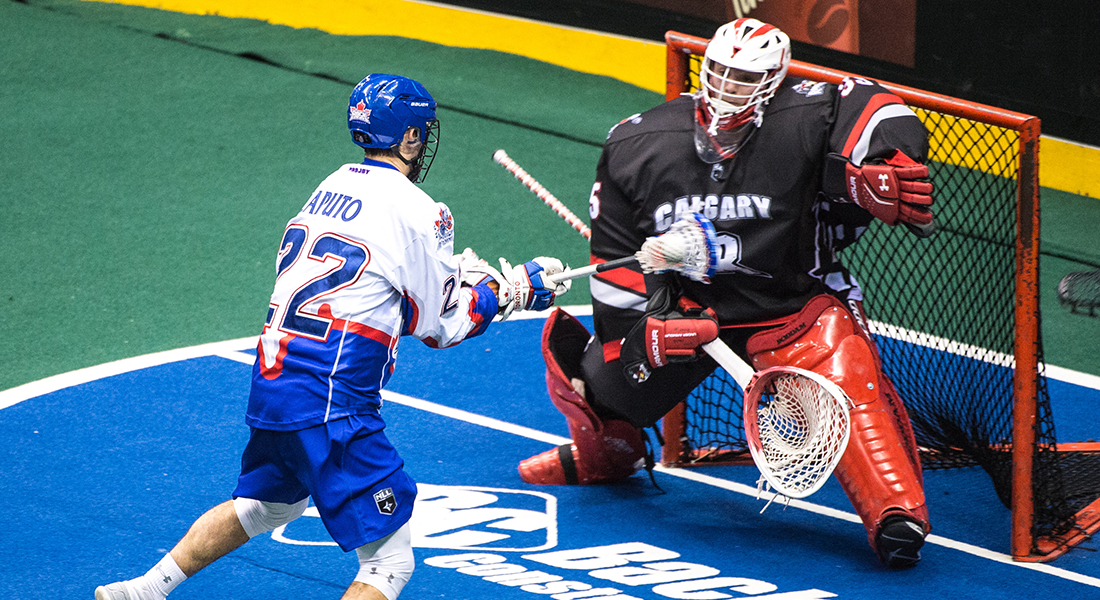 The Calgary Roughnecks wrap up a two-game home stand tonight as they welcome the Toronto Rock at the Scotiabank Saddledome for the Superhero Party presented by Pete the Plumber. Game time is 7:00 p.m. MT. Calgary is coming off last Saturday's 14-13 win over the Rochester Knighthawks. Calgary had a 10-5 advantage heading into the halftime break. Rochester made a comeback in the fourth quarter posting six goals, but their efforts fell short. Wesley Berg (6g, 2a) led the charge offensively for the Roughnecks, scoring six goals and adding a pair of assists for a season high of eight points. Curtis Dickson (2g, 2a), Dane Dobbie (2g, 2a) and Holden Cattoni (1g, 3a) were next with four points each. Kyle Jackson (3g, 4a) tallied seven points to lead the Kighthawks, while Austin Shanks (4g, 2a) and Cody Jamieson (6a) were close behind with six points each. The Toronto Rock last saw action on Mar. 16 when they kicked a three-game slide, outscoring the New England Black Wolves 14-9.
VS. TORONTO: Tonight is the final of two regular season match-ups between the two teams. In their last meeting, the teams kept it close, alternating leads back and forth. The Calgary Roughnecks dominated the second half scoring 11 goals en route to a 16-8 win over the Rock. Curtis Dickson (4g, 2a) led the Roughnecks offensively, scoring four goals and adding a pair of assists. Wesley Berg (2g, 4a) and Holden Cattoni (2g, 4a) matched Dickson's six-point effort with a pair of goals and four assists each. In his first start of the season, goaltender Christian Del Bianco earned his first career NLL win making 47 saves on 58 shots.
2017-18 Regular Season Series Recap
Feb. 3/18 at TOR: CGY 16 TOR 8 … Down by one goal heading into the halftime break, Calgary came back with a strong offensive attack in the second half, tallying 11 goals in the last two quarters and holding the Rock to just two.
Shots on Goal: CGY 52 TOR 55
Power Plays: CGY 3-5 (60.0%) TOR 1-3 (33.3%)
All-Time Regular Season Records
All-Time vs. TOR: 13-21
All-Time at CGY: 7-9
All-Time at TOR: 6-12
Last CGY Win: Feb. 3/18, 16-8 at the Air Canada Centre
Last TOR Win: Mar. 11/17, 20-16 at Air Canada Centre
HEAD-TO-HEAD: 2017-18 REGULAR SEASON
| | | |
| --- | --- | --- |
| Category | Calgary (5-7) | Toronto (6-6) |
| Home Record | 4-3 | 3-4 |
| Away Record | 1-4 | 3-2 |
| Goals For | 136 | 161 |
| Goals Against | 141 | 136 |
| Shots on goal | 626 | 720 |
| Power Play Pct. | 46.0 | 44.2 |
| Penalty Kill Pct. | 41.7 | 46.7 |
| Faceoff Pct. | 55.0 | 48.7 |
| Loose Balls | 879 | 980 |
| Points Leader – Season | Wesley Berg (52) | Adam Jones (68) |

ROUGHNECKS IN THE NLL TOP 10: Christian Del Bianco tops the NLL with a 10.00 goals-against-average. His .806 save percentage is also number one…Dane Dobbie is fourth in the NLL for penalty minutes with 36 and is tied for fifth with nine power play goals…Curtis Dickson is fifth in the NLL in goals scored with 29 and tops the league in shots with 199… Tyler Pace is fifth in rookie scoring and sixth in defence scoring with 15… Zach Currier tops the NLL for loose balls with 124.
ROUGHNECKS MONTH-BY-MONTH: December (1-2), January (0-3), February (3-1), March (1-1).
ROUGHNECKS VS.: (BUF 0-1), (COL 1-2), (GA 0-1), (NE 0-0), (ROC 1-1), (SAS 0-2), (TOR 1-0), (VAN 2-0).
ROUGHNECKS VS. DIVISION: West (3-4), East (2-3).
COACH'S CORNER: Assistant general manager and head coach Curt Malawsky is the winningest coach in franchise history with 49 victories. He passed Chris Hall's mark of 46 in the team's triumph over Colorado on Feb. 10. Malawsky was first-named to the job in August of 2012. Hall meanwhile led the Riggers to a record of 46-42 from 2002-07.
SPECIAL TEAMS WATCH: Calgary's power play is fifth in the NLL at 46.0%. The penalty kill is ninth in the league at 41.7%.
DOMINANT DOBBIE: Alternate captain Dane Dobbie became the franchise's all-time leading scorer on Jan. 27, 2018. The 31-year-old now has 714 career points (354g, 360a) in 154 games with Calgary.
CLIMBING THE CHARTS: Defenceman Mike Carnegie is third all-time in franchise games played with 167. Former captain Andrew McBride sits atop the games played list with 198 followed by Jeff Shattler at 183.
ROSTER MOVES: Mar. 22 – The Roughnecks have released Steph Charbonneau from the Practice Player List.
MILESTONE MARKERS: On Feb. 24, Zach Currier eclipsed 100 loose balls and on Mar. 10, Chad Cummings hit 100 loose balls. Tyler Burton reached 100 penalty minutes on Mar.17.
LEADERSHIP GROUP: Defenceman/transition player Dan MacRae is wearing the 'C' this season. He succeeds Bruce Alexander (2002), Tracey Kelusky (2003-10), Andrew McBride (2011-15) and Mike Carnegie (2016-17) as captain. MacRae, who served as alternate captain from 2016-17, has spent his entire eight-year playing career with the Roughnecks. Defenceman Greg Harnett and forward Dane Dobbie return as alternate captains for the 2017-18 season while forward Curtis Dickson received an 'A' for the first time this year. Dobbie, the franchise's all-time goals leader (354g), is playing in his 11th season with Calgary. This is seven season for Harnett and for Dickson, the 2011 NLL Rookie of the Year, 2017-18 marks campaign eight with the Roughnecks.
IN THE COMMUNITY: The NLL has launched a league-wide fundraising campaign for Right To Play, a global organization that uses the power of play and sport to improve the lives of children and youth affected by conflict, disease and poverty. Defenseman Creighton Reid has been involved with Right To Play programming in the past and has volunteered to be the Roughnecks' team champion for this campaign. Fundraising will begin Mar. 26 until Apr. 4. Help Creighton in supporting this great cause by making a donation today at http://calgaryroughnecks.com/righttoplay/
THE ROAD AHEAD: Following tonight's game, the Roughnecks will begin a two-game road trip. On Mar. 31 they will face the Vancouver Stealth and then face the New England Black Wolves on Apr. 8. Calgary's next home game is three weeks away when they welcome the Buffalo Bandits to the Scotiabank Saddledome on Apr. 14 for the Fan Appreciation Night.
RECORD WHEN:
Leading at halftime …… 4-1 Outshooting opponent .…… 1-4
Trailing at halftime ……. 1-5 Outshot by opponent …..….. 4-3
Tied at halftime …….…. 0-1 Shots are tied ……..………… 0-0