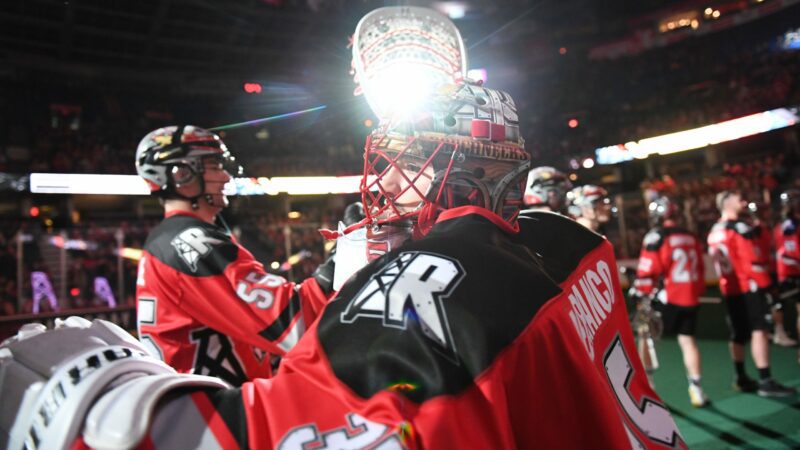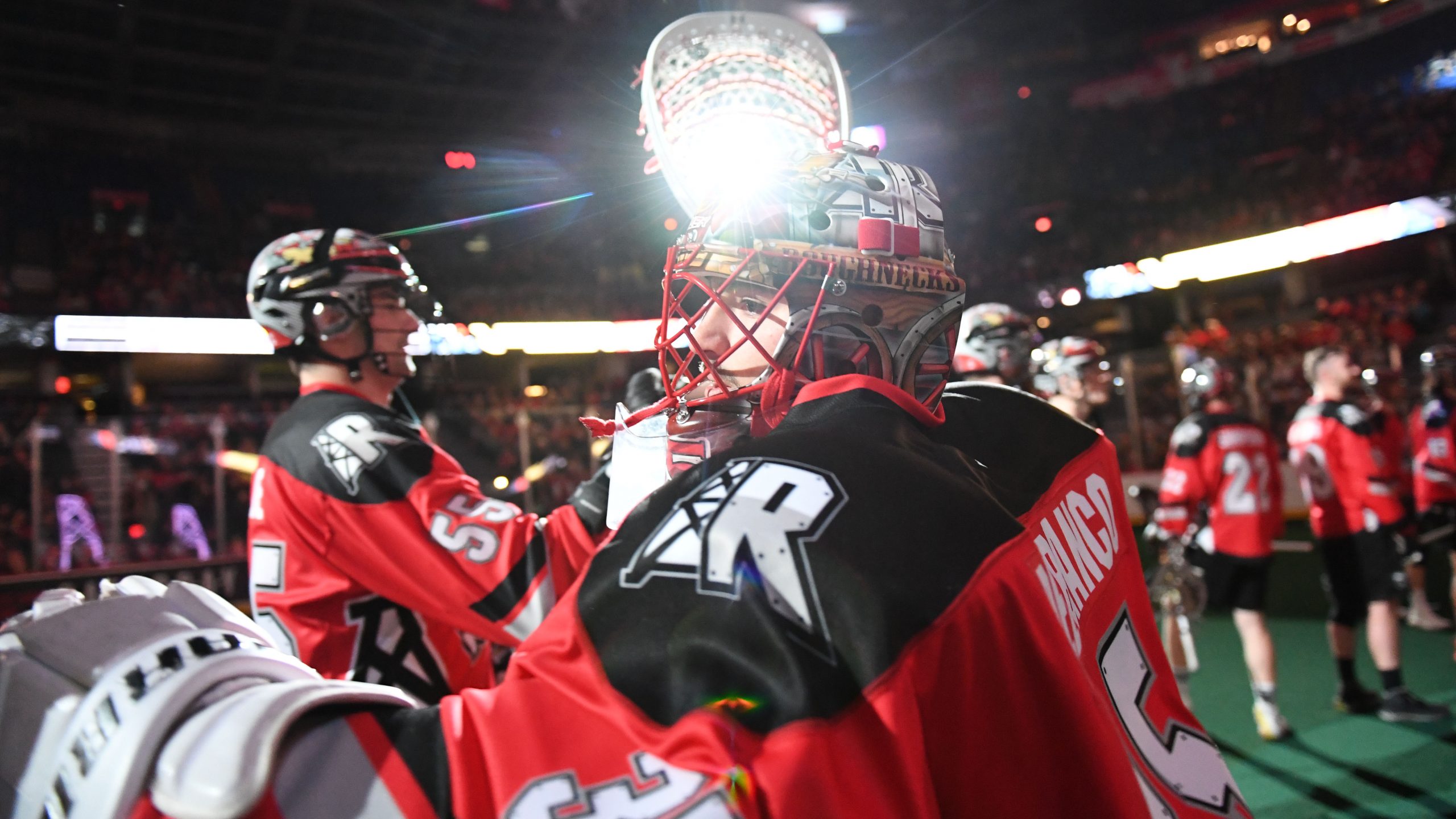 RIGGER RAMBLINGS: The Calgary Roughnecks will look to bounce back from a two-game slide tonight as they host the Halifax Thunderbirds at the Scotiabank Saddledome. Game time is 7:30 p.m. It's an East Coast Kitchen Party with a 'kiss the cod' station in section 214, menu inspired by the Maritimes at The Wharf concession stand in section 227 and you can even get 'screeched in' in the King Club. Fans will enjoy music with an East Coast flair throughout the game including a halftime performance by the Nova Scotiables. Calgary is coming off last Saturday's 13-12 loss to the 2019 expansion team, Rochester Knighthawks, at the Blue Cross Arena. The Roughnecks held a 7-6 advantage heading into halftime but the Knighthawks, led by Curtis Knight (3g, 3a) and former Roughneck Holden Cattoni (1g, 5a), were able to overcome the visitors and secure their first franchise victory. Curtis Dickson was Calgary's top performer with a pair of goals and three assists while newly acquired Zach Herreweyers tallied four points (1g, 3a) in his first tilt with the Roughnecks. Eli Salama and Dereck Downs, who was traded to Calgary on Jan. 4, each scored twice while Reece Callies and Mitch Wilde added single markers to round out the scoring.
VS. HALIFAX: Tonight marks the first and only regular season meeting between the Roughnecks and new market Thunderbirds. Last season, Calgary won the only contest against the former Rochester Knighthawks team by a score of 12-9. Curtis Dickson led the way for the Riggers with a nine-point effort (5g, 4a) while Kyle Jackson (3g, 1a) was Rochester's top performer with four. The Thunderbirds, who have a perfect 5-0 record to start the season, are coming off an 8-5 victory over the San Diego Seals on Jan. 18.
2018-19 Regular Season Series Recap
Mar. 23 at ROC: CGY 12 ROC 9… Propelled by a nine-point effort from Curtis Dickson the Roughnecks erase a 7-6 halftime deficit to defeat the Knighthawks.
Shots on Goal: CGY 41 ROC 57
Power Plays: CGY 4-4 (100%) ROC 4-5 (80.0%)
All-Time Regular Season Records
All-Time vs. ROC: 29-17
All-Time at CGY: 11-9
All-Time at ROC: 18-8
Last CGY Win: Mar. 23/19, 12-9 at The Blue Cross Arena
Last ROC Win: Dec. 9/17, 17-6 at The Blue Cross Arena
*Note: Includes all-time records from the former Rochester Knighthawks team
HEAD-TO-HEAD: 2019-20 REGULAR SEASON
| | | |
| --- | --- | --- |
| Category | Calgary (2-3) | Halifax (5-0) |
| Home Record | 0-2 | 4-0 |
| Away Record | 2-1 | 1-0 |
| Goals For | 54 | 61 |
| Goals Against | 47 | 40 |
| Power Play Pct. | 25.0 | 45.0 |
| Penalty Kill Pct. | 55.2 | 61.9 |
| Faceoffs Pct. | 56.7 | 75.2 |
| Loose Balls | 350 | 397 |
| Points Leader – Season | Curtis Dickson (22) | Cody Jamieson (22) |
RHYS RETURNS: Rhys Duch returned to the lineup last Saturday after missing the first four games of the season with a lower-body injury. The veteran forward, who scored the overtime game-winner of the NLL Final against the Buffalo Bandits last season, recorded two assists in his first contest of the 2020 campaign.
SITTING OUT: Forward Dane Dobbie is serving game five of a six-game suspension tonight.
ROUGHNECKS DEBUTS: Zach Herreweyers, a free agent acquired by the Roughnecks on Jan. 6, and Dereck Downs, acquired from the New England Blackwolves on Jan. 4 in exchange for third round picks in the NLL Entry Draft of 2020 and 2022, both made their debut with Calgary last Saturday in Rochester. Herreweyers tallied four points (1g, 3a) in the loss while Downs chipped in two goals.
RECORD WHEN:
Leading at halftime …… 2-2 Outshooting opponent .…… 1-2
Trailing at halftime ……. 0-1 Outshot by opponent …..….. 1-0
Tied at halftime …….…. 0-0 Shots are tied ……..………… 0-1
ROUGHNECKS MONTH-BY-MONTH: November (1-0), December (1-2), January (0-1).
ROUGHNECKS VS.: (BUF 0-0), (COL 0-1), (GA 0-0), (NE 0-0), (PHI 0-1), (ROC 0-1), (SD 1-0), (SAS 0-0), (TOR 0-0), (VAN 1-0).
LEADING THE LEAGUE: Goaltender Christian Del Bianco is fourth in the NLL with a 0.833 save percentage and tops all goalies with 63 saves in a single game… Tyson Bell is tied for first with Shawn Evans (ROC) with 22 penalty minutes… Curtis Dickson sits behind only Mitch Jones (VAN) with 102 shots… Marshal King is tied for third in scoring among NLL rookies with 16 points including three goals and 13 assists.
BYE-WEEK BARRAGE: Heading in to week 10 of the 2019-20 NLL campaign, the Roughnecks will see their fifth bye-week, meaning the team will have sat idle during half of the season so far.
STREAKING: Several players take point streaks into today's game: Curtis Dickson (10g, 12a), Dan Taylor (8g, 9a), rookie Marshal King (3g, 13a) and defenceman Eli Salama (4g, 2a) have tallied points in all five contests this season. Tyson Bell (1g, 4a) has points in four consecutive outings while Shane Simpson (2g, 3a) and Mitch Wilde (2g, 3a) are riding three-game streaks. Zach Currier (four-games) and Haiden Dickson (two-games) saw their point streaks end on Jan. 18.
MILESTONE MARKERS: On Jan. 18, Dan Taylor eclipsed 100 career points with a three-goal effort while Shane Simpson and Reece Callies both surpassed the 50 loose balls mark. On Dec. 27, Curtis Dickson netted his 400th career goal in San Diego becoming the 14th player in NLL history to reach the milestone. On that same night Tyler Burton surpassed 1,000 face-off wins, Christian Del Bianco eclipsed 1,500 saves, Zach Currier notched his 50th point with a goal and three assists, Mitch Wilde caused his 50th turnover, Greg Harnett surpassed 200 penalty minutes and scooped up his 300th loose ball and rookies Haiden Dickson and Travis Getz recorded their first NLL points. Dickson tallied four goals while Getz recorded an assist.
BY THE NUMBERS:
2 – Curtis Manning is two assists back from 50
3 – Rhys Duch needs three goals for 400
4 – Anthony Kalinich is four loose balls back from 50
4 – Mitch Wilde is four games away from 100
4 – Tyson Bell needs four points for 50
5 – Tyler Pace needs five loose balls for 100
6 – Mitch Wilde is six points shy of 100
7 – Chad Cummings is seven caused turnovers away from 50
7 – Tyler Burton is seven caused turnovers away from 100
8 – Tyler Burton needs eight loose balls for 600
8 – Eli Salama is eight loose balls back from 100
9 – Dan Taylor is nine goals away from 50
10 – Tyler Pace needs 10 assists for 50
DRILL BITS: The popular Drill Bits program presented by Halliburton is back! Dancers 3-12 years of age have an exciting opportunity to perform of the turf with the Roughnecks Drill Crew during halftime on Saturday, Feb. 29. Game time is 7:30 p.m. as the Roughnecks take on the San Diego Seals. Participants will receive two practice sessions with the Drill Crew Dance Team, a ticket to the game, a t-shirt and a set of poms. Registration is now open at CalgaryRoughnecks.com/drillbits/
PRE-GAME IN SADDLEROOM GRILL: New this year, the Saddleroom Grill located above section 212, will be open before all Roughnecks home games. The pre-game meal, which begins two hours prior to puck drop, features a brand new Roughnecks menu with great prices including platters that start at just $13 per person. Visit Roughnecks.com/Saddleroom or call 403-777-3694 for more information.
POST-GAME AUTOGRAPHS: Due to a private Season Ticket Holder event on the turf, there will be no post-game autographs following tonight's contest.
GET YOUR TICKETS: Fans are encouraged to take advantage of the preferred pricing zones offering the same great entertainment but with an enhanced fan experience. Returning this season are the Family Zone available for $25, the Student Zone for $15 and the Rough House Reserved for just $21 per seat (all prices are plus applicable fees and taxes). Also available is the Family Pack for $110 (plus applicable fees and taxes) including four tickets and a $20 Saddledome Gift Card.
THE ROAD AHEAD: Following tonight's game, the Roughnecks are on a bye-week before hosting 2019 expansion team, the New York Riptide on Feb. 8. Game time is 7:30 p.m. while doors open at 6:00 p.m. for the $5 Happy Hour featuring food and beverage specials at all concourse concessions.