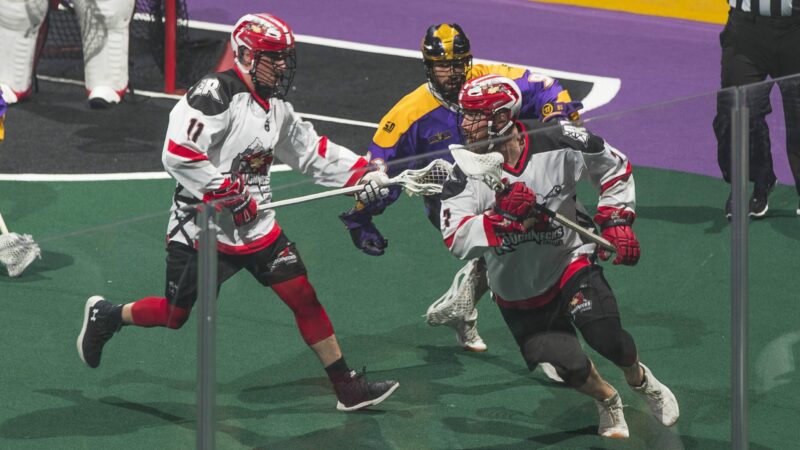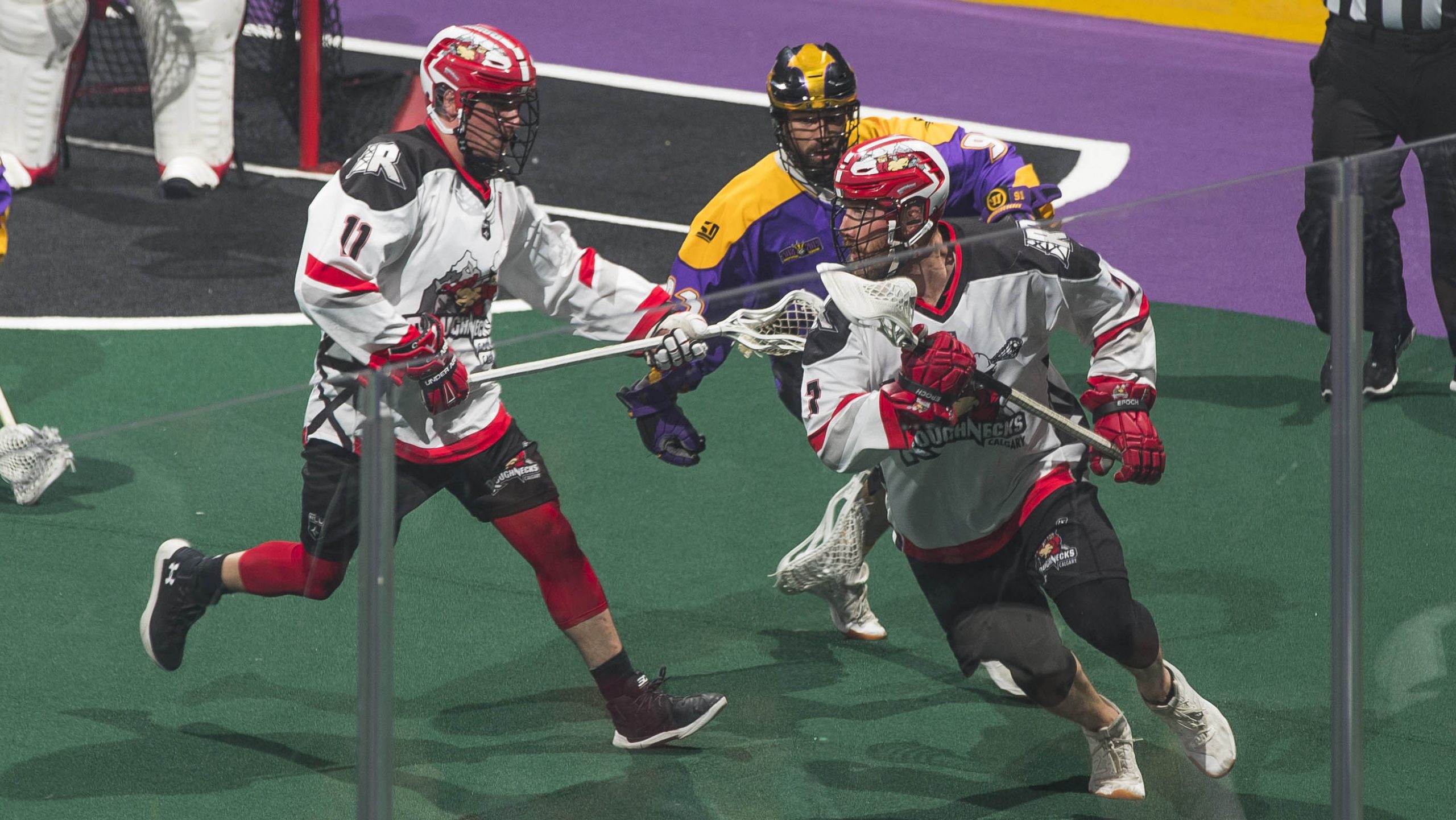 RIGGER RAMBLINGS: The Calgary Roughnecks are set to battle West-Division rivals the San Diego Seals tonight at the Pechanga Arena. The Riggers will look to bounce back after an 8-7 overtime loss to the Colorado Mammoth last Saturday at the Scotiabank Saddledome. Jordan Gilles scored the overtime winner 7:11 into the extra session. The energetic crowd of 12,027 saw the defending National Lacrosse League Champion Roughnecks raise the 2019 Championship banner to the rafters in an emotional pre-game ceremony. Calgary forward Curtis Dickson opened scoring for the home side 1:48 into the first quarter but the Mammoth answered back, transforming the second quarter into a red light rally by stringing together four straight goals and erasing a 3-1 deficit. It was a group effort from Colorado as four different players tallied a trio of points including first start Will Malcom (2g, 1a), Kyle Killen (1g, 2a), Ryan Lee (3a) and Chris Wardle (3a). Goaltenders Dillon Ward and Christian Del Bianco each played integral roles in the defensive battle for both teams. Ward turned aside 46 shots while Del Bianco stopped 41. Dan Taylor led the Roughnecks with four points including a pair of goals and assists while Jesse King (3a) and Marshal King (2g, 1a) were next with three. Tyler Pace (1g, 1a) and defenceman Eli Salama (1g) rounded out the scoring for the home team. San Diego is now 0-2 on the young season after a 13-6 loss to the Toronto Rock on Dec. 14.
SAN DIEGO: Tonight marks the first of three regular season meetings between the Roughnecks and Seals. In their inaugural season, San Diego took the series by a record of 2-1 and outscored Calgary 36-27. Dan Dawson (5g, 10a) and Austin Staats (5g, 10a) were the top performers for the Seals, tallying 15 points each, while Dane Dobbie matched their 15 points with six goals and nine assists to lead the Roughnecks. The next contest between the two division rivals is Feb. 29 at the Scotiabank Saddledome.
2018-19 Regular Season Series Recap
Dec. 28/18 at CGY: CGY 9 SD 5… Roughnecks held the Seals to three first half goals en route to a 9-5 victory.
Jan. 18/19 at SD: SD 15 CGY 9… Seals built quarter leads of 3-2, 8-5 and 14-6 en route to a 15-9 triumph.
Mar. 30/19 at CGY: SD 16 CGY 9… Seals received eight-point efforts from three players to secure the win.
Shots on Goal: CGY 157 SD 168
Power Plays: CGY 5-18 (27.8%) SD 6-16 (37.5%)
All-Time Regular Season Records
All-Time vs. SD: 1-2
All-Time at CGY: 1-1
All-Time at SD: 0-1
Last CGY Win: Dec. 28/18, 9-5 at the Scotiabank Saddledome
Last SD Win: Mar. 30/19, 16-9 at the Scotiabank Saddledome
HEAD-TO-HEAD: 2019-20 REGULAR SEASON
| | | |
| --- | --- | --- |
| Category | Roughnecks (1-1) | San Diego (0-2) |
| Home Record | 0-1 | 0-1 |
| Away Record | 1-0 | 0-1 |
| Goals For | 19 | 16 |
| Goals Against | 15 | 26 |
| Power Play Pct. | 36.36 | 38.46 |
| Penalty Kill Pct. | 64.29 | 57.14 |
| Faceoffs Pct. | 54.8 (23-42) | 66.0 (33-50) |
| Loose Balls | 143 | 161 |
| Points Leader – Season | Curtis Dickson (7) | Wesley Berg (11) |
WEEKEND WARRIORS: Tonight the Roughnecks play game two of a stretch that will see them play three games in eight days. During this span, Calgary also met the Mammoth (Dec. 21 at home) and will see Philadelphia (Dec. 28 at home). The team will play three games in eight days on one more occasion between Apr. 17-25 and will play a season-high four games in 13 days between Mar. 8-20.
HOW THE ROUGHNECKS WERE BUILT (21):
NLL Draft (15): Bell, Cummings, Currier, Del Bianco, C. Dickson, H. Dickson*, Dobbie, Harnett, Kalinich, M. King*, LeClair*, Manning, Pace, Salama, Simpson
Trade (3): J. King, Taylor, Wilde
Free Agent (3): Burton, Duch, Richards
*Denotes rookie
SITTING OUT: Forward Dane Dobbie is serving game two of a six-game suspension tonight.
RECORD WHEN:
Leading at halftime …… 1-0 Outshooting opponent .…… 1-1
Trailing at halftime ……. 0-1 Outshot by opponent …..….. 0-0
Tied at halftime …….…. 0-0 Shots are tied ……..………… 0-0
IN THE COMMUNITY: On Dec. 14, the Roughnecks visited the Ronald McDonald House to play Bingo with families staying in the home alongside REP Lacrosse kids. REP Lacrosse, a local grassroots program that combines competitive box lacrosse instruction, drills and scrimmage with monthly outings in the community, raised $3,815.40 for the House through various initiatives. The Calgary Roughnecks Foundation matched their donation for a total contribution of $7,630.80 to the Ronald McDonald House, which provides a home-away-from-home to families seeking vital medical treatment for their seriously ill or injured children.
ROUGHNECKS LAUNCH APP: The Calgary Roughnecks unveiled a new mobile app where fans can find all things Roughnecks in one place. The Official Calgary Roughnecks app, available for FREE download now at the iOS App Store for Apple customers and at the Google Play Store for Android users, will serve as a platform for fans to have access to the features including: live scoring updates, a news feed containing the latest team news, photos and videos, team stats, schedule, buy tickets, contests, exclusive in-app deals, and more!
MILESTONE MARKERS: On Nov. 29, five Roughnecks recorded NLL career milestones: Zach Currier eclipsed 400 loose balls, Curtis Manning surpassed 600 loose balls, Tyler Richards played his 150th game, and rookies Marshal King and Liam LeClair recorded their first NLL points. King with a goal and two assists, LeClair with an assist.
BY THE NUMBERS:
1 – Mitch Wilde needs one caused turnover for 50
1 – Greg Harnett needs one penalty minute for 200
2 – Curtis Manning is two assists back from 50
2 – Curtis Dickson is two goals away from 400
3 – Greg Harnett is three loose balls back from 300
4 – Zach Currier needs four points for 50
4 – Anthony Kalinich is four loose balls back from 50
5 – Shane Simpson needs five loose balls for 50
7 – Mitch Wilde is seven games away from 100
8 – Tyson Bell needs eight points for 50
8 – Tyler Burton is eight caused turnovers away from 100
9 – Dan Taylor needs nine points for 100
9 – Chad Cummings is nine caused turnovers away from 50
THE ROAD AHEAD: The Roughnecks are back in action tomorrow night to wrap up a double-header weekend. The Riggers will make a quick trip home to host the Philadelphia Wings on Saturday, Dec. 28 at the Scotiabank Saddledome. Game time is pushed back to 8:00 p.m. to accommodate for team travel. InVertigo will be performing live during the halftime show. The Roughnecks will be gathering donations to The Veterans Food Bank of Calgary with collection bins outside the entrances to both the West Lobby and The Club Lobby. Fans are encouraged to bring all non-perishable food items, toiletries, blankets or grocery store gift cards.