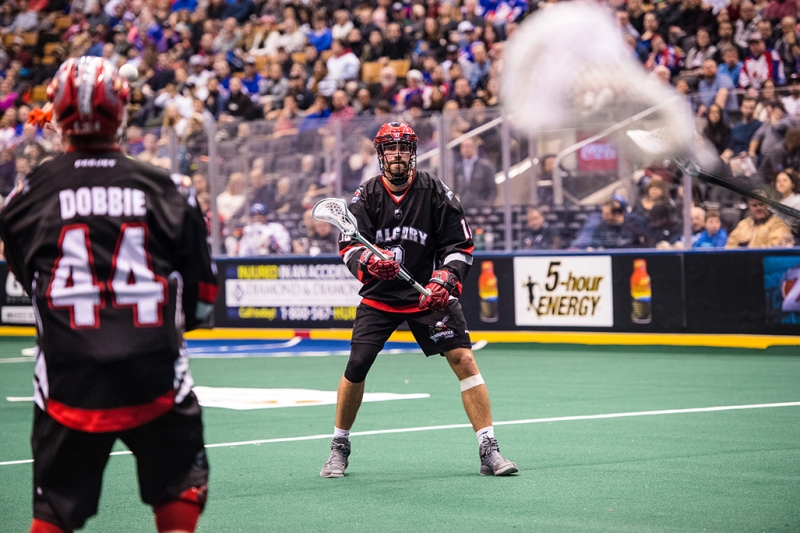 The Calgary Roughnecks warp up their regular season tonight when they take on the Saskatchewan Rush at the SaskTel Centre. Game time is 7:30 p.m. MT. Calgary is coming off last Saturday's blowout victory over the Vancouver Stealth. The Riggers built quarterly leads and posted a ten goal third quarter en route to a 26-11 win, tying the franchise record for most goals in a single game. Special teams played a big role in Calgary's success as the Roughnecks capitalized on seven out of eight power play opportunities. Curtis Dickson (4g, 8a) led the charge offensively for Calgary, setting new season highs for most assists with eight and most points in a single game with 12. Holden Cattoni (3g, 6a) was another key cog with nine points while Wesley Berg (3g, 5a) was next with eight. Dane Dobbie (3g, 4a), Tyler Digby (4g, 1a) and Mitch Wilde (2g, 3a) were the other top point producers with Digby posting a season high of four goals. Saskatchewan is coming off a bye week. The last time the Rush saw action was on Apr. 14 when they lost 16-10 to the defending 2017 NLL champions, the Georgia Swarm. Saskatchewan has won seven of their last ten games.
NOTEWORTHY

VS. SASKATCHEWAN: Tonight marks the third and final regular season match-up between the Roughnecks and Rush. Saskatchewan holds a 2-0 advantage in the series and dating back to the 2016 campaign, the Rush have edged Calgary in nine of the last 10 regular season contests. Dane Dobbie (2g, 10a) leads Calgary with 12 points in the series against Saskatchewan while Mark Matthews (5g, 6a) follows closely behind with 11 points for the Rush. A trio of special teams threats will be going head-to-head as Calgary's Dane Dobbie (15) and Saskatchewan's Robert Church (14) and Ryan Keenan (14) all sit among the top three in the league for power play goals.

2017/18 Regular Season Series Recap

Jan. 27/18 at CGY: CGY 12 SAS 13 … Calgary out-scored the Rush 8-2 in the second half but their efforts fell short as Saskatchewan forward Ben McIntosh scored just 46 seconds into overtime.

Feb. 24/18 at SAS: CGY 6 SAS 10 … The Rush jumped out to a 4-1 first quarter lead and ended Calgary's three-game winning streak.

Shots on Goal: CGY 104 SAS 103
Power Plays: CGY 4-6 (66.7%) SAS 6-6 (100.0%)

All-Time Regular Season Records

All-Time vs. SAS: 27-19

All-Time at CGY: 11-10

All-Time at SAS: 16-9

Last CGY Win: Apr. 29/17, 14-7 at the Scotiabank Saddledome

Last SAS Win: Feb. 24/18, 10-6 at the SaskTel Centre

HEAD-TO-HEAD: 2017-18 REGULAR SEASON
| | | |
| --- | --- | --- |
| Category | Calgary (8-9) | Saskatchewan (13-4) |
| Home Record | 5-4 | 5-3 |
| Away Record | 3-5 | 8-1 |
| Goals For | 217 | 243 |
| Goals Against | 200 | 186 |
| Shots on goal | 916 | 900 |
| Power Play Pct. | 48.1 | 69.9 |
| Penalty Kill Pct. | 52.0 | 50.8 |
| Faceoff Pct. | 57.0 | 52.5 |
| Loose Balls | 1280 | 1247 |
| Points Leader – Season | Curtis Dickson (85) | Mark Matthews (109) |
ROUGHNECKS IN THE NLL TOP 10: Christian Del Bianco tops the NLL with a 0.797 save percentage and with his 10.46 goals against average…Dane Dobbie is tied for first in the NLL with 15 power play goals and is fourth for penalty minutes with 42…Wesley Berg is tied for sixth in the NLL with 11 power play goals and is seventh in power play assists with 17… Curtis Dickson tops the NLL with five shorthanded goals and is tied for eighth in power play assists with 15. He tops the league with 275 shots and for turnovers with 70. Dickson is third in the NLL in goals scored with 44 and is tied for first with three game winning goals… Tyler Pace is seventh in rookie scoring and in defence scoring with 19… Mitch Wilde is second in the NLL for defence scoring with 25… Zach Currier tops the NLL for loose balls with 184 and is fifth in caused turnovers with 29.
ROUGHNECKS MONTH-BY-MONTH: December (1-2), January (0-3), February (3-1), March (2-2), April (2-1).
CAREER YEARS: Thirteen Roughnecks players have recorded career highs in several categories this season: Tyson Bell (11 A including 1 SHA, 2 SHG, 1 GWG, 23 CTO), Wesley Berg (36 G, 48 A including 17 PPA, 84 PTS), Tyler Burton (2 SHA, 86 LB, 56.7 FO%), Holden Cattoni (32 G including 2 PPG and 1 GWG, 39 A including 11 PPA, 71 PTS, 48 LB), Chad Cummings (4 G, 10 PTS, 18 PIM, 2 SHA, 67 LB, 14 CTO), Christian Del Bianco (15 A including 1 SHA, 15 PTS, 33 LB, 728 MIN, 7 W, 498 SV), Curtis Dickson (26 PIM, 3 SHA), Tyler Digby (30 PIM), Dane Dobbie (42 PIM), Riley Loewen (18 G, 28 A, 46 PTS, 57 LB, 5 CTO), Garrett McIntosh (5 G, 6 A, 11 PTS), Frank Scigliano (2 SHA) and Mitch Wilde (11 G including 2 SHG, 14 A, 25 PTS, 66 LB, 10 CTO).
PLAYER SPOTLIGHT: Zach Currier tied the NLL record for rookie caused turnovers with 29 when he added one CTO on Apr. 21. If Currier causes one more turnover in tonight's game, he will surpass Latrell Harris' record from his 2017 rookie season. Currier also leads the league in loose balls with 184, becoming just the second rookie to lead the league in loose balls after Jim Veltman in 1992. Zach Currier already has the second-highest loose balls total ever by a rookie, passing Geoff Snider's 180 season in 2007. Currier is fifth in the NLL for rookie scoring with 22 points including a power play assist and a shorthanded assist.
SPECIAL TEAMS WATCH: Calgary's power play is fifth in the NLL at 48.10%. The penalty kill is also fifth in the league at 52.00%. Since Mar. 24, the Roughnecks have improved their penalty kill ranking from ninth in the league to fifth.
ROSTER MOVES: Apr. 27 – Placed Practice Player Bob Snider on the Practice Player List from the Active Roster (maintains Practice Player tag). Placed Tyler Burton on the Active Roster from the Injured Reserve List.
PLAYOFF BOUND: Following tonight's game, Calgary will face off against the Colorado Mammoth in the West Division Semi Finals on May 5 at the Pepsi Center. Since their establishment, the Calgary Roughnecks have advanced to the post-season 15 out of 17 seasons.
RECORD WHEN:
Leading at halftime …… 5-2 Outshooting opponent .…… 4-5
Trailing at halftime ……. 2-5 Outshot by opponent …..….. 4-4
Tied at halftime …….…. 1-2 Shots are tied ……..………… 0-0
UPCOMING GAMES
All times in MT. Schedule subject to change.
| | | | |
| --- | --- | --- | --- |
| DATE | OPPONENT | TIME | BROADCAST |
| | | | |
| May 5 | vs. Colorado | 7:00 p.m. | NLL TV |
| | | | |
| | | | |
| | | | |