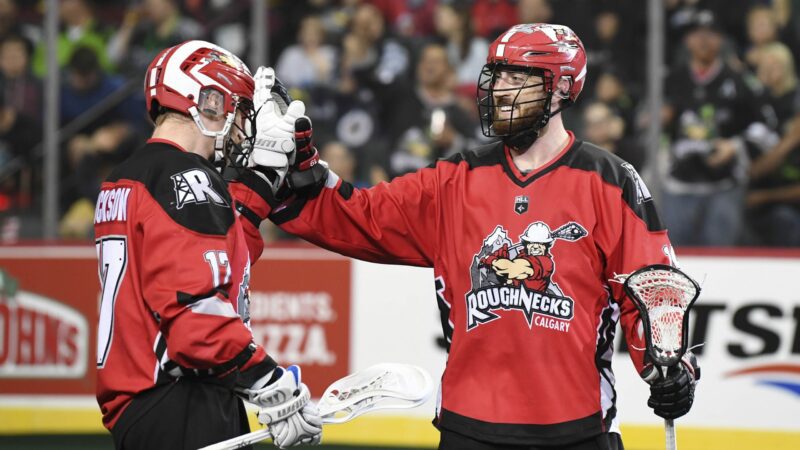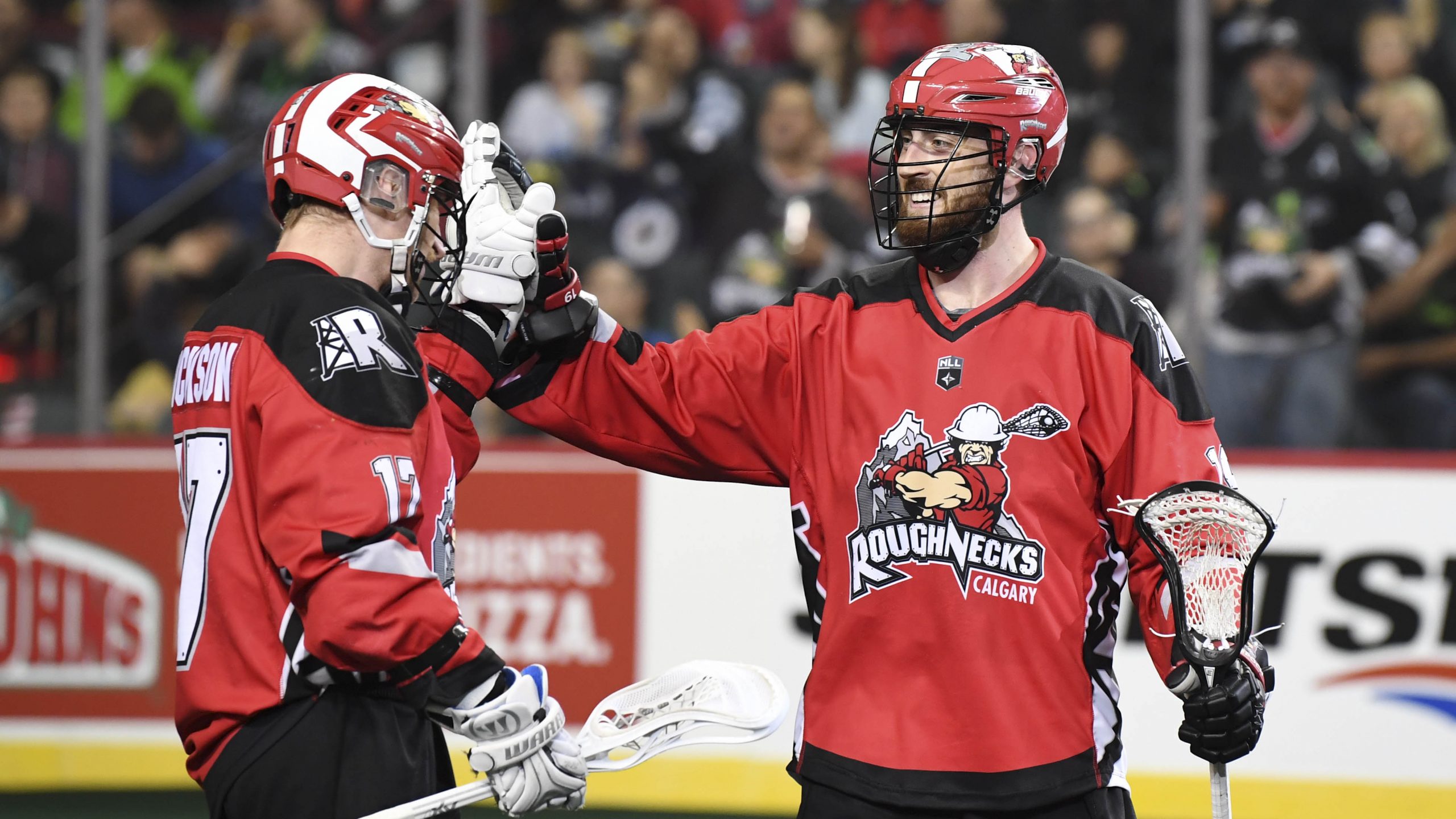 RIGGER RAMBLINGS: The Calgary Roughnecks wrap up a double-header weekend tonight as they host the Philadelphia Wings at the Scotiabank Saddledome. Game time is 8:00 p.m. InVertigo, a local Calgary rock band, is performing live during the halftime show. In the spirit of giving, the Riggers will be gathering donations to The Veterans Food Bank of Calgary with collection bins outside the entrances to both the West Lobby and The Club Lobby. Fans are encouraged to bring all non-perishable food items, toiletries, blankets or grocery store gift cards. The Roughnecks enter this evening's contest after a 16-11 victory over the San Diego Seals last night at the Pechanga Arena. The road victory was highlighted by a multitude of team milestones including alternate captain Curtis Dickson notching his 400th career goal with his second of the night. He became the 14th player in league history to reach this plateau. Jesse King (5g, 4a), who led Calgary's offence with a game leading nine-point effort, recorded a career high five goals while Tyler Burton surpassed 1,000 face-off wins. Lastly, rookies Haiden Dickson and Travis Getz made the scoresheet in their first NLL showing. Dickson tallied four goals while Getz recorded his first NLL point with an assist. Zack Greer was the top performer for San Diego netting four markers and three assists for seven points.
PHILADELPHIA: Tonight marks the first and only regular season meeting between the Roughnecks and Wings. Last season, Calgary won the only contest between the two teams by a score of 18-13. Dane Dobbie led the way for the Riggers with an 11 point effort (4g, 7a) while Kiel Matisz (2g, 5a) was Philadelphia's top performer with seven. The Wings are coming off a 12-6 loss to the Georgia Swarm in their season opener on Dec. 14.
2018-19 Regular Season Series Recap
Apr. 6/19 at PHI: CGY 18 PHI 13… Roughnecks extend a 5-0 first-quarter lead to an 18-13 victory.
Shots on Goal: CGY 52 PHI 59
Power Plays: CGY 4-7 (57.1%) PHI 4-7 (57.1%)
All-Time Regular Season Records
All-Time vs. PHI: 1-0
All-Time at CGY: 0-0
All-Time at PHI: 1-0
Last CGY Win: Apr. 6/19, 18-13 at Wells Fargo Center
Last PHI Win: N/A
HEAD-TO-HEAD: 2019-20 REGULAR SEASON
| | | |
| --- | --- | --- |
| Category | Roughnecks (2-1) | Philadelphia (0-1) |
| Home Record | 0-1 | 0-0 |
| Away Record | 2-0 | 0-1 |
| Goals For | 35 | 6 |
| Goals Against | 26 | 12 |
| Power Play Pct. | 33.33 | 0.00 |
| Penalty Kill Pct. | 54.55 | 40.00 |
| Faceoffs Pct. | 58.9 (43-73) | 81.8 (18-22) |
| Loose Balls | 209 | 76 |
| Points Leader – Season | Jesse King (15) | Crowley and Matisz (4) |
DIVISION REALIGNMENT: On Sept. 9 the National Lacrosse League announced a division realignment for the 2019-20 season. The NLL has shifted to a three-division format to accommodate for the addition of expansion teams, the New York Riptide, Rochester Knighthawks and the new market Halifax Thunderbirds. The five teams that comprised the West Division in 2018-19 remain as the West Division while the six franchises that made up the East Division, in addition to the two new expansion teams and new market team Halifax, have been distributed among the East Division and the newly formed North Division. The East Division consists of Georgia, New England, New York and Philadelphia while the North Division is comprised of Buffalo, Halifax, Rochester and Toronto.
DIVISIONAL DIET: Tonight will be Calgary's first contest against a team outside the West Division. They now play five straight games versus East or North Division opponents. Philadelphia is a franchise in the East Division.
WEEKEND WARRIORS: Tonight the Roughnecks wrap up a stretch that saw them play three games in eight days. The team will play three games in eight days on one more occasion between Apr. 17-25 and will play a season-high four games in 13 days between Mar. 8-20.
NLL DEBUTS: Forward Haiden Dickson, selected in the first round, eighth overall in the 2019 NLL Entry Draft, and Travis Getz (drafted 89th overall in 2019) made their NLL debuts in last night's victory over San Diego. Dickson recorded four goals in the road victory while Getz tallied one assist.
SITTING OUT: Forward Dane Dobbie is serving game three of a six-game suspension tonight.
RECORD WHEN:
Leading at halftime …… 2-0 Outshooting opponent .…… 1-1
Trailing at halftime ……. 0-1 Outshot by opponent …..….. 1-0
Tied at halftime …….…. 0-0 Shots are tied ……..………… 0-0
ROUGHNECKS MONTH-BY-MONTH: November (1-0), December (1-1).
ROUGHNECKS VS.: (BUF 0-0), (COL 0-1), (GA 0-0), (NE 0-0), (PHI 0-0), (ROC 0-0), (SD 1-0), (SAS 0-0), (TOR 0-0), (VAN 1-0).
MILESTONE MARKERS: On Dec. 27, Curtis Dickson netted his 400th career goal in San Diego becoming the 14th player in NLL history to reach the milestone. On that same night Tyler Burton surpassed 1,000 face-off wins, Christian Del Bianco eclipsed 1,500 saves, Zach Currier notched his 50th point with a goal and three assists, Mitch Wilde caused his 50th turnover, Greg Harnett surpassed 200 penalty minutes and scooped up his 300th loose ball and rookies Haiden Dickson and Travis Getz recorded their first NLL points. Dickson tallied four goals while Getz recorded an assist. On Nov. 29, five Roughnecks recorded NLL career milestones: Zach Currier eclipsed 400 loose balls, Curtis Manning surpassed 600 loose balls, Tyler Richards played his 150th game, and rookies Marshal King and Liam LeClair recorded their first NLL points. King with a goal and two assists, LeClair with an assist.
BY THE NUMBERS:
2 – Curtis Manning is two assists back from 50
3 – Shane Simpson needs three loose balls for 50
4 – Dan Taylor needs four points for 100
4 – Anthony Kalinich is four loose balls back from 50
6 – Mitch Wilde is six games away from 100
8 – Tyson Bell needs eight points for 50
8 – Tyler Burton is eight caused turnovers away from 100
9 – Chad Cummings is nine caused turnovers away from 50
9 – Reece Callies needs nine loose balls for 50
9 – Mitch Wilde is nine points shy of 100
PRE-GAME IN SADDLEROOM GRILL: New this year, the Saddleroom Grill located above section 212, will be open before all Roughnecks home games. The pre-game meal, which begins two hours prior to puck drop, features a brand new Roughnecks menu with great prices including platters that start at just $13 per person. Visit Roughnecks.com/Saddleroom or call 403-777-3694 for more information.
POST-GAME AUTOGRAPHS: After each home game, fans are invited down on the turf through Section 103 where they can meet the Roughnecks players and get autographs.
GET YOUR TICKETS: Fans are encouraged to take advantage of the preferred pricing zones offering the same great entertainment but with an enhanced fan experience. Returning this season are the Family Zone available for $25, the Student Zone for $15 and the Rough House Reserved for just $21 per seat (all prices are plus applicable fees and taxes). Also available is the Family Pack for $110 (plus applicable fees and taxes) including four tickets and a $20 Saddledome Gift Card.
THE ROAD AHEAD: Following tonight's game, the Roughnecks have a two-week bye before traveling to Rochester on Jan. 18 to face the Knighthawks, one of the 2019 expansion teams. The next home game is Jan. 25 when Calgary hosts the new market Halifax Thunderbirds. It's an East Coast Kitchen Party with a 'kiss the cod' station and the Nova Scotiables performing live at halftime.