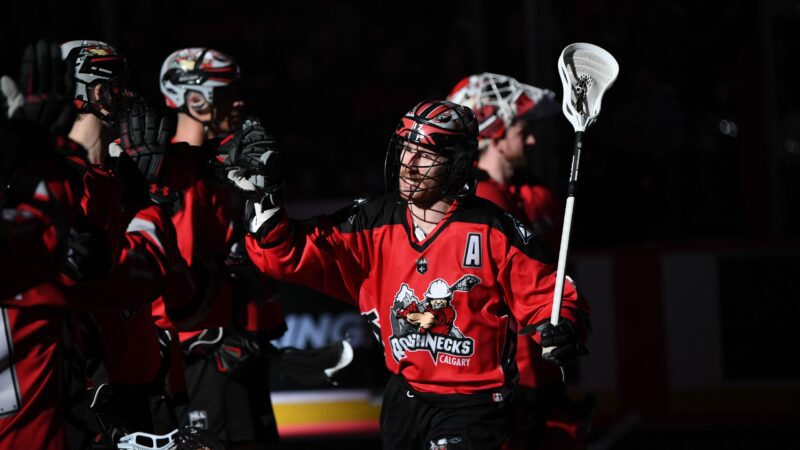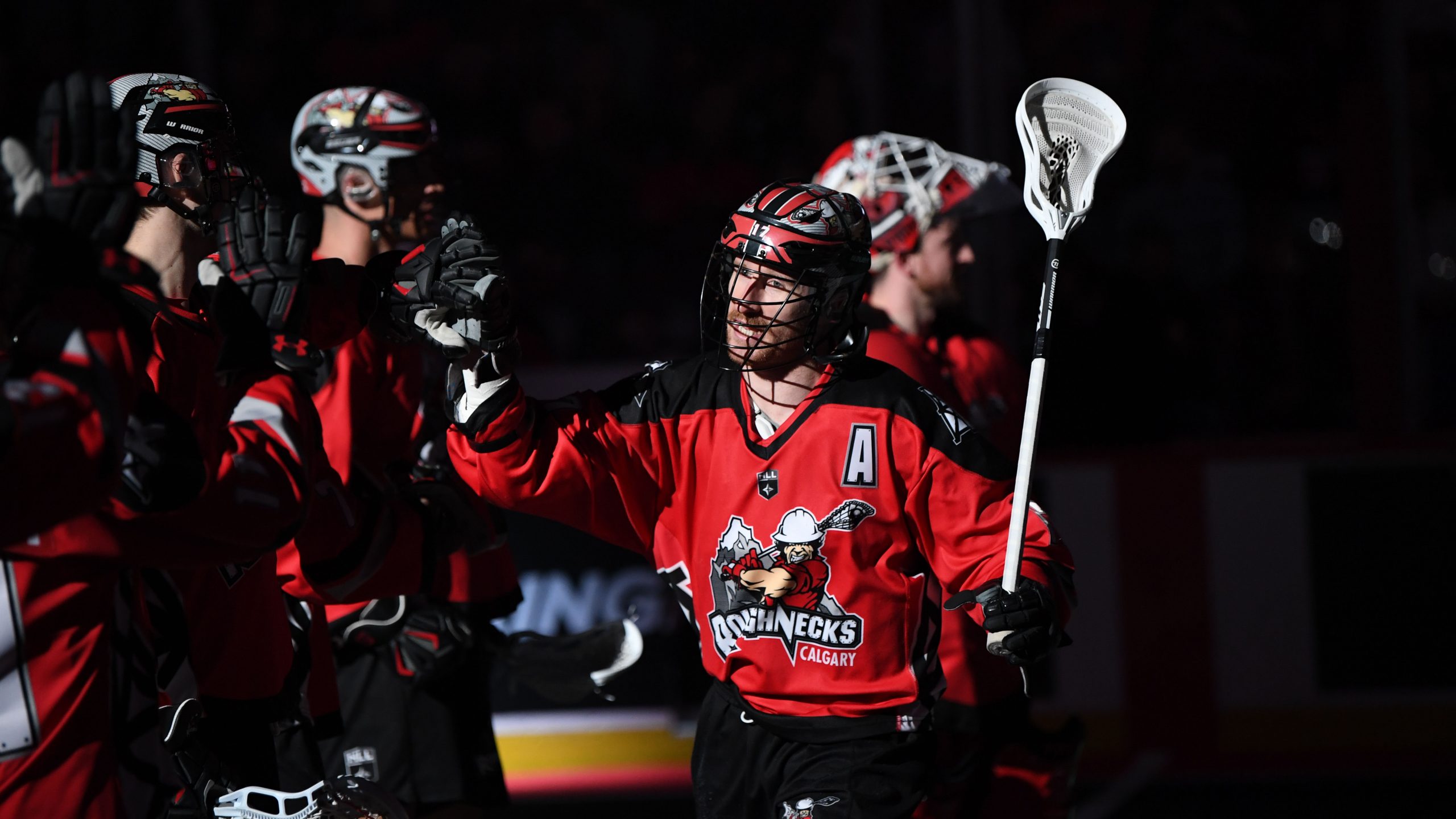 RIGGER RAMBLINGS: The Calgary Roughnecks will look to extend their winning streak to three games tonight as they welcome the San Diego Seals to the Scotiabank Saddledome in a 7:30 p.m. start. It's the annual Superhero Party, presented by Pete the Plumber, where the best-dressed man, woman and child will have the chance to win a team signed jersey while the first 1,500 fans in the building will receive Roughnecks branded capes. Cosplayers, including Spiderman, from the Calgary Comic and Entertainment Expo are on site and available for photos behind section 214 and AARCS has adoptable puppies available for meet and greets until ball drop on the concourse behind section 211. Other game highlights include a halftime performance from the Drill Bits while 'Roughnecks Got Talent' winners, The Frontiers, will provide post-game entertainment in The Club.
LAST GAME RECAP: The Riggers are coming off last Saturday's 18-17 overtime victory against the Georgia Swarm at the Infinite Energy Center. Dane Dobbie scored the winning goal 1:40 into the extra session. The captain supplied six of the Roughnecks goals and added an assist in his first outing after a six-game suspension. Calgary jumped out to a 6-2 first-quarter lead and held the advantage for over 47 minutes of play before the Swarm evened the score at 11-11. It was goal-for-goal from then on until Georgia's Lyle Thompson tied it 17-17. Curtis Dickson led the way for the Roughnecks with a season-high 10-point effort (5g, 5a), surpassing 750 career points. Rhys Duch tallied four markers and four helpers to become the 15th player in NLL history to join the 400-goal club. Shayne Jackson had a team-leading nine points (2g, 7a) for Georgia while Zed Williams (5g, 1a) was their top goal scorer followed closely by Randy Staats (4g, 4a).
VS. SAN DIEGO: Tonight marks the second of three regular season meetings between the Roughnecks and Seals. Calgary took the series opener on Dec. 27 with a score of 16-11 at the Pechanga Arena. Jesse King led Calgary's offence with a game leading nine-point effort (5g, 4a) while Curtis Dickson (2g, 4a) notched his 400th career goal with his second of the night. Zach Greer was the top performer for San Diego netting four markers and three assists for seven points. The next contest between the two division rivals is not until the season finale on April 25 at the Pechanga Arena. San Diego is coming off a 15-10 triumph over the Vancouver Warriors last Saturday. Jeremy Noble (1g, 7a) led the Seals with seven points while Casey Jackson (5g, 1a) was their top goal scorer. Austin Staats matched Jackson's six-point effort with two goals and four assists.
2019-20 Regular Season Series Recap
Dec. 27/19 at SD: CGY 16 SD 11… Powered by a 10-goal second half, the Riggers downed the Seals by a score of 16-11
Shots on Goal: CGY 52 SD 56
Power Plays: CGY 1-7 (14.3%) SD 5-8 (62.5%)
All-Time Regular Season Records
All-Time vs. SD: 2-2
All-Time at CGY: 1-1
All-Time at SD: 1-1
Last CGY Win: Dec. 27/19, 16-11 at the Pechanga Arena
Last SD Win: Mar. 30/19, 16-9 at the Scotiabank Saddledome
HEAD-TO-HEAD: 2019-20 REGULAR SEASON
| | | |
| --- | --- | --- |
| Category | Calgary (4-4) | San Diego (4-6) |
| Home Record | 1-3 | 2-3 |
| Away Record | 3-1 | 2-3 |
| Goals For | 97 | 106 |
| Goals Against | 88 | 113 |
| Power Play Pct. | 33.3 | 48.9 |
| Penalty Kill Pct. | 51.2 | 55.5 |
| Faceoffs Pct. | 48.8 | 51.7 |
| Loose Balls | 557 | 748 |
| Points Leader – Season | Curtis Dickson (37) | Wesley Berg (42) |
DOBBIE'S IN THE 'DOME: Tonight marks the first occasion that Dane Dobbie has played in the 'Dome since the Roughnecks Preview Party on November 16. The reigning 2019 NLL MVP returned to the lineup last Saturday after serving a six-game suspension. The veteran forward sat idle since game one in Vancouver on November 29. After tonight's matchup, Dobbie is just three games shy of Jeff Shattler's second place record of 183 franchise games. The only other Rigger to have played in more games is Andrew McBride, who competed in 198 contests with Calgary.
CALGARY'S ELITE TRIO: Last Saturday, Rhys Duch surpassed the 400-career goal mark and became the 15th player in NLL history to enter the 400-club. With the addition of Duch, the Calgary Roughnecks now have three active roster players who have passed the 400 mark, setting a new league record. Curtis Dickson entered the elite club earlier this season (Dec. 27) while Dane Dobbie eclipsed the milestone last year (Mar.16). The trio holds the 13th, 14th and 15th spots on the list.
BERG IS BACK: Tonight marks the first time former Roughneck, Wesley Berg, has stepped foot on Calgary turf since the 2017-18 campaign. The forward, who was one of the Riggers top point producers during his three seasons with the club, is now leading the Seals' offence with 42 points (16g, 26a). Due to contract negotiations, Berg sat out for the entirety of the 2018-19 season before he was traded to the Seals.
RECORD WHEN:
Leading at halftime …… 4-3 Outshooting opponent .…… 1-2
Trailing at halftime ……. 0-1 Outshot by opponent …..….. 3-1
Tied at halftime …….…. 0-0 Shots are tied ……..………… 0-1
ROUGHNECKS MONTH-BY-MONTH: November (1-0), December (1-2), January (0-2), February (2-0).
ROUGHNECKS VS.: (BUF 0-0), (COL 0-1), (GA 1-0), (HFX 0-1), (NE 0-0), (NY 1-0), (PHI 0-1), (ROC 0-1), (SD 1-0), (SAS 0-0), (TOR 0-0), (VAN 1-0).
STREAKING: Several players take point streaks into today's game: Curtis Dickson (18g, 19a) and Dan Taylor (12g, 18a) have both tallied points in all eight contests this season. Shane Simpson (6g, 8a) is riding a six-game streak while Zach Herreweyers (4g, 9a), Rhys Duch (6g, 13a) and Dereck Downs (3g, 8a) have points in four consecutive outings. Curtis Manning (3a) and Christian Del Bianco (4a) have points in back-to-back showings. Mitch Wilde saw his five-game streak end last Saturday.
MILESTONE MARKERS: On Feb. 22, several players hit a multitude of career milestones; Rhys Duch surpassed the 400-goal mark while Curtis Dickson eclipsed 750 career points. Dane Dobbie tallied his 450th assist and Curtis Manning notched his 50th. Tyson Bell scooped up his 400th loose ball that same night. On Feb. 8, three players surpassed loose ball milestones including Tyler Pace (100 LB), Eli Salama (100 LB) and Tyler Burton (600 LB). On Jan. 18, Dan Taylor eclipsed 100 career points with a three-goal effort while Shane Simpson and Reece Callies both surpassed the 50 loose balls mark.
BY THE NUMBERS:
1 – Mitch Wilde is one game away from 100
2 – Tyler Burton is two caused turnovers away from 100
3 – Mitch Wilde is three points shy of 100
3 – Anthony Kalinich is three loose balls back from 50
3 – Dan Taylor needs three loose balls for 100
3 – Tyson Bell needs three points for 50
4 – Curtis Dickson is four assists away from 350
5 – Dan Taylor is five goals away from 50
6 – Dane Dobbie is six loose balls back from 600
7 – Chad Cummings is six caused turnovers away from 50
7 – Tyler Burton is seven points shy of 50
8 – Tyler Pace needs eight assists for 50
CLIMING THE CHARTS: Christian Del Bianco is on the brink of surpassing three of Frank Scigliano's third-place franchise records. With three more wins, Del Bianco will become the third-most winningest goaltender eclipsing Scigliano's previous record of 23. Del Bianco needs 58 saves to have the third-most saves in franchise history, breaking Scigliano's 1787 mark, and once Del Bianco plays 164 more minutes, he will surpass Scigliano with 2705 minutes to take the third-place spot.
ACTION FOR AARCS: On Jan. 29, the Roughnecks announced 'Action for AARCS', a program that raises funds and awareness for the Alberta Animal Rescue Crew Society. AARCS is a grassroots animal welfare organization based in Calgary with a foundation of compassion and kindness. For every home goal scored by the Roughnecks this season, the Calgary Roughnecks Foundation will direct $25 to AARCS to help with the rehabilitation and re-homing of homeless and helpless animals in our province. With 39 home goals, the Roughnecks have raised $975 for AARCS to date.
TRAIN WITH THE PROS: Due to overwhelming demand, the Roughnecks have expanded the 'Train with the Pros' lacrosse camps. The additional camp, which will take place on March 29 at the Calgary Soccer Centre, will be run by Roughnecks forward Tyler Pace, defence/transition player Zach Currier, and veteran goaltender Tyler Richards. Lacrosse players from Novice to Midget are invited to register for the 1.5 hour clinics where Pace, Currier and Richards will be instructing small groups with a focus on stick skills, game fundamentals and goalie angles. Registration is now open, please visit CalgaryRoughnecks.com/roughnecks-train-with-the-pros-camp-2020/. The sessions on March 29 and April 4 led by Dobbie, Dickson and Del Bianco are sold out except for six goalie spots in the Novice/PeeWee session the first weekend.
PRE-GAME IN SADDLEROOM GRILL: New this year, the Saddleroom Grill located above section 212, will be open before all Roughnecks home games. The pre-game meal, which begins two hours prior to puck drop, features a brand new Roughnecks menu with great prices including platters that start at just $13 per person. Visit Roughnecks.com/Saddleroom or call 403-777-3694 for more information.
POST-GAME AUTOGRAPHS: After each home game, fans are invited down on the turf through Section 103 where they can meet the Roughnecks players and get autographs.
THE ROAD AHEAD: Following tonight's game the Roughnecks begin their busiest stretch of the season, playing four games in 13 days. During that time span, Calgary will visit Toronto (Mar. 8), host Saskatchewan (Mar. 13), then travel to New England (Mar. 15) and Colorado (Mar. 20). The next home game on March 13 is the St. Patrick's Day Party where the first 3,000 fans in the building will receive vouchers for a FREE 14 oz. Bud or Bud Light draught beer and a cheeseburger, hot dog or slice of pizza and a (vouchers are only redeemable on Mar. 13). Doors open early at 5:30 p.m. for an extended happy hour featuring green beer and food and beverage specials at all concourse concessions. Fans who are in attendance and download the Roughnecks official app will have a chance to win flights for two to Dublin, Ireland courtesy of WestJet. Other highlights include Irish dancers on the concourse and a halftime performance by Crack the Lens.