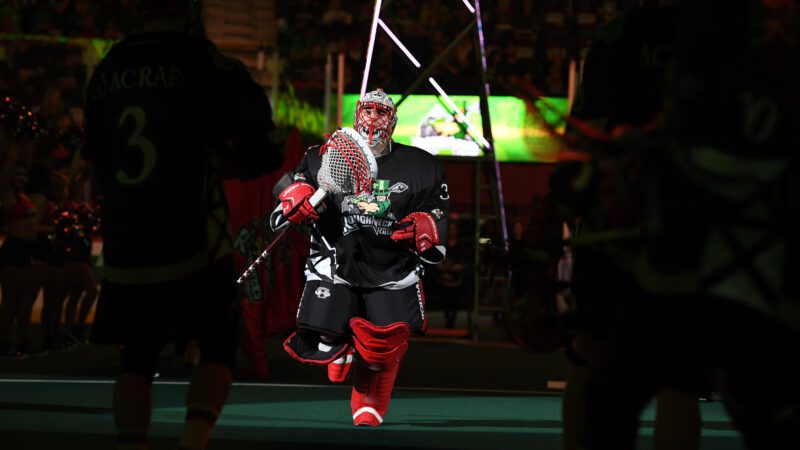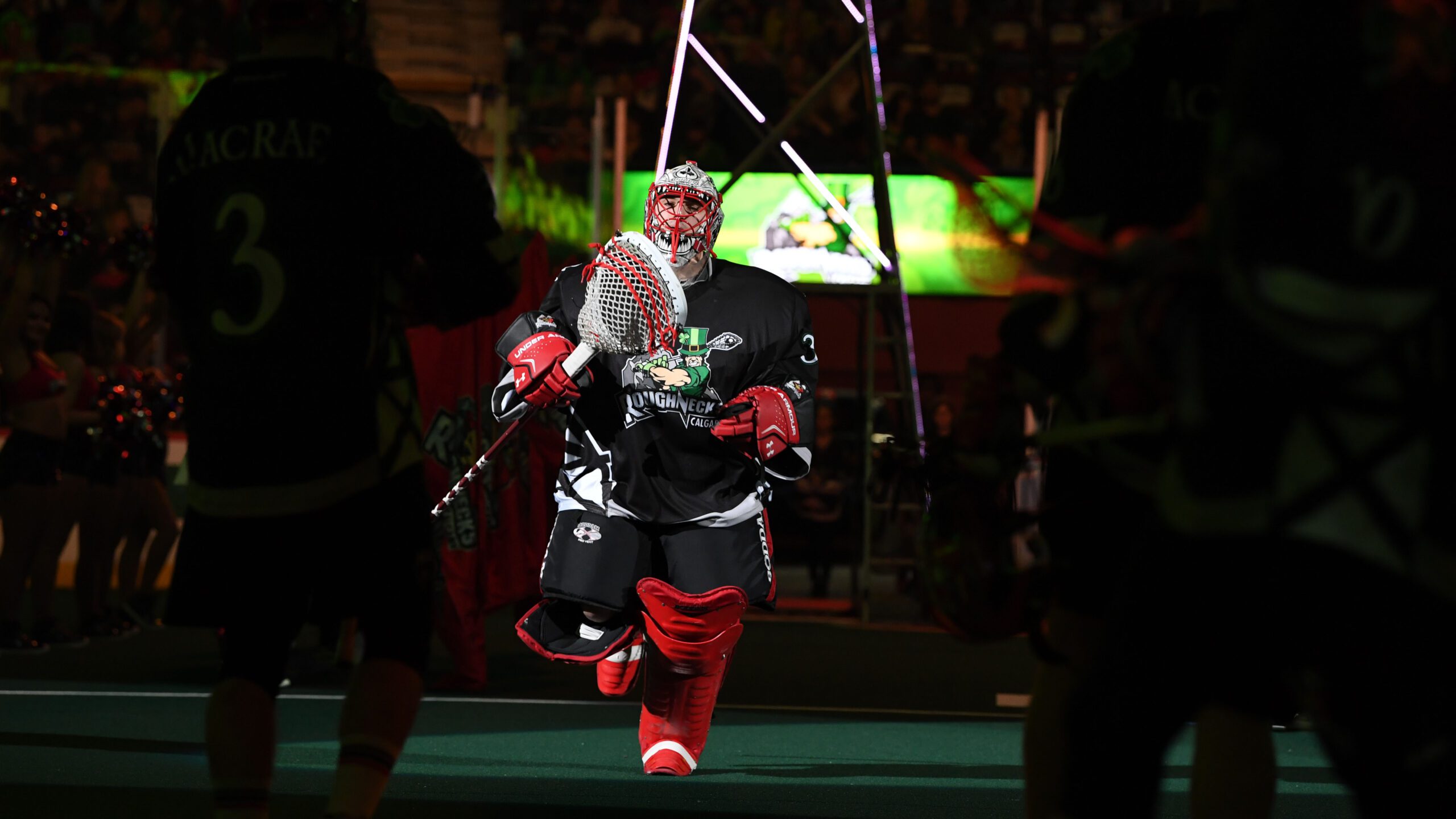 RIGGER RAMBLINGS: The Calgary Roughnecks will look to build upon last Saturday's victory as they host the Colorado Mammoth tonight at the Scotiabank Saddledome for the biggest St. Patrick's Day Party in the city. Game time is at 7:00 p.m. with doors opening at 5:00 p.m. for an extended happy hour. Fans that arrive between 5:00-5:30 p.m. will receive a voucher for a free food item and a beverage. Festivities include pub-style games on the concourse, a halftime performance by the Calgary Fiddlers and a post-game performance by Swift Olliver in the Chrysler Club. Players will wear limited-edition St. Patrick's Day themed jerseys which will be available for bid on ElevateAuctions.com following the game. Last Saturday, Calgary strung together three four-goal quarters en route to a 15-9 win over the Toronto Rock and snap a two-game slide. Calgary came out of the gate firing, landing four markers in the first 6:40 of play. Rhys Duch (4g, 2a) tallied a game-leading four goals while Riley Loewen (3g, 2a) and Tyler Pace (3g, 1a) each recorded a hat-trick. Curtis Dickson led the Roughnecks offensively with eight assists. Tom Schreiber was the top performer for the Rock with four assists while Dan Lintner was their top goal scorer with three.
VS. COLORADO: Tonight marks the third and final regular season meeting between the two West Division rivals. The series is split 1-1 as Calgary took the opener on Jan. 6 by a score of 11-8 with a strong offensive push in the second half while on Jan. 20, Colorado brought down the Roughnecks 12-7. The Mammoth are coming off last Saturday's 13-10 loss to the San Diego Seals, which extended their losing streak to three games. Calgary is 3-2 when playing at the 'Dome this season while Colorado is 1-4 on the road.
2018-19 Regular Season Series Recap
Jan. 6/19 at COL: CGY 11 COL 8… Roughnecks added six second half goals to overcome the Mammoth 11-8.
Jan. 20/19 at COL: COL 12 CGY 7… Colorado stretched a 3-1 first quarter lead to a 12-7 victory over Calgary.
Shots on Goal: CGY 78 COL 101
Power Plays: CGY 2-7 (28.6%) COL 3-12 (25.0%)
All-Time Regular Season Records
All-Time vs. COL: 20-25
All-Time at CGY: 13-11
All-Time at COL: 7-14*
Last CGY Win: Jan. 6/19, 11-8 at the Pepsi Center
Last COL Win: Jan. 20/19, 12-7 at the Pepsi Center
*Note: One loss was against the Washington Power in 2002.
HEAD-TO-HEAD: 2018-19 REGULAR SEASON
Category
Roughnecks (6-6)
Colorado (3-8)
Home Record
3-2
2-4
Away Record
3-4
1-4
Goals For
132
116
Goals Against
131
102
Power Play Pct.
43.55
43.48
Penalty Kill Pct.
64.15
51.61
Faceoffs Pct.
54.2 (169-312)
53.1 (152-286)
Loose Balls
841
762
Points Leader – Season

Points Leader – Series

Dane Dobbie (72)

Dan Taylor (7)

Eli McLaughlin (52)

Ryan Benesch (10)
ROUGHNECKS MONTH-BY-MONTH: December (2-1), January (1-3), February (2-1), March (1-1)
ROUGHNECKS VS.: (BUF 0-1), (COL 1-1), (GA 0-0), (NE 0-1), (PHI 0-0), (ROC 0-0), (SD 1-1), (SAS 1-1), (TOR 1-0), (VAN 2-1)
RECORD WHEN:
Leading at halftime …… 1-2 Outshooting opponent .…… 3-2
Trailing at halftime ……. 2-4 Outshot by opponent …..….. 3-4
Tied at halftime …….…. 3-0 Shots are tied ……..………… 0-0
ROUGHNECKS VS. DIVISION: West (5-4), East (1-2).
FAST FACTS: Calgary leads the league in penalty killing with 64.2 percent while their power play record sits eight in the league at 43.5… With 131 goals against in 12 games, the Roughnecks hold the lowest goals against per game with an average 10.92 markers… The Roughnecks are 1-2 when playing teams from the east while their record when playing divisional rivals is 5-4.
TRADE WINDS: On Mar. 7, the Calgary Roughnecks acquired a fourth round pick in the 2020 NLL Entry Draft from the Rochester Knighthawks in exchange for forward Chris Boushy. Boushy, a native of Oakville, Ontario, joined the Roughnecks on Dec. 10, 2018 as a free agent after being selected by the Saskatchewan Rush in the third round, 31st overall, in the 2017 Entry Draft. The 21-year-old recorded 14 points (8g, 6a) in eight games with Calgary.
IN THE COMMUNITY: Run with the Roughnecks is back Sunday, Mar. 31 from 9:30 a.m. – 1:00 p.m. Young lacrosse players and youth interested in trying lacrosse are invited to a hands on instructional clinic with Roughnecks players at the Calgary Soccer Centre (7000 48 St. SE). The event is open to youth ages 6-16 with groups formed based on age and skill level. Spots are limited so make sure to secure yours today at calgaryroughnecks.com/run/
RIGHT TO PLAY: The NLL has launched the seventh consecutive league-wide fundraising campaign for Right To Play, a global organization that uses the power of play and sport to improve the lives of children and youth affected by conflict, disease and poverty. Defenseman Zach Currier will represent the Roughnecks as Calgary's "Champion" for this campaign. Fundraising began Mar. 4 and will run for the month of March culminating on the weekend of Mar. 22-24 with an online auction featuring team signed jerseys from all 11 active NLL franchises. Help Currier in supporting this great cause by making a donation today at calgaryroughnecks.com/play/
AUCTION ALERT: Get your hands on a piece of franchise history. All limited-edition St. Patrick's Day themed game-worn and game-issued jerseys from tonight's contest are up for auction at ElevateAuctions.com. There are also select autographed game-issued jerseys available. Bidding begins at 7:00 p.m. tonight and closes on Mar. 24 at 8:00 p.m.
ROUGHNECKS IN THE NLL TOP 10: Dane Dobbie leads the NLL with 140 shots on goal while his 189 shots puts him at second. He is sixth in the league with 72 points including 28 goals (tied for third in NLL) and 44 assists (tied for fifth). The forward is tied for third in power play goals with eight and tied for third with 12 power play assists… Rhys Duch is also tied for third for power play goals with eight… Zach Currier is tied for first with 24 caused turnovers while his 124 loose balls put him in second… Dan MacRae is tied for fifth for caused turnovers with 19… Eli Salama leads all rookies with two shorthanded assists and is tied for tenth out of the rookies with 34 loose balls. His eight caused turnovers put his at sixth among rookies… Reece Callies is tied for tenth among rookies with six caused turnovers… Christian Del Bianco's 10.91 goals against average puts him at third in the NLL.
MILESTONE MARKERS: On Mar. 9, Curtis Dickson surpassed 300 assists and picked up his 500th loose ball. On Mar. 2, Mitch Wilde scooped up his 300th loose ball while Zach Currier hit the same milestone on Feb. 16. On Feb. 9, Dane Dobbie surpassed 800 NLL career points while Tyler Burton eclipsed 500 loose balls. On Feb. 2, Rhys Duch scooped up his 800th loose ball. On Jan. 20, multiple players hit milestones: Dane Dobbie recorded his 400th career assist while Mitch Wilde recorded his 50th career helper and Riley Loewen eclipsed 200 loose balls.
THE ROAD AHEAD: The Roughnecks will now travel east to Rochester to face the Knighthawks on Saturday, Mar. 23. Game time is 5:30 p.m. MST. They will return to the 'Dome on Mar. 30 for their final matchup against divisional rivals the San Diego Seals. Game time is 7:00 p.m. while doors open at 5:30 p.m. for the $5 Happy Hour.