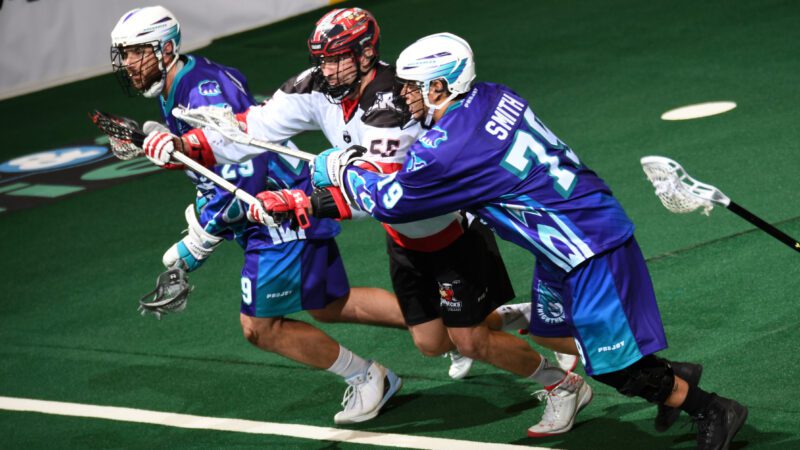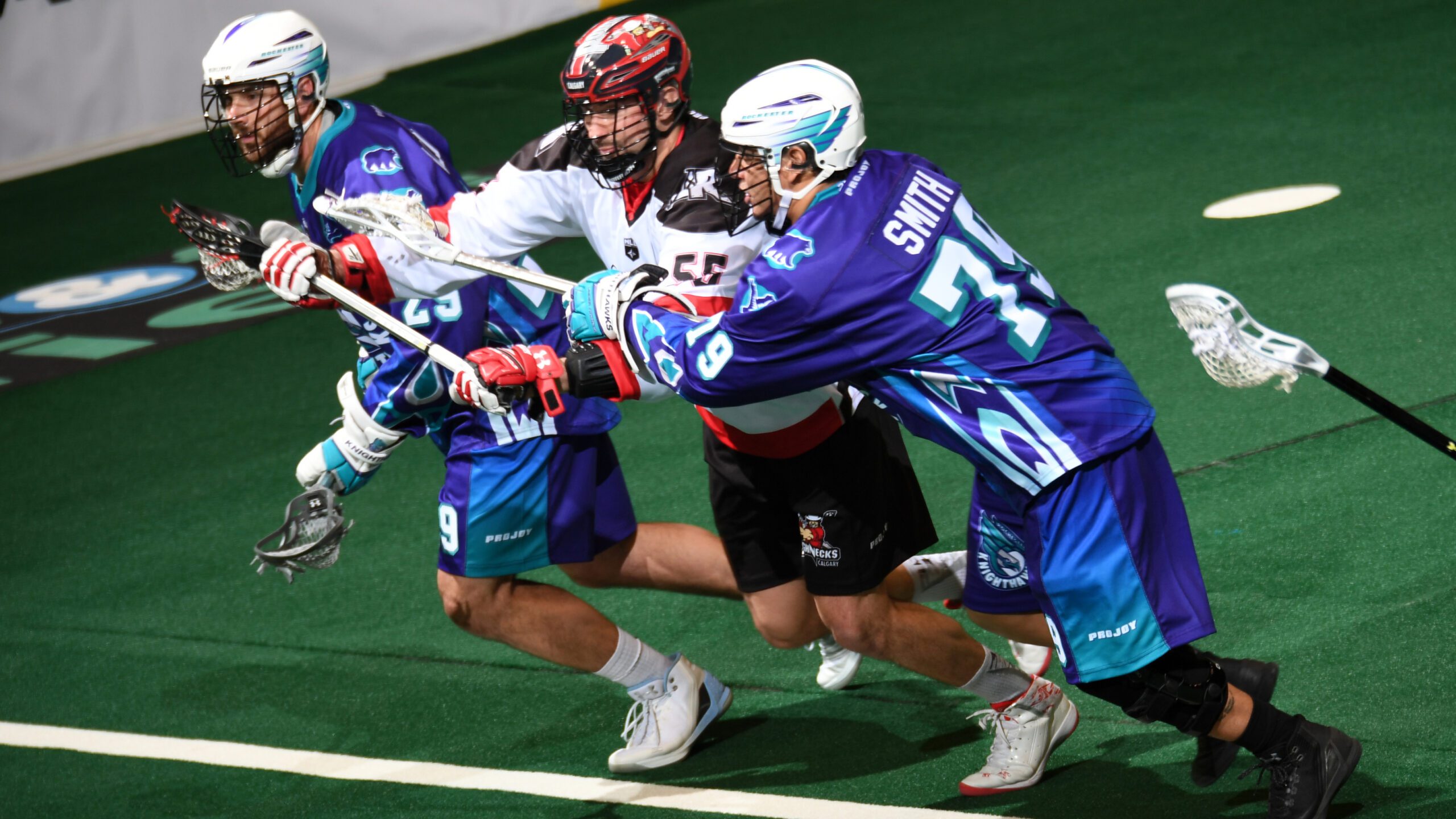 RIGGER RAMBLINGS: The Calgary Roughnecks will look to bounce back from last Saturday's home loss as they visit the Rochester Knighthawks tonight at The Blue Cross Arena. Game time is 7:30 p.m. EST. Last week, Calgary jumped out to an early 4-1 lead in the first quarter but was unable to maintain the advantage as Kyle Killen (3g, 2a) and Eli McLaughlin (2g, 3a) each tallied five points to lead the Colorado Mammoth to a 11-9 victory and take the season series 2-1. Six Roughnecks found the back of the Mammoth net including rookie defenceman Eli Salama, who recorded his first NLL career goal and Dane Dobbie (2g, 4a) who had a game-leading six-point effort and registered his 400th career goal.
VS. ROCHESTER: Tonight marks the first and only regular season meeting between the Roughnecks and Knighthawks. Last season the two teams split the series 1-1 with Rochester outscoring Calgary by a combined 30-20. The Knighthawks took the season opener on Dec. 9 with a score of 17-6 while the Riggers edged their East Division rivals 14-13 on Mar. 17 ending their four-game winning streak. Kyle Jackson led the series for Rochester with five goals and six helpers while Wesley Berg (6g, 3a) was the top performer for Calgary with nine points in two games. The Knighthawks are coming off last Saturday's 15-13 loss to the Toronto Rock, which extended their losing streak to seven games. Calgary is 3-4 when playing at the road this season while Rochester is 2-3 at home.
2017-18 Regular Season Series Recap
Dec. 9/17 at ROC: ROC 17 CGY 6…Rochester took the season-opener propelled by an eight-goal second quarter.
Mar. 17/18 at CGY: CGY 14 ROC 13…Calgary held on to the advantage despite a fourth-quarter comeback by the Knighthawks.
Shots on Goal: CGY 94 ROC 106
Power Plays: CGY 5-10 (50.0%) ROC 5-7 (71.4%)
All-Time Regular Season Records
All-Time vs. ROC: 28-17
All-Time at CGY: 11-9
All-Time at COL: 17-8
Last CGY Win: Mar. 17/18, 14-13 at the Scotiabank Saddledome
Last ROC Win: Dec. 9/17, 17-6 at The Blue Cross Arena
HEAD-TO-HEAD: 2018-19 REGULAR SEASON
| | | |
| --- | --- | --- |
| Category | Roughnecks (6-7) | Rochester (2-10) |
| Home Record | 3-3 | 2-3 |
| Away Record | 3-4 | 0-7 |
| Goals For | 141 | 138 |
| Goals Against | 142 | 167 |
| Power Play Pct. | 45.31 | 44.90 |
| Penalty Kill Pct. | 64.91 | 53.13 |
| Faceoffs Pct. | 54.9 (185-337) | 55.9 (198-354) |
| Loose Balls | 911 | 869 |
| Points Leader – Season | Dane Dobbie (78) | Cody Jamieson (61) |
ROUGHNECKS MONTH-BY-MONTH: December (2-1), January (1-3), February (2-1), March (1-2)
ROUGHNECKS VS.: (BUF 0-1), (COL 1-2), (GA 0-0), (NE 0-1), (PHI 0-0), (ROC 0-0), (SD 1-1), (SAS 1-1), (TOR 1-0), (VAN 2-1)
RECORD WHEN:
Leading at halftime …… 1-2 Outshooting opponent .…… 3-2
Trailing at halftime ……. 2-4 Outshot by opponent …..….. 3-5
Tied at halftime …….…. 3-1 Shots are tied ……..………… 0-0
ROUGHNECKS VS. DIVISION: West (5-5), East (1-2).
FINAL FIVE: Including tonight, the Roughnecks finish the 2018-19 regular season with a pair of road games and three contests at home. Calgary closed out the final five games of 2017-18 with a record of 3-2. Two of the three wins were at in Vancouver while one came on home turf against an opponent from the east: 13-9 over Vancouver (Mar. 31), 16-9 over Buffalo (Apr. 14) and 26-11 in Vancouver (Apr. 21).
400 CLUB: Dane Dobbie recorded his 400th career goal in last weekend's 11-9 loss to Colorado. He became the 13th player in league history to hit this milestone and the first player in team history to score all 400 goals as a member of the Roughnecks. Teammate Rhys Duch is just eight goals back from hitting the 400 mark. Former NLL players who suited up for Calgary and reached 400 goals include Josh Sanderson (449), Lewis Ratcliff (440) and Shawn Evans (428).
IN THE COMMUNITY: Run with the Roughnecks is back Sunday, Mar. 31 from 9:30 a.m. – 1:00 p.m. Young lacrosse players and youth interested in trying lacrosse are invited to a hands on instructional clinic with Roughnecks players at the Calgary Soccer Centre (7000 48 St. SE). The event is open to youth ages 6-16 with groups formed based on age and skill level. Tickets are available for $25 (plus applicable taxes and fees) or $45 (plus applicable taxes and fees) and includes a game ticket to the matchup against the San Diego Seals on Mar. 30 at the Scotiabank Saddledome. Spots are limited so make sure to secure yours today at calgaryroughnecks.com/run/
RIGHT TO PLAY: The NLL has launched the seventh consecutive league-wide fundraising campaign for Right To Play, a global organization that uses the power of play and sport to improve the lives of children and youth affected by conflict, disease and poverty. Defenseman Zach Currier will represent the Roughnecks as Calgary's "Champion" for this campaign. Fundraising began Mar. 4 and will run for the month of March culminating on the weekend of Mar. 22-24 with an online auction featuring team signed jerseys from all 11 active NLL franchises. Help Currier in supporting this great cause by making a donation today at calgaryroughnecks.com/play/
AUCTION ALERT: It's your last chance to get your hands on a piece of franchise history. All limited-edition St. Patrick's Day themed game-worn and game-issued jerseys from the contest against the Colorado Mammoth on Mar. 16 are up for bid at ElevateAuctions.com. There are also select autographed game-issued jerseys available. Bidding closes on Mar. 24 at 8:00 p.m.
ROUGHNECKS IN THE NLL TOP 10: Dane Dobbie leads the NLL with 151 shots on goal and with 206 shots. He is sixth in the league with 78 points including 30 goals and 48 assists (both fifth in NLL). The forward is tied for fourth in power play goals with eight and tied for third with 13 power play assists… Rhys Duch is third for power play goals with eight… Zach Currier is second in the league with 26 caused turnovers and with 142 loose balls… Dan MacRae is tied for fourth in caused turnovers with 22… Eli Salama leads all rookies with two shorthanded assists and is tenth out of the rookies with 43 loose balls. His nine caused turnovers put him at sixth among rookies… Christian Del Bianco's 10.92 goals against average puts him at fifth in the NLL while his 0.784 save percentage is sixth in the league.
MILESTONE MARKERS: On Mar. 16, Dane Dobbie surpassed 400 career NLL goals while Tyler Burton eclipsed 900 face-off wins that same night. On Mar. 9, Curtis Dickson surpassed 300 assists and picked up his 500th loose ball. On Mar. 2, Mitch Wilde scooped up his 300th loose ball while Zach Currier hit the same milestone on Feb. 16. On Feb. 9, Dane Dobbie surpassed 800 NLL career points while Tyler Burton eclipsed 500 loose balls. On Feb. 2, Rhys Duch scooped up his 800th loose ball. On Jan. 20, multiple players hit milestones: Dane Dobbie recorded his 400th career assist while Mitch Wilde recorded his 50th career helper and Riley Loewen eclipsed 200 loose balls.
THE ROAD AHEAD: The Roughnecks return to the 'Dome on Mar. 30 for their final matchup against divisional rivals the San Diego Seals. Game time is 7:00 p.m. and players will sport rainbow tape on their sticks during the contest in support of You Can Play. After the game head to the Chrysler Club for a live performance from the Dueling Piano Kings.