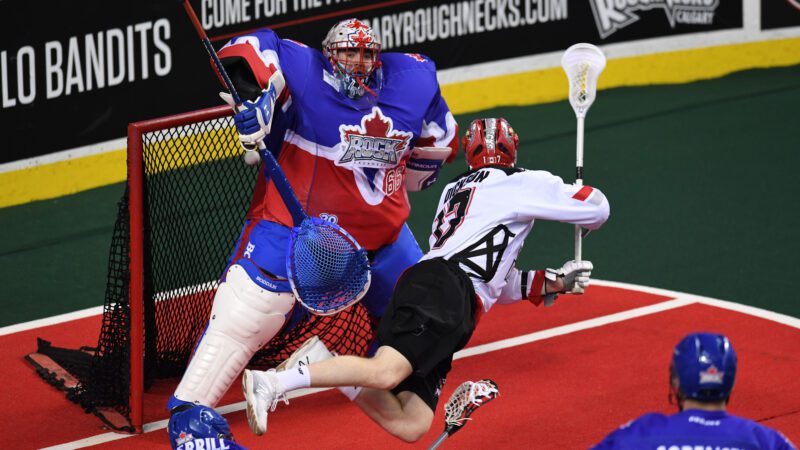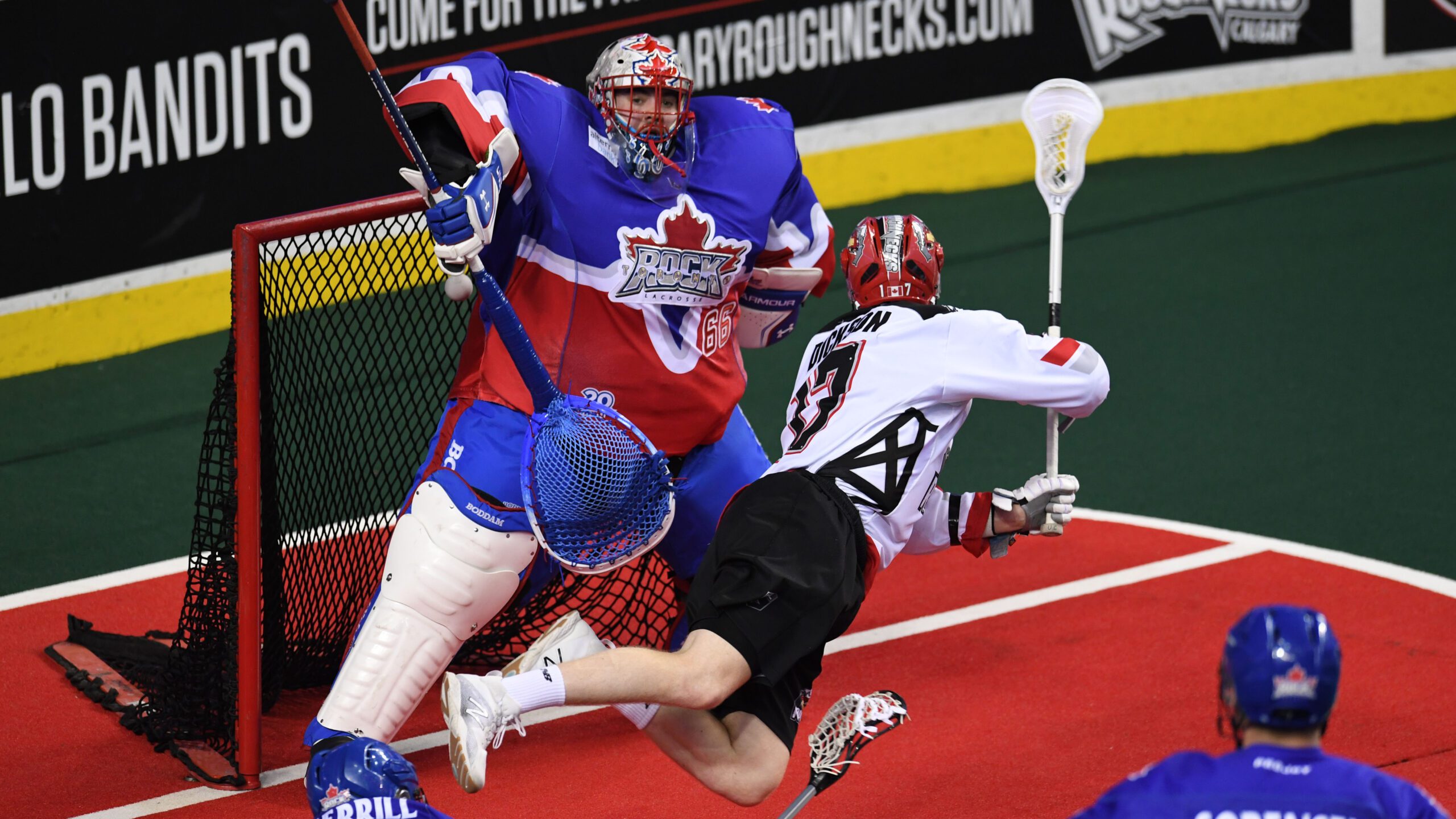 RIGGER RAMBLINGS: The Calgary Roughnecks will look to snap a two-game losing streak tonight as they host the Toronto Rock at the Scotiabank Saddledome. Game time is at 7:00 p.m. featuring a halftime performance by the Drill Bits. The Riggers are coming off last Saturday's 15-9 upset against the Saskatchewan Rush. The Rush, who outshot Calgary 58-42, extended a 6-3 first quarter lead to secure the victory. Dane Dobbie (3g, 4a), who led Calgary with seven points, now has 418 career assists to surpass the franchise's all-time record for most assists, previously set by former Roughneck Jeff Shattler with 416. Curtis Dickson (3g, 3a) added three goals while Rhys Duch (1g, 2a), Tyler Pace (1g) and Zach Currier (1g), shorthanded, rounded out the scoring for Calgary. Jeff Shattler (3g, 4a) matched Dobbie's seven-point effort to lead the Rush while eight others found the back of the net for the home team. The Toronto Rock are coming off a bye-week. They last saw action on Feb. 24 when they fell 13-11 to the New England Black Wolves.
VS. TORONTO: Tonight is the first and only regular season match-up between the Roughnecks and Rock. Last season the two clubs split the series 1-1. Calgary took game one on Feb. 3, 2018 with a 16-8 victory, then on Mar. 24, 2018 the Rock brought down the Roughnecks by a score of 17-14. Curtis Dickson (8g, 3a), Dane Dobbie (7g, 4a) and Wesley Berg (3g, 8a) led the Roughnecks offensively with 11 points each in the series. Rob Hellyer (6g, 7a) was the top performer for Toronto with 13 points while Adam Jones (3g, 7a) was next with 10.
2017-18 Regular Season Series Recap
Feb. 3/18 at TOR: CGY 16 TOR 8 … Calgary dominated the fourth quarter scoring seven goals en route to a 16-8 win.
Mar. 24/18 at CGY: TOR 17 CGY 14 … Tied 11-11 after the third quarter, the Rock added six goals to secure the victory.
Shots on Goal: CGY 103 TOR 114
Power Plays: CGY 5-8 (62.5%) TOR 2-8 (25.0%)
All-Time Regular Season Records
All-Time vs. TOR: 13-22
All-Time at CGY: 7-10
All-Time at TOR: 6-12
Last CGY Win: Feb. 3/18, 16-8 at the Air Canada Centre
Last TOR Win: Mar. 24/18, 17-14 at the Scotiabank Saddledome
HEAD-TO-HEAD: 2018-19 REGULAR SEASON
| | | |
| --- | --- | --- |
| Category | Roughnecks (5-6) | Toronto (7-2) |
| Home Record | 2-2 | 4-1 |
| Away Record | 3-4 | 3-1 |
| Goals For | 117 | 116 |
| Goals Against | 122 | 102 |
| Power Play Pct. | 42.31 | 51.28 |
| Penalty Kill Pct. | 62.50 | 51.85 |
| Faceoffs Pct. | 54.6 (155-284) | 48.2 (122-253) |
| Loose Balls | 787 | 698 |
| Points Leader – Season | Dane Dobbie (65) | Tom Schreiber (53) |
ROUGHNECKS MONTH-BY-MONTH: December (2-1), January (1-3), February (2-1), March (0-1)
ROUGHNECKS VS.: (BUF 0-1), (COL 1-1), (GA 0-0), (NE 0-1), (PHI 0-0), (ROC 0-0), (SD 1-1), (SAS 1-1), (TOR 0-0), (VAN 2-1)
RECORD WHEN:
Leading at halftime …… 0-2 Outshooting opponent .…… 3-2
Trailing at halftime ……. 2-4 Outshot by opponent …..….. 2-4
Tied at halftime …….…. 3-0 Shots are tied ……..………… 0-0
ROUGHNECKS VS. DIVISION: West (5-4), East (0-2).
FAST FACTS: With 122 goals against in 11 games, the Roughnecks hold the second lowest goals against per game with an average 11.09 markers. The Roughnecks are 5-4 when playing divisional rivals while their record when playing teams from the east is 0-2.
TRADE WINDS: On Thursday, the Calgary Roughnecks acquired a fourth round pick in the 2020 NLL Entry Draft from the Rochester Knighthawks in exchange for forward Chris Boushy. Boushy, a native of Oakville, Ontario, joined the Roughnecks on Dec. 10, 2018 as a free agent after being selected by the Saskatchewan Rush in the third round, 31st overall, in the 2017 Entry Draft. The 21-year-old recorded 14 points (8g, 6a) in eight games with Calgary.
IN THE COMMUNITY: The NLL has launched the seventh consecutive league-wide fundraising campaign for Right To Play, a global organization that uses the power of play and sport to improve the lives of children and youth affected by conflict, disease and poverty. Defenseman Zach Currier will represent the Roughnecks as Calgary's "Champion" for this campaign. Fundraising began Mar. 4 and will run for the month of March culminating on the weekend of Mar. 22-24 with an online auction featuring team signed jerseys from all 11 active NLL franchises. Help Currier in supporting this great cause by making a donation today at http://calgaryroughnecks.com/play/
ROUGHNECKS IN THE NLL TOP 10: Dane Dobbie is second in the NLL with 174 shots and 129 shots on goal. He is sixth in the league with 65 points including 27 goals (tied for third in NLL) and 38 assists (seventh in NLL). The forward is tied for third in power play goals with eight and is first in turnovers with 51…Rhys Duch is tied for sixth for power play goals with six… Zach Currier is tied for first with 24 caused turnovers while his 112 loose balls put him in second… Dan MacRae is tied for fourth for caused turnovers with 18… Curtis Dickson is tied for tenth with 32 turnovers.
DOMINANT DOBBIE: Alternate captain Dane Dobbie now holds the franchise's all-time record for assists with 418, a mark previously set by Jeff Shattler with 416. Dobbie has 816 points (398g, 418a) in 171 games. Last season the forward surpassed Shattler's record of 684 points to become the franchise's all-time leading scorer finishing the season with 751 points (371g, 380a) in 160 contests.
MARCH PARTY PACK: For a limited time, the Roughnecks are excited to offer a two-game party pack for only $40 (plus applicable fees and taxes). Choose any two games in March and receive second-level seating at 57% off. All matchups take place on Saturday nights with 7:00 p.m. starts and feature the $5 Happy Hour starting at 5:30 p.m. Watch the Riggers take on the Toronto Rock on Mar. 9, the Colorado Mammoth on Mar. 16 during the St. Patrick's Day Party with an extended Happy Hour from 5:00-7:00 p.m., or battle the San Diego Seals on Mar. 30. Visit CalgaryRoughneck.com/partypack to score yours today.
MILESTONE MARKERS: On Mar. 2, Mitch Wilde scooped up his 300th loose ball while Zach Currier hit the same milestone on Feb. 16. On Feb. 9, Dane Dobbie surpassed 800 NLL career points while Tyler Burton eclipsed 500 loose balls. On Feb. 2, Rhys Duch scooped up his 800th loose ball. On Jan. 20, multiple players hit milestones: Dane Dobbie recorded his 400th career assist while Mitch Wilde recorded his 50th career helper and Riley Loewen eclipsed 200 loose balls. On Jan. 18, Tyson Bell picked up nine loose balls to eclipse 300. On Jan. 12, Tyler Burton and Greg Harnett both played their 100th NLL career game while rookie Reece Callies recorded his first NLL goal on the same night. On Jan. 6, first round draft pick in 2018 Shane Simpson tallied his first NLL career point with a goal and two assists while Chad Cummings eclipsed 150 loose balls.
THE ROAD AHEAD: The Roughnecks are back at the 'Dome next Saturday, Mar. 16, when they host the Colorado Mammoth during Calgary's biggest St. Patrick's Day Party. Game time is 7:00 p.m. while doors open at 5:00 p.m. for an extended happy hour. Fans that arrive between 5:00-5:30 p.m. will receive a voucher for a free burger, slice of pizza or a hot dog and a beverage. Festivities include pub-style games on the concourse, a halftime performance by the Calgary Fiddlers and a post-game performance by Swift Olliver in the Chrysler Club. Players will wear limited-edition St. Patrick's Day themed jerseys which will be unveiled with a special presentation on the turn during halftime. They will be available for bid on ElevateAuctions.com following the game.