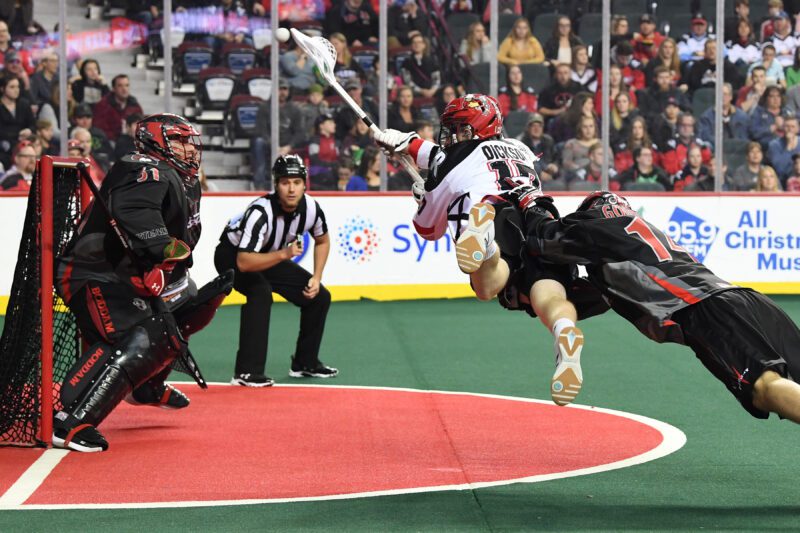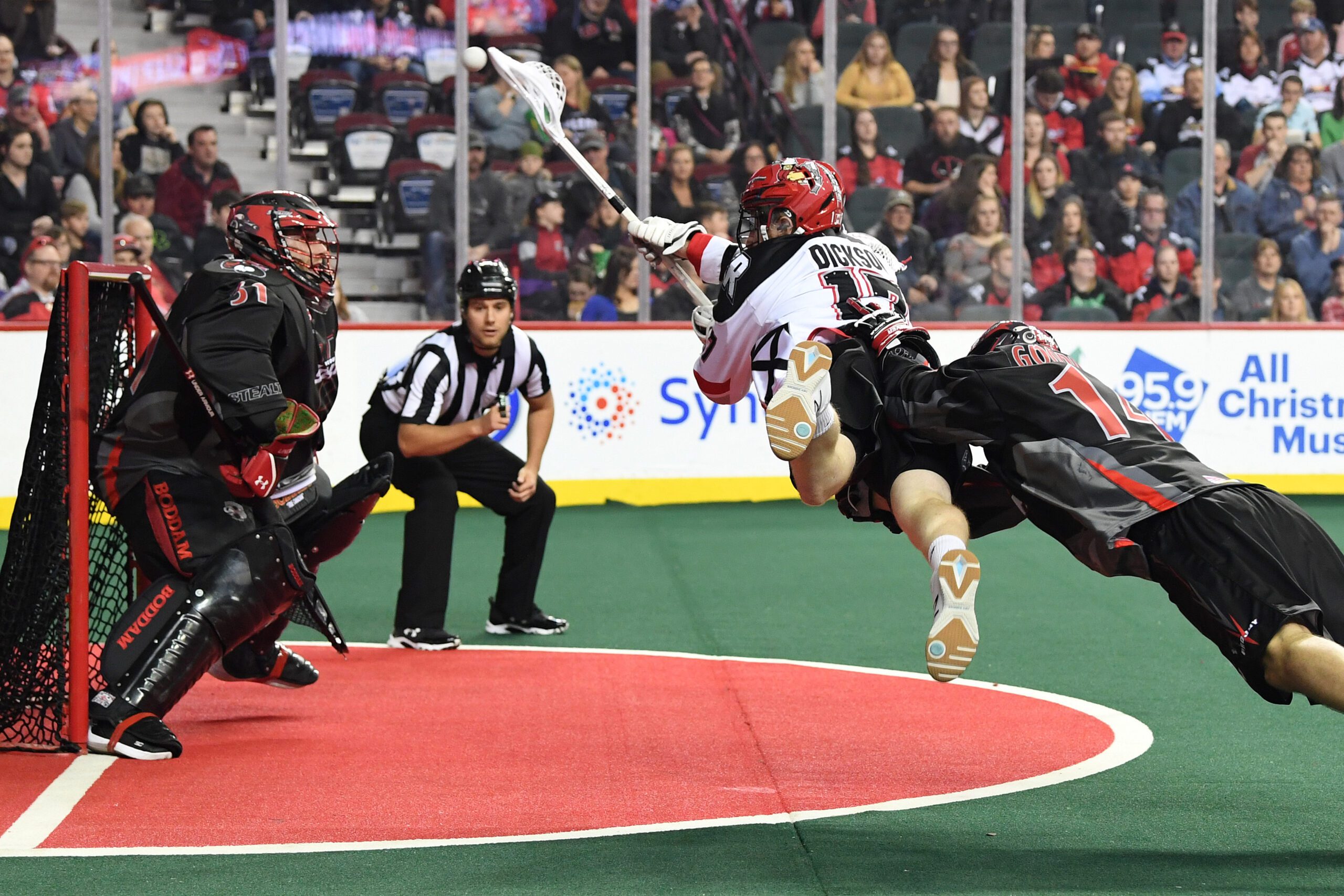 The Calgary Roughnecks begin a two-game road trip tonight as they face the Vancouver Stealth at the Langley Events Centre. Game time is 8:00 p.m. MT. Calgary is coming off last Saturday's 17-14 setback against the Toronto Rock. The Roughnecks were able to come back from a 6-1 deficit in the first quarter by netting seven goals in the second, but their efforts fell short. Alternate captain Curtis Dickson (4g, 1a) surpassed 600 career points after finishing the contest with four goals and one helper for five points. Wesley Berg (1g, 4a) also hit a milestone tonight when he eclipsed 200 career points by netting one goal and adding four assists. Dane Dobbie (4g, 2a) led the charge offensively for the Roughnecks, matching Dickson's four-goal effort and adding a pair of assists. The contests first star Rob Hellyer (3g, 6a) tallied nine points to lead the Rock, while Adam Jones (2g, 4a) was next with six. The Vancouver Stealth last saw action on Mar. 24 when they ended an eight-game losing streak with a 13-12 victory over the Colorado Mammoth.
VS. VANCOUVER: Tonight is the third of four regular season match-ups between the two West Division rivals. This will be their first meeting at the Langley Events Centre. The Roughnecks took the season opener in December by a score of 15-12. In their last meeting, Calgary nearly doubled the Stealth's goals with a final score of 20-12. Sophomore forward Holden Cattoni (5g, 6a) led the charge offensively for Calgary scoring five times and adding six assists. Curtis Dickson (4g, 3a) and Wesley Berg (3g, 4a) were next with seven points each. Calgary outshot the Stealth 66-60 with goaltender Christian Del Bianco making 48 saves to help the Roughnecks take the victory. Their next meeting is at the Langley Events Centre on Saturday, Apr. 21.
2017-18 Regular Season Series Recap
Dec. 15/17 at CGY: CGY 15 VAN 12 … Calgary went on a 5-1 third quarter run to build a 14-9 lead.
Feb. 16/18 at CGY: CGY 20 VAN 12 … Powered by a 13-1 first-half run, the Calgary Roughnecks rolled over the visiting Vancouver Stealth 20-12
Shots on Goal: CGY 119 VAN 123
Power Plays: CGY 1-8 (12.5%) VAN 3-9 (33.3%)
All-Time Regular Season Records
All-Time vs. VAN: 27-20
All-Time at CGY: 11-12
All-Time at VAN: 16-8
Last CGY Win: Feb. 20-12 at the Scotiabank Saddledome
Last VAN Win: Apr. 15/17, 15-11 at the Langley Events Centre
HEAD-TO-HEAD: 2017-18 REGULAR SEASON
| | | |
| --- | --- | --- |
| Category | Calgary (5-8) | Vancouver (2-12) |
| Home Record | 4-4 | 0-6 |
| Away Record | 1-4 | 2-6 |
| Goals For | 150 | 146 |
| Goals Against | 158 | 207 |
| Shots on goal | 677 | 714 |
| Power Play Pct. | 47.2 | 38.3 |
| Penalty Kill Pct. | 45.3 | 43.6 |
| Faceoff Pct. | 55.0 | 42.3 |
| Loose Balls | 970 | 901 |
| Points Leader – Season | Wesley Berg (57) | Corey Small (62) |
ROUGHNECKS IN THE NLL TOP 10: Christian Del Bianco tops the NLL with a 10.46 goals-against-average. His .800 save percentage is also number one…Dane Dobbie is third in the NLL for penalty minutes with 38 and is tied for fourth with ten power play goals…Curtis Dickson is fourth in the NLL in goals scored with 33 and tops the league in shorthanded goals with 3 and in shots with 216… Tyler Pace is fifth in rookie scoring and third in defence scoring with 18… Zach Currier tops the NLL for loose balls with 136 and is fourth in caused turnovers with 24.
ROUGHNECKS MONTH-BY-MONTH: December (1-2), January (0-3), February (3-1), March (1-2).
COACH'S CORNER: Assistant general manager and head coach Curt Malawsky is the winningest coach in franchise history with 49 victories. He passed Chris Hall's mark of 46 in the team's triumph over Colorado on Feb. 10. Malawsky was first-named to the job in August of 2012.
SPECIAL TEAMS WATCH: Calgary's power play is fifth in the NLL at 47.2%. The penalty kill is eighth in the league at 45.3%.
ROSTER MOVES: Mar. 22 – The Roughnecks have released Steph Charbonneau from the Practice Player List.
IN THE COMMUNITY: The NLL has launched a league-wide fundraising campaign for Right To Play, a global organization that uses the power of play and sport to improve the lives of children and youth affected by conflict, disease and poverty. Defenseman Creighton Reid has been involved with Right To Play programming in the past and has volunteered to be the Roughnecks' team champion for this campaign. Fundraising began Mar. 26 and will run until Apr. 4. Help Creighton in supporting this great cause by making a donation today at http://calgaryroughnecks.com/righttoplay/
THE ROAD AHEAD: Following tonight's game, the Roughnecks head to New England to take on the Black Wolves on Apr. 8. Calgary's next home game is two weeks away when they welcome the Buffalo Bandits to the Scotiabank Saddledome on Apr. 14 for the Fan Appreciation Night.
RECORD WHEN:
Leading at halftime …… 4-1 Outshooting opponent .…… 1-4
Trailing at halftime ……. 1-5 Outshot by opponent …..….. 4-4
Tied at halftime …….…. 0-2 Shots are tied ……..………… 0-0
UPCOMING GAMES
All times in MT. Schedule subject to change.
DATE
OPPONENT
TIME
BROADCAST
Mar. 31

Apr. 8

at Vancouver

at New England

8:00 p.m.

12:00 p.m.

NLL TV

NLL TV

Apr. 14

Apr. 21

vs. Buffalo

vs. Vancouver

7:00 p.m.

8:00 p.m.

NLL TV

NLL TV