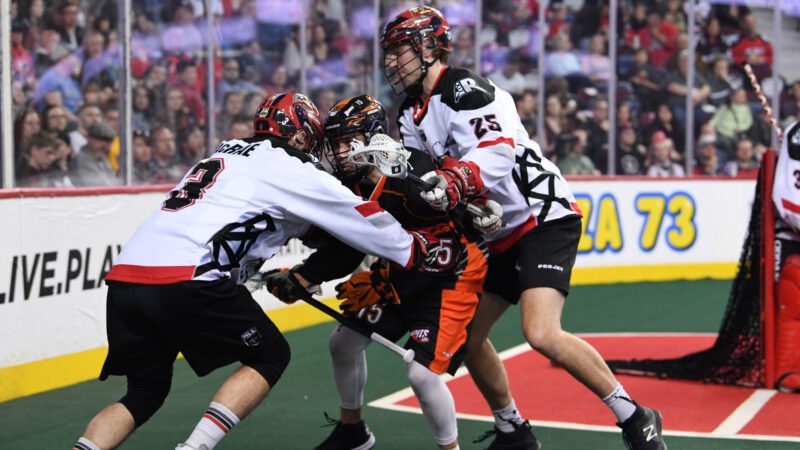 The Riggers are riding high.
And they don't plan on coming down.
The Roughnecks (5-4) will battle for their third-straight victory this Saturday as they face-off against the Buffalo Bandits (7-2) at the KeyBank Centre for their first-and-only match-up of the regular season.
The tilt comes just a week after a huge 17-12 divisional win on the road over the Saskatchewan Rush on Feb. 9.
"The NLL is a big momentum league, and the win gave us a confidence boost," explained defender Chad Cummings. "We started playing the way we should be and can be, and now we're just going to keep getting better after each and every win so it was a boost for us moving forward at this point in the season."
As for this weekend's opponents, the Bandits are coming off of a 19-9 win over the Georgia Swarm last weekend – which moved them up to second in the East.
They've been on a roll lately, winning three-straight thanks to netminder Matt Vinc – who boasts a 10.53 GAA and .794 save percentage – and their high-caliber threats up front.
"They run from the frontend so I think our backend and our goaltending is up for a test this weekend," Cummings said. "The numbers don't lie. You can see their offence is putting up some big numbers.
"They've got Dhane Smith, Shawn Evans, and Corey Small who can all put the ball in the net. And they've got young guys firing too right now in Ian MacKay, Thomas Hoggarth and Chase Fraser."
The Bandits also recently acquired this year's second-overall draft pick, Chris Cloutier, from the Philadelphia Wings. He could make his first appearance with the club this weekend.
"I played a couple summer seasons with him," Cummings said. "I was surprised to see him get traded; he's a great young player. If he is in the lineup he's just another guy we'll have to focus on covering."
But regardless of who's in, Cummings believes the Bandits' firepower is completely manageable.
"We've got Christian Del Bianco and we have all the faith in the world in our defence to stifle that offence that's running so hot right now," he said.
In January, it may have been a different story. But after struggling with a three-game skid last month, the Riggers are confident their defence is back on track.
"We had some communication issues, we weren't talking on the backend, and I think we lost some trust in each other a little bit.
"It showed in the games we were giving up way too many goals and making uncharacteristic mistakes. These past two games have shown that we came back, we got a couple good practices in and guys started gelling together."
The recent rebound has also tied the Riggers for first in the West Division with the San Diego Seals (4-3).
But in a league with this much parity, there's no time to rest on your laurels.
"Every weekend is big for us, every game we go looking for a win because you never know when you're going to need them come the playoff push," Cummings explained.
"But right now, we're just focused on the task at hand, and that's Buffalo coming up this weekend -getting those two points."