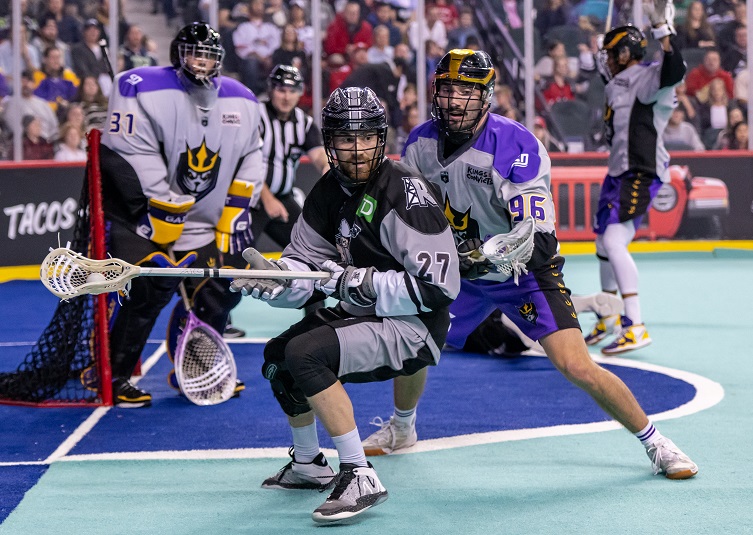 By: Riley Pollock – 26-01-23
SETTIN' IT UP
The Riggers (3-2) are looking to win their second straight game when they host the Toronto Rock (4-2) at 7 p.m. Saturday at Westjet Field, at the Scotiabank Saddledome. TICKETS
It's the first time these Canadian cousins have met since March of 2020. The Riggers beat the Rock 13-10 in Toronto in their last game before the season was cancelled due to COVID-19.
Saturday's game is the Every Child Matters game at the Rough House. A limited quantity of Orange shirts will be on sale pregame on the concourse with proceeds going to the Siksika Youth Fund so get to the 'Dome early. There will also be a traditional Indigenous Dance and Drum performance at the half presented by TD Canada.
Calgary got back in the win column on Jan. 14 when they handed the San Diego Seals their first loss of the season in a 14-10 win.
For Toronto, they are winners of three straight games and are averaging more than 15 goals per outing during their three-game winning streak.
This is the only matchup between the Rock and Roughnecks this season.
Riggers captain Jesse King is eight points away from 300, and nine assists away from 200 in his career.
New comer Josh Currier, who had a goal 30-seconds in to his Riggers debut to go along with four assists, needs just one goal to hit 100 for his career.
Roughnecks assistant captain, Eli Salama explained what the team needs to do to get another win this time around.
"I think we just need to come out and be ourselves," he said. "I think any given night, we have the opportunity to win and if we just play to the best of our abilities and execute the game-plan that the coaches will have laid out for us, I think that's a recipe for success."
2022-23 Scoring Leaders
Roughnecks:
Tyler Pace – 28 points (7g, 21a)
Jesse King – 27 points (13g, 14a)
Haiden Dickson – 13 points (7g, 6a)
Tanner Cook – 12 points (7g, 5a)
Rock:
Tom Schreiber – 37 points (19g, 18a)
Corey Small – 24 points (12g, 12a)
Dan Craig – 23 points (7g, 16a)
Goaltending 2022-23 Head to Head:
Christian Del Bianco: 3-2
GAA: 10.00
SV %: .799
Nick Rose 4-2
GAA: 8.01
SV %: .834