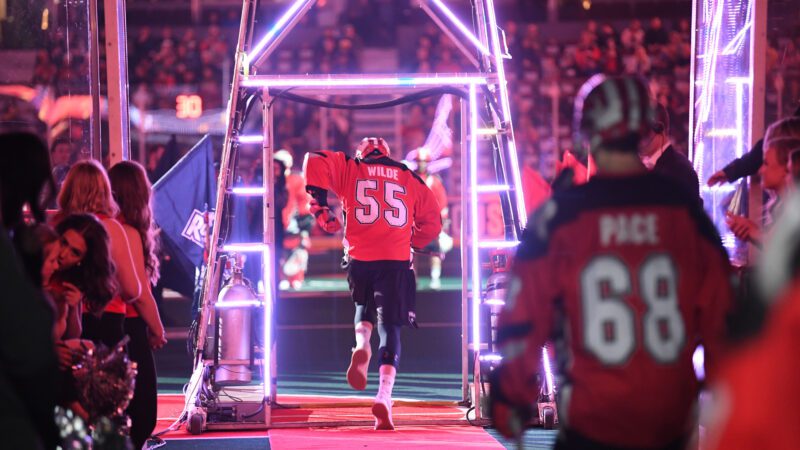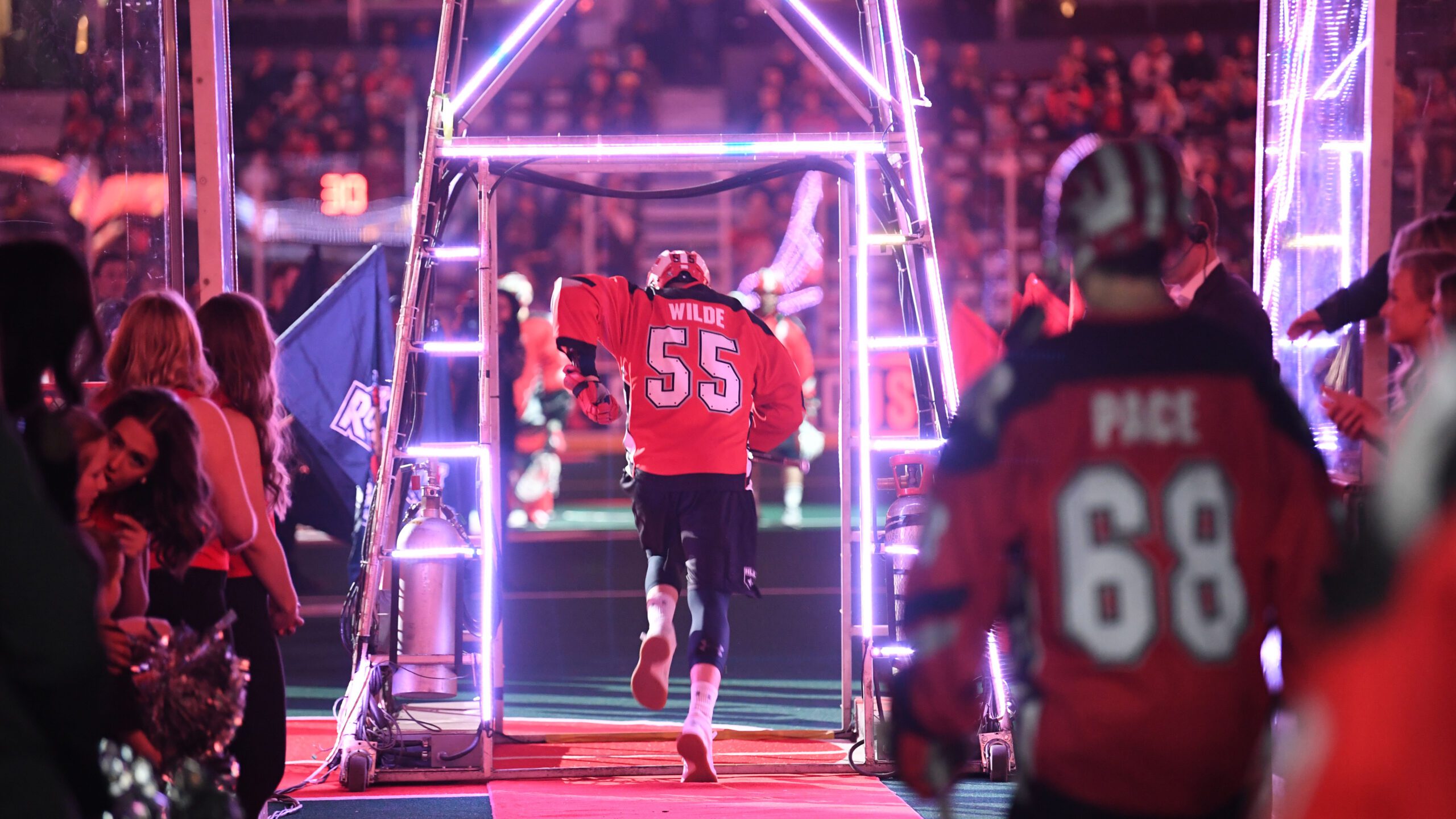 RIGGER RAMBLINGS: Tonight the Calgary Roughnecks will face-off in the West Division final against the Colorado Mammoth at the Scotiabank Saddledome. The Roughnecks advanced to the second round of the post-season following a 12-11 victory over the San Diego Seals on Monday night at the Pechanga Arena. The Seals took the lead by a score of 10-8 in the third quarter after entering the halftime break tied at 6-6. Calgary fired back scoring four fourth quarter goals while holding San Diego to just one. Special teams played a big part in the Roughnecks win as they capitalized on four of seven power play opportunities while the Seals went 0-3 with the extra attacker. Curtis Dickson (4g, 3a) and Dane Dobbie (3g, 4a) both posted seven-point efforts to lead the Roughnecks' offence while Jesse King was next with two goals and two helpers. Rookies Reece Callies and Shane Simpson both recorded their first NLL playoff points with an assist each. Kyle Buchanan (2g, 4a) led the way for the Seals with six points while Turner Evans (3g, 1a) was their top scorer with three markers. Christian Del Bianco stopped 43 of the 54 shots on goal to record his second post-season win while Frank Scigliano saved 31 of the 43 shots Calgary threw his way.
VS. COLORADO: Tonight marks the eleventh time the Roughnecks and Mammoth have met in the post-season and the second time in the West Division final. The last post-season match-up against the two clubs was in the opening round of the playoffs on May 5, 2018 at the Pepsi Center when Calgary eliminated Colorado from the playoff race with a 15-12 victory. Dane Dobbie (6g, 3a) led the Roughnecks with a nine-point effort while Ryan Benesch (2g, 3a) and Jacob Ruest (2g, 3a) were the Mammoth's top performers. Colorado finished the regular season with a 6-12 record and are 4-8 when playing opponents from the West Division. The Mammoth are coming off last Friday's 11-10 overtime victory against the top seed Saskatchewan Rush.
2018-19 Regular Season Series Recap
Jan. 6/19 at COL: CGY 11 COL 8… Roughnecks added six second half goals to overcome the Mammoth 11-8.
Jan. 20/19 at COL: COL 12 CGY 7… Colorado stretched a 3-1 first quarter lead to a 12-7 victory over Calgary.
Mar. 16/19 at CGY: COL 11 CGY 9… Colorado comeback after a 4-1 first quarter deficit to record an 11-9 win.
Shots on Goal: CGY 122 COL 147
Power Plays: CGY 4-9 (44.4%) COL 4-16 (25.0%)
All Time Regular Season Records
All-Time vs. COL: 20-26
All-Time at CGY: 13-12
All-Time at COL: 7-14*
Last CGY Win: Jan. 6/19, 11-8 at the Pepsi Center
Last COL Win: Mar. 16/19, 11-9 at the Scotiabank Saddledome
*Note: One loss was against the Washington Power in 2002.
HEAD-TO-HEAD: 2018-19 REGULAR SEASON
Category
Roughnecks (10-8)
Colorado (6-12)
Home Record
5-4
3-6
Away Record
5-4
3-6
Goals For
212
181
Goals Against
201
193
Power Play Pct.
48.86
37.50
Penalty Kill Pct.
60.76
52.83
Faceoffs Pct.
50.4 (246-488)
51.8 (231-446)
Loose Balls
1272
1223
Points Leader – Season

Points Leader – Series

Dane Dobbie (115)

Riley Loewen (10)

Eli McLaughlin (76)

Eli McLaughlin (12)
HEAD-TO-HEAD: 2017-18 REGULAR SEASON
Category
Calgary (8-10)
Colorado (11-7)
Home Record
5-4
5-4
Away Record
3-6
6-3
Goals For
227
214
Goals Against
211
199
Shots on goal
962
898
Power Play Pct.
46.5
53.3
Penalty Kill Pct.
53.2
55.4
Faceoff Pct.
56.8
49.6
Loose Balls
1349
1233
Points Leader – Season

Points Leader – Series

Curtis Dickson (92)

Dane Dobbie (14)

Ryan Benesch (93)

Ryan Benesch (17)
POST-SEASON EXPERIENCE: Since their establishment, the Riggers have advanced to the post-season 16 out of 18 seasons. Calgary has a combined 230 games of playoff experience. Mike Carnegie leads all Roughnecks players with 27 post-season games played. Dane Dobbie tops the team in playoff points with 119 (56g, 63a) in 26 games.
PLAYOFF RECORD: Calgary has an all-time post-season record of 18-17. The Roughnecks have competed in ten playoff games against Colorado, posting a 4-0 record when playing at home and 5-1 mark on the road. Calgary is 3-1 all-time in playoff overtime games.
SPECIAL TEAMS WATCH: Calgary's power play ranks fourth in the league at 48.86% while the Mammoth's power play is last in the NLL at 37.50%. When playing shorthanded, the Roughnecks hold the advantage over Colorado at 60.76% (second overall). The Mammoth penalty kill sits sixth at 53.83%. Two Calgary snipers sit in the league's top-10 in power play goals: Dane Dobbie sits second in the NLL with 12 while Rhys Duch is tied for third with 11. Kyle Killen leads the Mammoth with 10 man-advantage markers.
TOP OF THE CHARTS – REGULAR SEASON: Dane Dobbie led the NLL with 115 regular season points including 47 goals and 68 assists (both ranked second). He also had a league-leading 216 shots on goal and 292 shots… Eli Salama topped all rookies with two shorthanded assists… Christian Del Bianco played more minutes than any other goaltender in the NLL with 1074.44. He had a league-leading 716 saves.
CAREER YEARS: Eleven Roughnecks players have recorded career highs in several categories this season: Tyler Burton (101 LB, 245 FO), Chad Cummings (26 PIM, 74 LB), Zach Currier (16 A, 1 SHG, 1 GWG, 34 CTO), Christian Del Bianco (1 PPA, 2 SHA, 1074.44 MIN, 10W, 716 SV), Dane Dobbie (68 A, 115 PTS, 18 PPA, 216 SOG), Anthony Kalinich (2 PTS including 1 G and 1 A, 38 LB, 10 CTO, 3 SOG), Riley Loewen (20 G including 6 PPG, 6 PPA), Dan MacRae (25 CTO), Ryan Martel (16 PTS including 5 G and 11 A, 2 PIM, 20 LB, 27 SOG), Tyler Pace (17 G including 4 PPG, 1 SHG and 1 GWG, 25 A, 42 PTS, 2 PPA, 39 LB, 3 CTO, 60 SOG), Dan Taylor (23 G including 1 PPG, 23 A including 8 PPA and 1 SHA, 46 PTS, 26 LB, 4 CTO, 69 SOG) and Mitch Wilde (3 PPA, 1 GWG, 75 LB).
IN THE RECORD BOOKS: Christian Del Bianco's 716 saves sets a new single season franchise record, surpassing Matt King's record of 603 set in 2002… Zach Currier beat his own record of 33 caused turnovers in a single season set in 2018 with 34 in 2019… Dane Dobbie now holds the franchise record for most career assists with 418 inching passed Jeff Shattler's previous record of 416… Dan MacRae is now tied with Mike Carnegie for most caused turnovers with 163 each.
DEL BIANCO'S ASSISTS FOR KIDS: On Apr. 20, Christian Del Bianco and the Roughnecks Foundation, in partnership with Ascent Consulting Ltd. directed $14,180 to KidSport Calgary through Del Bianco's Assists for Kids program. As part of the program, both Del Bianco and the Calgary Roughnecks Foundation each contributed $30 for every regular season assist recorded by the Calgary goaltender, while Ascent Consulting Ltd. donated $1,000 per assist. The 21-year-old Port Coquitlam, BC product finished the 2018-19 NLL campaign with 12 assists. Additionally, Del Bianco auctioned off his game-worn helmet from the 2018-19 season featuring the KidSport logo which raised $1,460 for the program.
POST-SEASON VS.: (SD 1-0)
REGULAR SEASON VS.: (BUF 0-1), (COL 1-2), (GA 1-0), (NE 0-1), (PHI 1-0), (ROC 1-0), (SD 1-2), (SAS 2-1), (TOR 1-0), (VAN 2-1)
POST-SEASON RECORD WHEN:
Leading at halftime …… 0-0 Outshooting opponent .…… 0-0
Trailing at halftime ……. 0-0 Outshot by opponent …..….. 1-0
Tied at halftime …….…. 1-0 Shots are tied ……..………… 0-0
REGULAR SEASON RECORD WHEN:
Leading at halftime …… 4-2 Outshooting opponent .…… 5-2
Trailing at halftime ……. 3-5 Outshot by opponent …..….. 5-6
Tied at halftime …….…. 3-1 Shots are tied ……..………… 0-0
REGULAR SEASON VS. DIVISION: West (6-6), East (4-2).