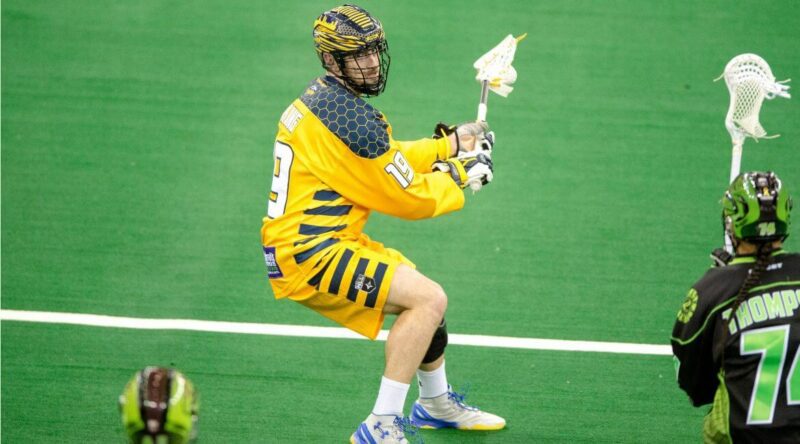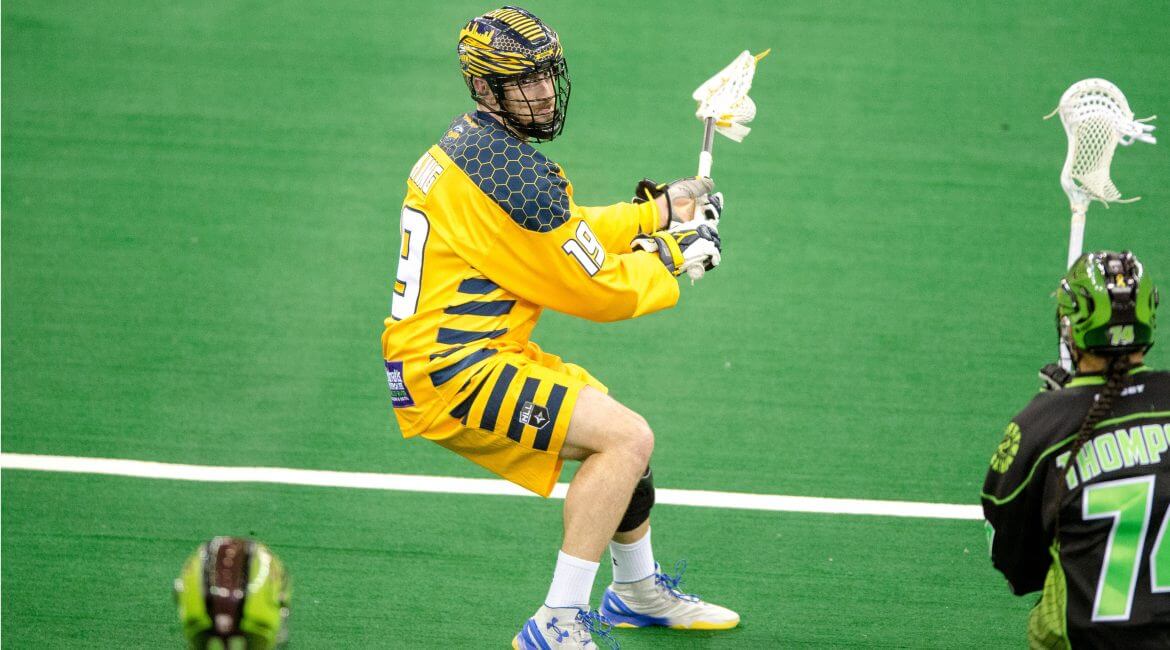 Jesse King
Selected third-overall in the 2015 NLL Draft.
DOB: July 12, 1992
Hometown: Victoria
Position: Forward
Height: 6-foot-3
Weight: 200-lb.
Shoots: Left
Summer team: Victoria Shamrocks
University: Ohio State University
1. Tell us about your lacrosse experience.
I played for the Victoria Shamrocks in junior. When I was a little older, I went to Ohio State University where I played four years and was fortunate enough to go to the NCAA tournament a couple of times. After junior I played senior ball in the summer with the Victoria Shamrocks, as well. And then I was lucky enough to be drafted third overall by the Georgia Swarm.
2. When did you start playing lacrosse?
I started at six years old. I started with baseball, and then I played for two years in the summer. Once I started going to elementary school all my friends were playing lacrosse so it was a quick swap.
3. Who did you base your play off of/ look up to?
Growing up in Victoria I was fortunate enough to watch a little bit of the Gait brothers. I can remember going down to Memorial Arena and watching some of their games. Even when they were playing in the NLL for the Washington Power, I remember going to Vancouver Ravens games once in a while and being able to watch them.
They've always been my favourite players. I would like to think that I try and play like them, but I don't think anybody can really match their skill set – they changed the game in a lot of ways, stick-skills wise. Paul and Gary are two guys I really looked up to playing lacrosse at a young age.
4. Did you play any other sports?
I played hockey a lot during the winters, I played for about 12 years. Funny enough, I played defence a lot of the time in hockey, and as a lacrosse player I consider myself to be more of an offensive player. When I got to high school I started playing basketball, volleyball, rugby, and I played tennis, as well. I really enjoy any of athletic kind of game.
5. Favourite experience in lacrosse so far?
The biggest one is winning the Mann Cup in 2015 with the Shamrocks. It was really special to win something at home in front of friends and family with an exceptional group of guys – we played for a while together, really understood each other and came together for a common goal.
Winning the world championships for Team Canada in 2014 in Denver was also something that was amazing for me, as well. That was an unbelievable experience.
And there's always this memory, too, of when I was a kid: there was the tournament up-island in Parksville that was called the 'Dilly Bar Tournament' at the time, it was sponsored by Dairy Queen. I just remember the teams that we were on always going up to the tournament and there was always an enormous water fight at the hotel. It's just one of the memories I hold close for lacrosse. I met a lot of my close friends at the tournament so it's something I don't think I'll ever forget.
6. What is the biggest strength of your game?
Being a big body and a guy who played a lot of different sports, a high IQ in the game and understanding what needs to be done. I think that I'm one of those guys that is willing to do anything the team or coaches ask of me. I like to be a good teammate as much as I can wherever that counts, and I think that's a goal of everybody, but that's something I try to attain no matter what team I'm on.
7. What are you most excited for In Calgary?
I'm most excited for the amazing group of guys, and the amazing staff I've gotten to talk to so far. And being able to play in front of an amazing set of fans in Calgary, at the Saddledome, for a team that's been looking for that extra push in the playoffs. I hope I can help attain that goal, as well. It's a young group of guys with a lot of experience and a lot of accolades. It's going to be a really fun season – I'm really excited.
8. Any superstitions or pre-game rituals?
I always try to tape my stick before every game. And it sounds weird, but as a lefty I always put my left sock and shoe on before my right.
9. What's your favourite pump up song?
Right now my pump up song at the gym is Phantom by Eminem on his new album that just came out. I could listen to that on repeat, it's my go-to.
10. If you could have dinner with anyone who would it be and why?
Meeting Terry Fox would be one of the coolest things, to understand his perspective and point of view for what he did for our nation. It's such a cool cause, he created such a good atmosphere for all of us throughout Canada.