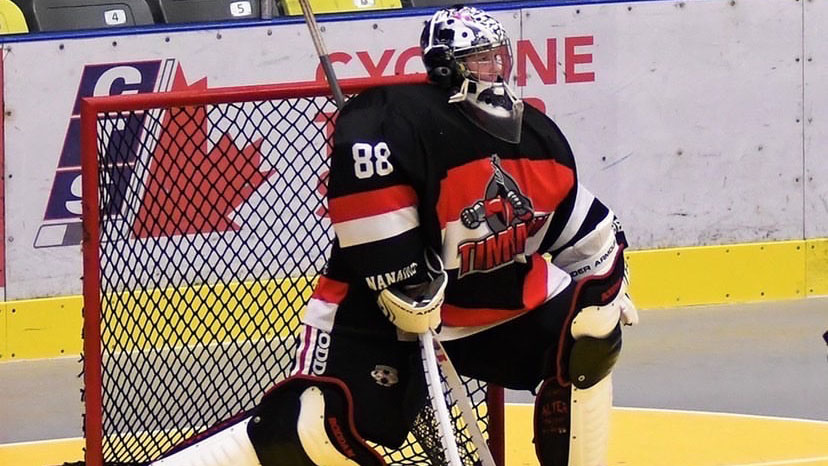 Justin Geddie
AKA: The Yeti / Big man
Selected 32nd-overall in the 2020 NLL Draft.
Position: Goaltender
Junior: Nanaimo Timbermen
1. Tell us about your lacrosse career so far.
I was first drafted to the Nanaimo Jr. A Timbermen in the third round of the 2018 BCJALL draft. I got to play my first year of junior on the Tier 1 Timbermen team which was big for my development in my transition form minor to junior. Then I earned my spot on the junior A team the next season and came in as the backup. I ended up earning the starting role after starting the season 7-0. We made playoffs and took the reigning Minto Cup Champions, the Coquitlam Adanacs, to 6 games which was a huge win for the organization. I ended up winning BCJALL Rookie of the Year which was a huge honor. After that I got to represent Team Israel at the World Junior Box Lacrosse Championships which was an amazing experience. Sadly, I did not get to play this year due to COVID-19 but very excited for next season.
2. When did you start playing lacrosse, how did it come about for you?
I began playing lacrosse at the age of four. I actually didn't start playing goalie till I was in my first year Pewee when the goalie at the time on the team wanted to play out. My coach asked if anyone wanted to try it and I volunteered to do it and just ran with it.
3. Who did you base your play off of, or look up to growing up?
A big influence growing up was Aaron Bold just because he came from the same minor organization, Vic-Esquimalt. I would watch him play for the Victoria Shamrocks and watched him lead them to a Mann Cup which made me want to get to that same position one day.
4. What do you think you bring to a team?
I'll bring a determination to win and to succeed every practice and every game we play. Hopefully one day that will help bring a championship back to Calgary and bring my game to the elite level.
5. Did you play any other sports?
I played AAA hockey growing up until the age of 16 then just played the sport for fun after that. I also played basketball and rugby growing up, as well as playing on the golf team at my local high school. I had to make the tough choice to stick with competitive box lacrosse when I was 16. It was awesome to get to play those other sports as long as I could competitively, but lacrosse has always been my favourite.
6. What has been your favourite experience in lacrosse so far?
One would be playing Coquitlam Adanacs in the playoffs. It brought our team so much closer and was filled with some of the best games I have ever been a part of. Another one would be all the friends and relationships that I have made through the sport with so many different people. I have gotten to travel North America playing for many different teams gaining experience with many people. Now, going to Calgary and beginning a new journey with another team is going to be an amazing experience.
7. Do you have any game day rituals or superstitions?
If I did have one, it would be putting on my headphones on and tuning everything and everyone out. I just try to get dialed in to what I need to do on the floor so we can come out with the win.
8. If you could have dinner with anyone who would it be and why?
Probably Tiger Woods because I am a huge fan as a golfer. I'd like to pick his brain because no one has been better in sports when it comes to coming clutch in the big moments. I would probably just pick his brain about that and how to keep my ball in play when I golf next.