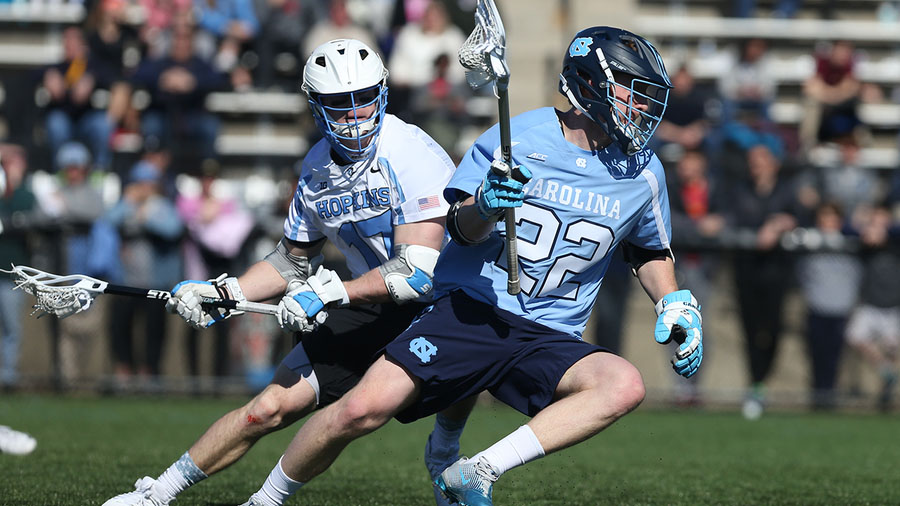 Photo: (Inside Lacrosse: Zach Babo)
Shane Simpson
Selected sixth-overall in the 2018 NLL Draft.
DOB: July 18, 1994
Hometown: Hamilton
Position: Defence
Height: 6-foot-2
Weight: 195-lb.
Shoots: Right
Junior and Senior clubs: Six Nations Arrows and Six Nations Chiefs
College: University of North Carolina
1. Tell us about your lacrosse career so far.
I wasn't drafted out of midget (to junior) which was a little bit surprising, but I was focusing on trying to get a field scholarship so I didn't play much my midget year – which I'm pretty sure led to that. Then, I went to a few camps and was fortunate enough to get noticed by Six Nations. I was signed there in 2012, and it was a pretty veteran team, I went through the ropes and learnt a lot in my first year form the older guys. Then eventually in 2014/2015 we won back-to-back Minto Cups which was the first big lacrosse accomplishment I had in terms of winning a championship. At the same time I started school in North Carolina, so I did end up getting a field scholarship which was also a great experience. To build off that, in 2016 I won an NCAA championship with Carolina, so it was a good three-year stint there for me. Then I carried on to MSL with the Six Nations Chiefs, and basically I have just been playing a transition role for them for the past two years which has been great.
2. When did you start playing lacrosse?
I was about six years old, pretty funny story: I was playing soccer in my early days and my team had lost the last game of the year, and we were battling for second-last place in the league – so we lost and finished last. And me being the competitive guy I am I threw a hissy-fit at six years old going home from the soccer field, I said I didn't want to play soccer anymore. My dad played college lacrosse at Brock University in Ontario, and he said 'you know what, this is great timing, you're probably going to get into lacrosse anyways.' So, just like that, I dropped soccer and picked up lacrosse.
3. Who did you base your play off of, or look up to?
I would go to Toronto Rock camps when I was younger, and I always remember Steve Toll being the fastest guy on the floor. Speed has always been my strength, so I always wanted to be the fastest guy like him. I also met guys like Blaine Manning, Colin Doyle, and they were pretty big celebrities in my eyes at the time, so those are two guys I looked up to in my early years of lacrosse.
4. Did you play any other sports?
I played AAA hockey all the way up. Eventually the time came to pick one direction or the other, so I chose lacrosse which I think was the best decision in the long run.
One of my best friends did get drafted to the NHL, Darnell Nurse – who the Edmonton Oilers selected seventh overall in 2013. Although he's getting paid a bit more than I am right now, I do have the leg-up that I got picked one slot before him at six. So I've been bugging him a little bit about that.
5. What has been your favourite experience in lacrosse so far?
The relationships I've made and the places lacrosse has taken me, that's the biggest thing I've gotten out of it. I left home in 10th grade went to prep-school in Connecticut, I've flown around the world for Team Ontario and Team Canada, I went to North Carolina for four years – I was blessed to go to what I think is the best school in the country, and won a championship while I was there. Now I'm off to a new adventure in Calgary, so lacrosse has taken me around the world. It's opened up doors to me in the professional world and friendship-wise that I would have not created elsewhere if I was playing a different sport.
6. Do you have a pre-game ritual or pump-up song?
If I get too hyped up then I'm thinking too much. I'm pretty boring before games. I don't like to get pumped up because then I start to do too much, I just stay in the moment before games, no music, no wall-ball or anything like that.
7. If you could have dinner with anyone who would it be and why?
Tiger Woods, because he's been my favourite athlete for my entire life. Golf is one of my favourite sports, tied for first with lacrosse … I remember at a very young age trying to watch him every chance I got. How he was able to surpass his recent struggles is something I really admire about him, too, and staying true to himself. There are tons of questions I'd want to ask him, especially how he gets so laser-focused on the course. It's something I wish I could do myself.