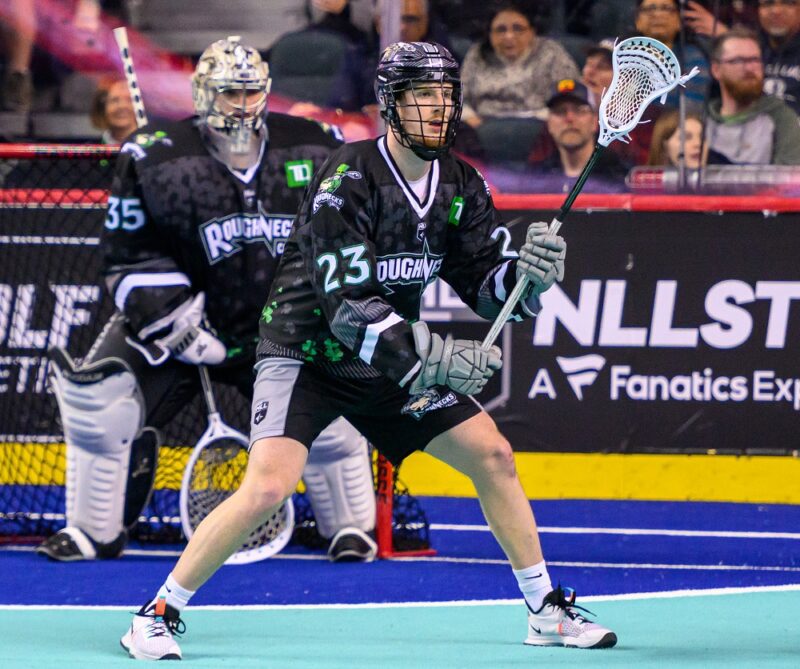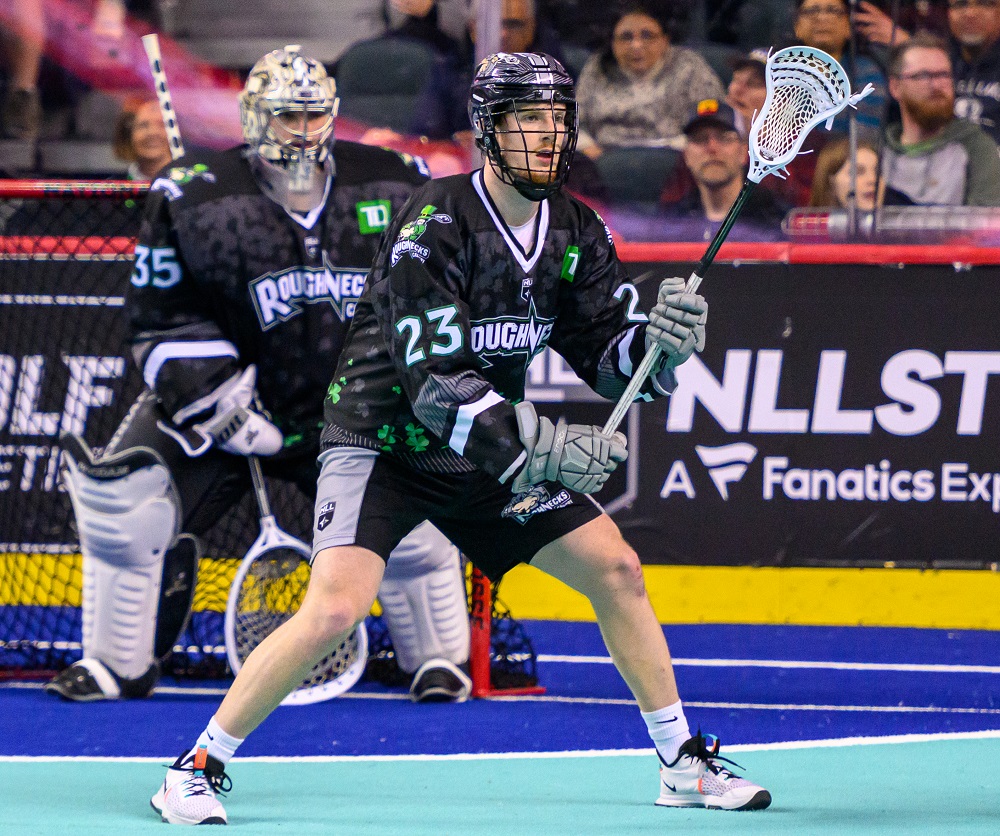 By: Riley Pollock – 28-03-23
The Roughnecks are riding a heater heading into Week 18.
They have won seven of their last eight games and a huge part of that success is their ability to keep the ball out of their net.
The Roughnecks are averaging just 9.21 goals against per game, which is second best behind only Toronto. Riggers defenceman Liam LeClair said the key to success has been the chemistry on the backend, mixed with Christian Del Bianco playing at an MVP level.
"Delbs being our backstop, he's been playing out of his mind making saves you wouldn't expect anybody to make," he said. "Defensively there is a lot of chemistry there. We talk really well, it's almost like sometimes we're reading each other's minds out there, playing off each other and playing very intuitively.
"I think some of the additions like Jeff Cornwall being with us this year, he's so athletic – so adding guys like that to our defence has been a huge plus."
LeClair says the attitude in the locker-room has been a huge positive as well.
"The vibes are amazing," he explained. "Everyone is fired up every week, everyone is doing the right stuff during the week to get prepared for the weekend. There's a lot of confidence, we think we're playing our best lacrosse, we think we're playing a very balanced game. The offence is clicking, the defence is clicking, the transition is as good as it's ever been so we're just very confident moving forward."
The Roughnecks are the biggest team in the league based on height, and LeClair said the group's large stature may intimidate some of their opponents.
"I'm used to being one of the tallest guys on any team and I'm probably an average height guy on this team," said LeClair. "I know if I was on the other end of things it would be in the back of my mind. I think another part of it is that we play big, too. We play aggressive, we play physical, so other teams aren't going to shy away from that, everyone is a professional, they've played against mean tough guys for a long time.
"As a collective group we all play very tough," he continued. "We don't usually take bad penalties but we play aggressively and we don't let guys get inside easily, so I think it's hard for other teams not to take notice of that."
LeClair is in his third season with the Riggers but really his second full season after he played just six games in 2020 due to the league shutdown. He talked about the steps forward his game has taken this year.
"Year in and year out I think I've been able to get more consistent," LeClair said. "I'm more confident in my ability to guard any player in the league. I think I'm more looked upon to take some of those top matchups and I think I've been able to play confidently. Maybe in past years I was a little intimidated by the guys I was matched up with but now I really feel that I have the ability to match with any of those guys, take a little bit more of a leadership role, put my head down and work hard."
It's a huge battle for LeClair and the Roughnecks Friday as they are in San Diego to battle the Seals. A win would not only clinch a playoff spot, it would move the Riggers into first in the West and they would take the season series.
"For myself, I've had this marked in my calendar for a while," he said. "Seeing some of those names that are on the other roster, guys we've played with for a few years leading up to this, it's nice to be in this position. I don't think a lot of people pegged us to be near the top of the division at the start of the year but knowing what we had in the locker room and the guys we have, we've been able to make it happen. It seems fitting that we're playing them for a first-place spot."