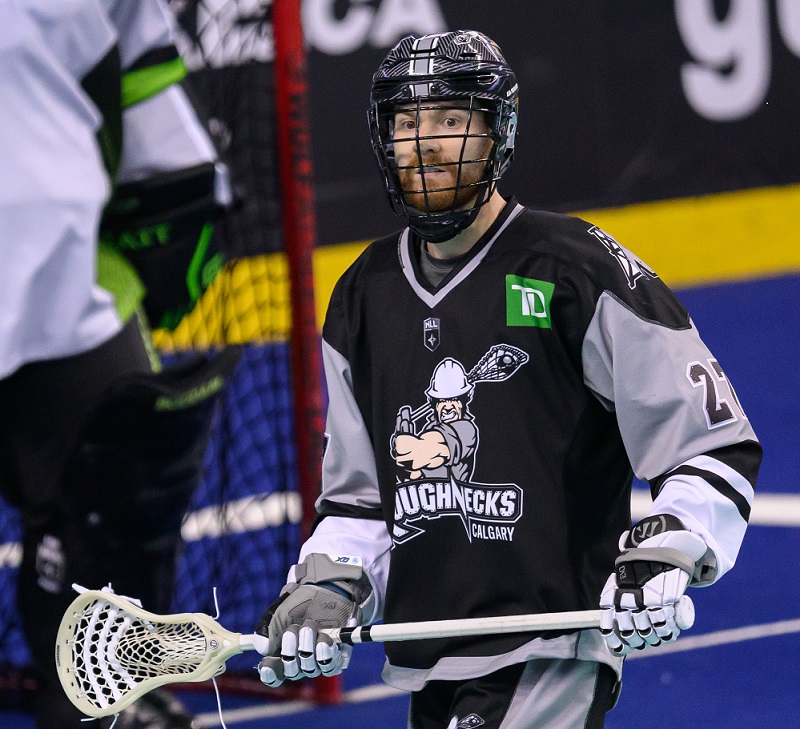 By: Riley Pollock – 07-04-23
Josh Currier's addition to the Riggers offence gave the team a major shot in the arm.
Currier enters this weekend's battle with Panther City (TICKETS) with 32 points in 11 games since joining the team after their third game via trade with the Saskatchewan Rush.
Currier is four points away from his second best offensive season in the NLL. His best came in 2019 when he had 34 goals and 62 points in Philadelphia. Pretty good for someone who didn't get in a lineup until game four.
"Josh adds a whole element of athleticism on that side," said Riggers head coach Curt Malawsky. "He's very athletic and makes us quicker. He has a very good outside shot and does a great job of getting over top, swinging the ball and he's not afraid to go underneath and attack the net."
Roughnecks captain Jesse King says it was an easy integration for Currier into the group.
"Josh has settled in right from the start with our team," he explained. "He brings a veteran dynamic to our right side that I think we definitely needed. He's strong with the ball and has a great outside shot. Someone like Josh who plays with some grit, we knew he would fit in right away."
Currier found himself as a scratch with the Rush for their first three outings of the season before the trade, something that wasn't easy for him.
"Yeah, it's never fun especially when you're working so hard in the offseason," said Currier. "It just didn't work out, nothing against them or me I don't think, it's just one of those things that didn't work out there. I obviously really wanted to get on the floor and when I got traded (to the Roughnecks) it was awesome."
Currier has suited up in every game for the Riggers since the trade and has been a great compliment to primary scorers Jesse King and Tyler Pace.
"It's really all I thought about all offseason was getting out on the floor," he said. "Now that I'm getting the chance to help my team out it's really nice."
As most people know, Josh's brother Zach has been a star on the Roughnecks since 2018. The two have played plenty of lacrosse growing up together and in the summers but this is their first time on the same NLL team and the older Currier (Josh) is having a blast.
"It's something we've always talked about," he said. "We would say maybe one year when we're free agents we will be able to get on the same team together so it's been awesome that it happened sooner than we expected and he's one of the best players in the league so just being on a team with Zach is obviously helpful."