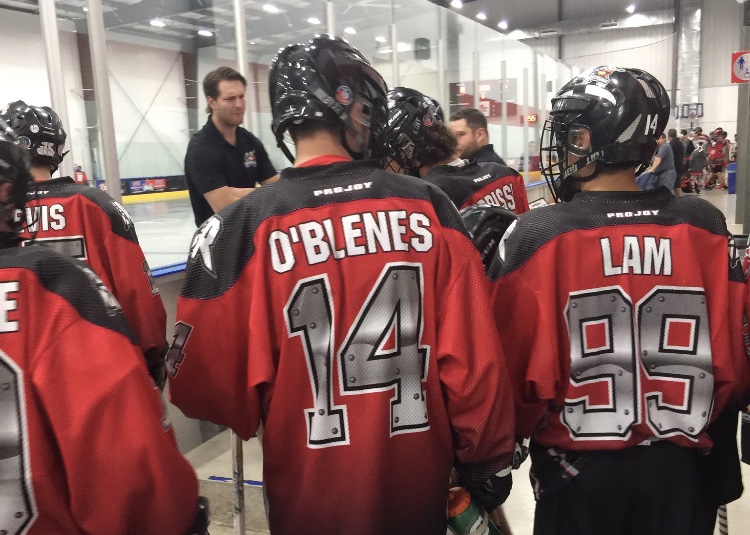 One day down, two more to go.
It was a strong start for our Junior Roughnecks on the first day of the 2018 Junior NLL Tournament at the Toronto Rock Athletic Centre.
The Midgets kicked off their tournament with a victory, downing the Junior Georgia Swarm 10-4. Top scorers for the Roughnecks in that contest were Brevin Lauzier (2+1), and Davis Dame (1+2).
They earned a split, falling 8-5 to the midget Buffalo Bandits in their final game of the day.
The Bantams trounced the Junior Bandits 11-3 to begin their day. Top scorers in that tilt were Teag Hilkewich (2+1), Carter Linkletter (2+1), Caden Pickell (2+1), and Garren Dumanowski (0+4).
They then fell 13-3 to the Junior Colorado Mammoth in their second contest of the day. The scorers for that game were Pickell (1+0), Ben Murray (1+0), and Andrew Chio (1+0).
In the Pee Wee division, our Junior Riggers also got into the win column early, defeating the Junior New England Black Wolves 7-3 in their lone game today. Aren Cej (2+1), Dylan Belliveau (2+1), and Hale Dobbyn (1+1) led scoring. Notably, the Roughnecks outshot the Black Wolves 30-5 in the tilt.
Round-robin and pool play games start again tomorrow at 6 a.m. MT.