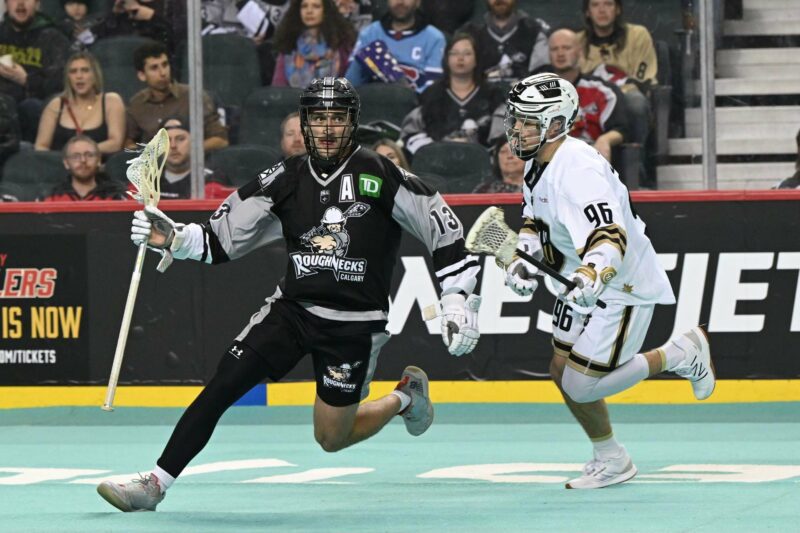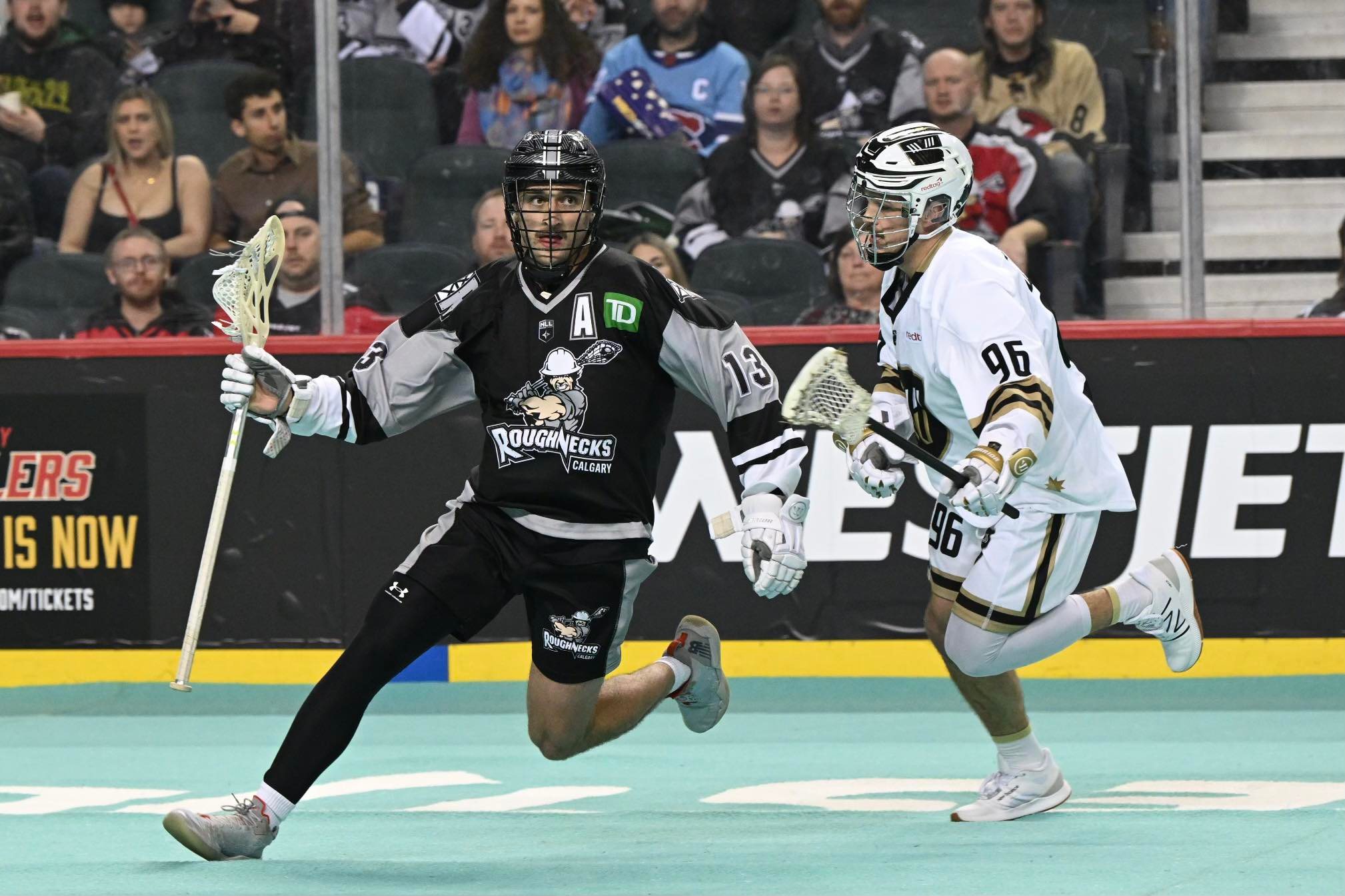 Newly-appointed captain Jesse King had a hat trick and three assists to lead the Roughnecks to a 11-9 win over the visiting Vancouver Warriors on Friday.
Tanner Cook scored twice and set up two others for the Riggers (1-0), who won their home opener in front of 7,500 enthusiastic fans at the Rough House.
Zach Currier had a goal and two helpers for the 'Necks, Tyler Pace chipped in with four assists, while goalie Christian Del Bianco made 40 saves in the Calgary net to pick up the win.
Harrison Matsuoka scored the first goal of the season for the Riggers, while Curtis Manning, Shane Simpson and Dan Taylor also found the back of the net.
Matsuoka opened the scoring for the home side just 40 seconds into the contest with a clutch transition goal. Matsuoka made a nice move to elude a defender before he bounced a shot past Vancouver goalie Steve Fryer.
After the visitors pulled even, Cook put the 'Necks back up by a goal at 12:23 of the opening quarter when he surprised Fryer by dunking the ball into the net from behind the goal line.
The Riggers got into penalty trouble early in the second quarter and surrendered two quick goals before reeling off four of their own to build up a 6-3 advantage. After Currier scored to tie the game, King added a power-play goal, Simpson notched a short-hander marker before Manning tallied his first of the season in transition.
The Warriors then scored the final goal of the first half and the first two of the third quarter to claw their way back into a 6-6 tie.
Cook then battled hard to fight his way into the slot before snapping a shot past Fryer at 6:56 of the third before Keegan Bal notched his third of the contest 59 seconds later for the visitors.
Just 21 seconds after Bal's hat-trick marker, King fired a long-range shot from the high slot past Fryer for his second power-play goal of the game to put the Riggers up 8-7 heading into the final frame.
After Bal scored on a breakaway early in the fourth quarter, Dickson converted a feed from King for another power-play goal.
The Warriors pushed right back and tied up the game once again before Taylor took a pass from Tyler Pace and quickly fired it past Fryer. King then finished off his hat trick with 2:50 remaining on the clock to secure the victory.
COACH'S CORNER
"I think that's kind of how we're going to have to win this year. We played that defensive battle and it's going to be a battle right until the end of the fourth quarter. And it can go either way. That's a good learning curve for our young guys to be in those scraps that go back and fourth. There was penalties and adversity, and they stuck up for each other, and we just stuck with it and got rewarded at the end."
"Dan Taylor is one of my favourite guys. He wasn't on the first or second power-play. As that game went on, he showed how intelligent he is. We started putting Danny on more and more because he was making really good veteran decisions. He was standing right in the middle of the floor and got that huge goal for us. It's great for a veteran guy like that to get rewarded for all his hard work and team selflessness." 
BY THE NUMBERS:
King 3g, 3a, 12 shots on goal
Cook 2g, 2a
Currier 1g, 2a, 12 loose balls
Pace 4a
Taylor GWG
Matsuoka 1g
Manning 1g
Simpson 1g
Dickson 1g
Salama 1a
Herreweyers 1a
Del Bianco 40 saves
SAY WHAT:
"I think it really shows our resiliency. It's the first game of the season. It's really tough to play a team that already has a game under their belt. The boys came out flying to start. Harry had the first goal of the year, which is huge for him. It gets the guys going when you can score in transition like that as well, so it's a testament to our coaching staff and our entire team tonight. Delbs played phenomenal as he normally does and our defence 5-on-5 is going to be the best in the league this year. They're absolutely unbelievable and when they can get the ball up to us on the offence with enough time on the clock, we can do our thing up there." – Jesse King
"That's the nice thing about our team, I might have a letter on my chest, but guys have that comfortability and that vulnerability that everyone can speak and nobody's going to look at somebody wrong for having some words to say because everyone in that locker room can be a leader. Do I have to do my part once in a while? Absolutely. At the start of the game, we had a really bad warmup I thought, so coming into the locker room and giving them a little bit of a, 'Hey, let's get going here,' especially for a team that they've already played a game." – King
NEXT UP:
The same two teams will go toe-to-toe next Friday (Dec. 16) when the Warriors host the Riggers at GM Place (8 p.m. MT, TSN).