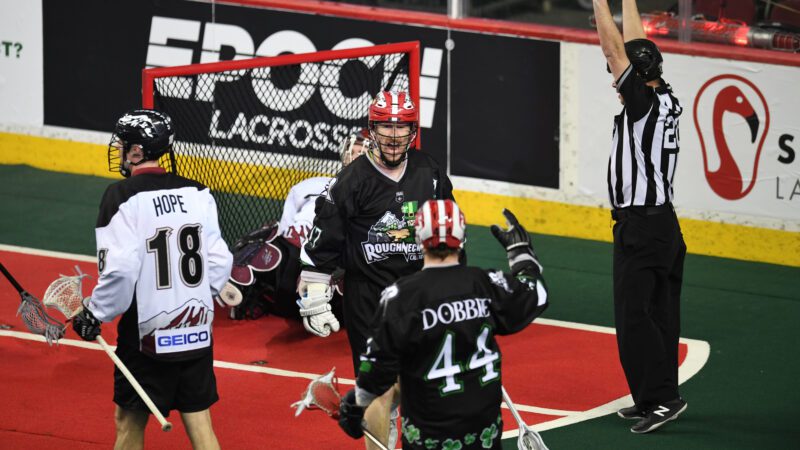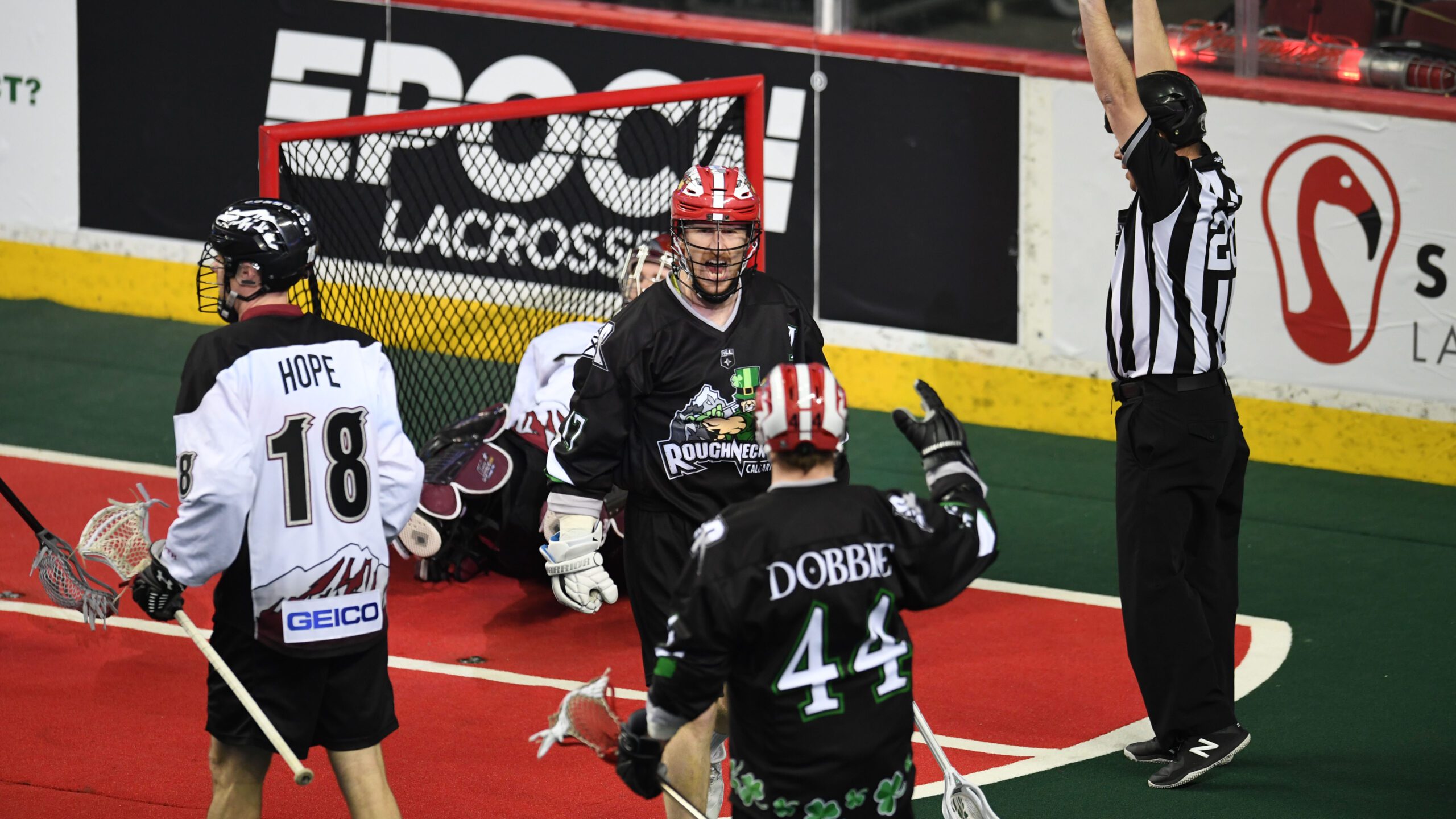 They're like flint and tinder. Gasoline and matches. Dry leaves and a spark.
Together, more than capable of triggering a brushfire, igniting a fireball explosion, of offence.
Imagine a double-slug of 192-proof Spirytus Polish Vodka thrown back without a chaser. A one-two combination that carries the potency of Ali's hammer-hard jab followed up by Joe Frazier's slaughterhouse left hook.
Then flat on your back, peering up at the bar ceiling or the ring lights.
The San Diego Seals found themselves on the business end of a lethal 14-point/19-shot double-dip of Curtis Dickson and Dane Dobbie on Monday at Pechanga Arena and now begin the planning stages for next season.
The Colorado Mammoth are hoping to somehow avoid a similar fate.
One home-floor win away from a National Lacrosse League Cup final berth, Friday at 7 p.m. at Scotiabank Saddledome, the Roughnecks will be leaning heavily on their two marquee names to repel the challenge of the upset-minded Mammoth.
Dickson and Dobbie will be front and centre, you can wager large.
Unsurprisingly, the two men, ranking as they do among the sport's most dynamic goal and point producers, are reciprocal fans.
"Dane's passion for the game,'' lauds Dickson of his poaching playmate, "is just off the charts.
"No secret there. Everybody knows it.
"And when you get to playoffs moving on or going home comes down to a will to win, to wanting it more, to competing harder than the guy across from you.
"Someone like him, the way he plays, well, the guy will do anything – absolutely anything – to win. He wants nothing more than another championship, to bring another Cup back to Calgary.
"It's pretty incredible to play next to a guy like that. His desire rubs off on everybody. He sets a standard for everyone to emulate.
"The thing we've got going for us as a team this year is that will, that want, so to see Dane out there doing whatever it takes is contagious."
Over to you, NLL leading scorer.
"He's a gamer,'' praises Dobbie of Dickson. "When the game's on the line, when the stakes rise, Curtis is at his best. His whole career's been like that. Look at last weekend. He gets us going with our two first goals of the game and then the big one at the end to get us over the hump.
"And he does stuff away from just scoring the goals to fire the team up – gets to loose balls, hustles back all the time, chasing back on fast breaks. So there's a lot of aspects of his game, especially come playoff time, come do-or-die time, that matter.
"So I don't think he has to to out and score six goals and 10 points for us to be successful. There a lot of players on our team that can chip in.
"But he's a big-game, big-moment guy. And this is a big game, a big moment."
Dickson and Dobbie in this kind of high-steppin' form must've at least allowed boss Curt Malawsky to sleep easier these past few nights.
"You need to be disciplined in playoffs, you need goaltending, special teams and – everyone always says it, in every sport – you need your best players to be your best players,'' laundry-lists Malawsky.
"Well, those guys you mentioned have been our best players all year. And the best thing about them? They understand we won't get it done just with the two of them.
"It's about how they can from individual standpoints make our offence better collectively. Its about incorporating the other guys on the floor. If one of those guys scores three or four goals and we don't get secondary scoring, we're not going to be successful. They understand that.
"By playing that offence by committee and buying into the trust of each other front, we all benefit, right?
"But those two guys … they don't only lead us up front, they lead us.
"The will to win in both those guys is exceptional. I put more value in at that characteristic than stats." One sleep, the 60 official minutes or more for a first championship final bid since 2014 and, hopefully, a first NLL title in a decade.
"Every year,'' reasons 12-season man Dobbie, "you say the same thing: You want to make it, you want to.
"What I do know is that these opportunities are something you can't take for granted. Winning one (title) early in my career, my second year, you just naturally think it's going to come out the way you want it more often.
"It sure doesn't.
"I've only been back to one final since. So it's hard.
"But you can't be worrying about the past. Just worry about what's in front of you."
That'd be the Colorado Mammoth.
"I think the feeling we have is confidence, that so-called swagger,'' says Dickson. "We're going into games thinking we're going to win.
"Obviously we've rolled off a few in a row here and that's what you need heading into the first two rounds of playoffs, which can be one-and-done if you slip up.
"We're happy with the way we're playing right now but that's a Colorado team playing really right now, too."
Reason dictates that the double-dose of Dickson/Dobbie – that flint-and-tinder, gasoline-and-matches, dry-leaves-and-a-spark dynamic – will have a major say in Friday's outcome.
"Whoever, however, really doesn't matter,'' chips in Dickson.
"The only thing that matters it that we're still playing after this weekend."