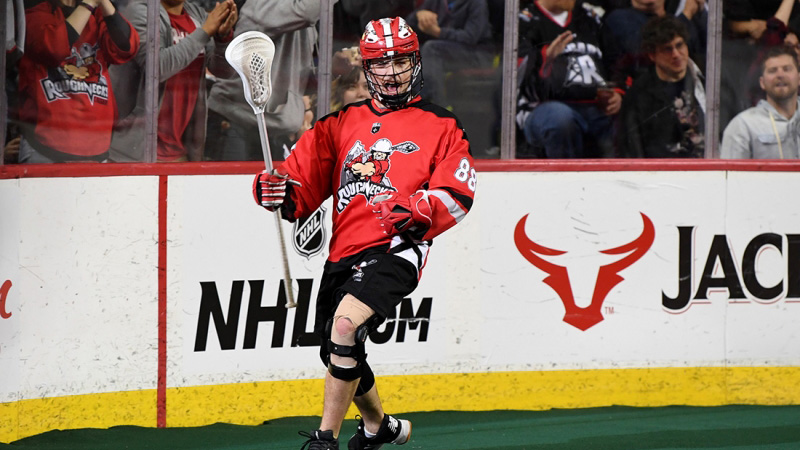 It was quite the off-season for Ryan Martel.
There's no question most players often undergo changes in the six months between NLL campaigns, and arguably the biggest change for any of Riggers this year is the sophomore forward's transformation.
"I think I dropped about 25-lbs. over the summer," Martel said. "I went on a little diet with my mom and I'm in way better shape now – it really has helped."
Most definitely it has.
In just six games, he's already crested his points total of seven from last year (3g, 4a), sitting at 10 so far this season (5g, 5a).
An impressive accomplishment given the obstacles he's had to overcome recently.
In mid-august, Martel tore his ACL while playing with the Langley Thunder Junior A team.
"I fully tore my ACL in the summer," Martel explained. "Sean Hope-Ross, our strength trainer, has been giving me some workout stuff and I've been doing physio so I've strengthened up my knee again. I'll get surgery soon, but for now I have a brace on it."
The injury meant when Martel was added to the lineup on Dec. 21 in the Riggers' 14-8 victory over the Vancouver Warriors, it was his first game in over four months.
While he didn't tally a point in that match, it didn't take him long to get back up to speed. Martel has recorded at least a point – and a few highlight-reel goals – in the tilts since.
"I think I've definitely gotten more confident since last year," he said. "Just holding the ball, playing in front of bigger crowds and clicking with the offence more.
"I've been gelling more getting and used to the speed, and the D guys, you start to know their tendencies on other teams. I'm getting a lot better at watching film, and there are still so many things from Dane Dobbie and Curtis Dickson I still haven't learnt yet, but I've been taking it in and learning as I go and it's made a big difference."
Now, the 20-year-old – who still has one year left of Junior A to play – has worked his way into the lineup full-time after playing only five games in his rookie regular season.
"Being in the lineup consistently, and not worrying about if I'm in or out it helps me focus on games more," Martel said. "When you don't have to worry about that it helps a lot, it's a weight off your shoulder knowing you're in."
And for any rookies in the future who also face uncertainty in their first season, Martel has one piece of simple but important advice.
"Just keep plugging along," he said. "Always put in max effort at practices, and training camps because when you do get the chance to get in you have to be ready to go. Jumping in-and-out of the lineup can mess you up a bit, but you have to stay game ready and be ready for whenever the team needs you."
The effort doesn't stop once you're in the lineup, though. Martel and the Riggers are working over their current bye-week as they look to get back in the win column Feb. 2 when they host the Vancouver Warriors at the Scotiabank Saddledome.
"Last weekend our offence got together, we were talking and we know what we need to work on," Martel said. "Some of us are getting together over this bye week, and it's going to give us a chance to watch film, go out and get our sticks in our hands, and we'll be ready for Vancouver here."