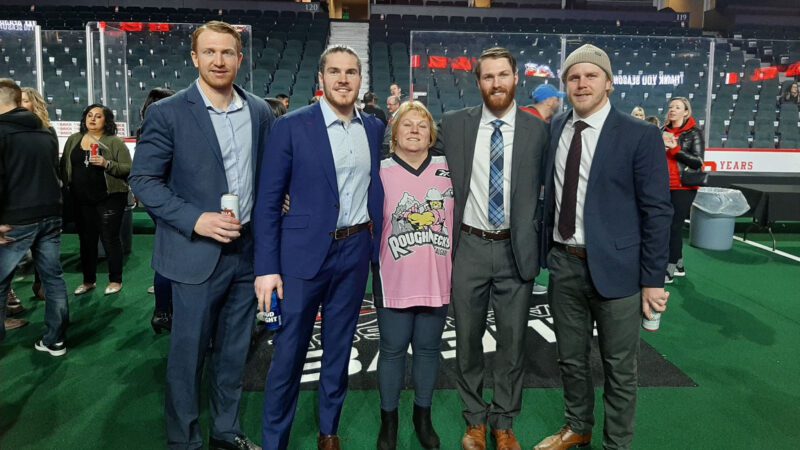 It's more than just a game.
As a season-ticket holder since 2005, the Roughnecks have become an integral part of Mona Helmer's life.
"I remember my late husband Gary and I were buying single tickets to games in 2003-04," she said. "But when the playoffs were announced, the Finals game sold out and we were unable to get tickets. We were heartbroken and said 'never again!'
"We became season-ticket holders right after that in the 2005 season in Section 211, and have been there ever since.
"After my hubby's death in 2012, my daughter came along to the first game after that as a support for me and she was hooked as well. My brother-in-law and nephew come to almost all games as well, and my son and daughter- in-law have attended a few, too.
"To continue to go is a way to honour his memory. I've kept the season tickets in the same section and there are still the same people around us. They've been supportive friends."
Thinking back to the first game she watched in 2004, she says it was a sporting event like nothing she'd ever seen before.
"I probably would not have gone to a game if Gary hadn't introduced me to it. I just dove right in, I love it. I remember thinking 'I don't know if I will like it,' as I am not a rough-and-tumble sports lover, but after the first game I was hooked.
"It was just all action. It was go, go, go, you couldn't look away because there was always something happening. To see these guys running the full length of the field back and forth and catching these flying balls and banging into each other I was like 'whoa!' It's just non-stop action from end to end, and as I learned more about the actual sport and rules, I have really learned to appreciate the skill needed to play it and the various strategies.
"It is so insane – mind blown."
And after 15 years as a season-ticket holder, Helmer has had plenty of time to make wonderful memories.
"Wow, so many memories," she said. "From the NLL Cup games won at our home barn, to meeting the guys, there is so much.
"Gary and I had started going to some away games in Edmonton, and so my daughter and I started getting away to some games as well. It's a great experience to see other barns, other teams, and other fans. We have been to Edmonton, two times to Saskatchewan, Denver, San Diego, and Langley three times for Stealth games.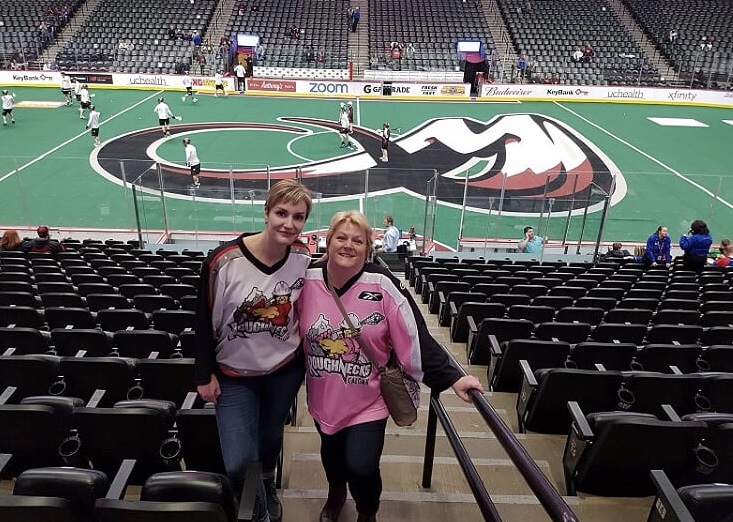 "We even attended the World Indoor Lacrosse Championships this past September to watch Team Canada win for the fifth-consecutive time and cheer on Roughnecks players."
That consistent support over the years has not gone unnoticed by Roughnecks players. As many know, in the NLL players are incredibly accessible, and are happy to interact with fans.
"When there was the breast cancer event in 2009, my late husband had bought me the pink jersey," she said. "I've always worn that since, everywhere we've gone I was wearing the pink jersey, so the players recognize me.
"We were chatting away to them in San Diego after the game we went to, they got beat pretty bad but they were willing to chat after the game. When we were down in Langley after Team Canada won gold at Worlds, I went down to the field, and I was able to hug the guys, see the medals, they were taking pictures with me. It was a pretty big deal."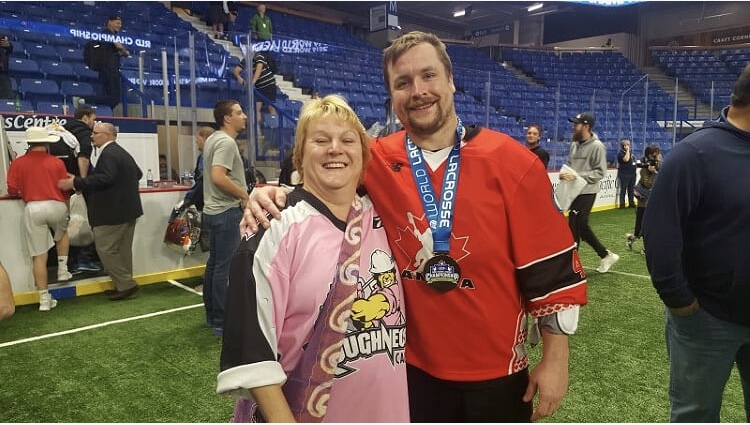 For Helmer, the sport of lacrosse has also become more than just a fun weekend outing. She and her family have made it a way of life.
"My daughter became a brand ambassador in 2018 for the Roughnecks and started playing, and even got me into playing lacrosse as well," Helmer said. "I play in the Calgary Women's Lacrosse League; I play goal and I love it.
"I have made a lacrosse room in my house with various jerseys and fan gear from teams in the league, and of course a Roughnecks shrine. My kids even got me my own championship ring engraved with my name this year as a surprise! It was fabulous.
"And I'm also an administrator of the Calgary Roughnecks Superfan Group page on Facebook, it's a page fans follow to keep up to date with anything Calgary Roughnecks and lacrosse in general."
And when asked how she feels about her time as a season-ticket holder, she puts it simply.
"It's been lots of fun. I just love it."