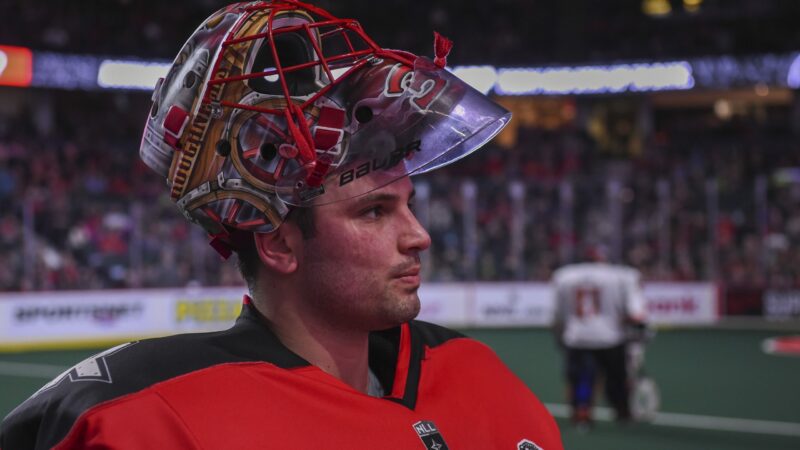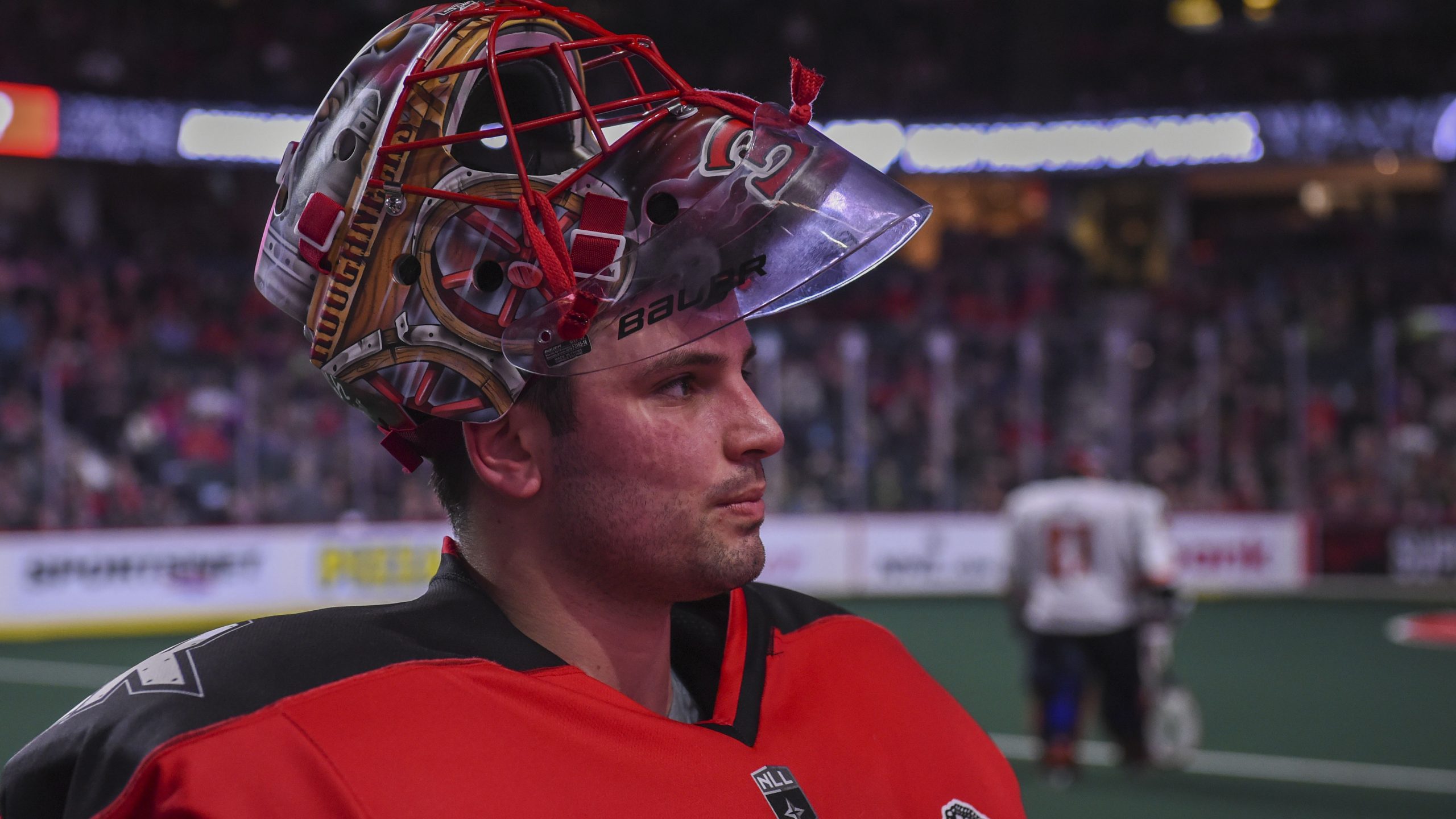 I started playing in mini-tyke, so I would have been five or six. My older brother, Giulio, was playing lacrosse before me as a goalie. The first couple of years I was a player and I was kind of a terror child so my dad had to drag me to games all the time. Eventually he told me: 'hey, are you going to play or not?'
And I said if I do play, I want to play goalie.
My poor parents, my mom and my dad had to show up an hour before every game because the first guy there would be the person who would go in net and play goalie.
My favourite memory from when I was young would have been in bantam. We won the provincial championship for box lacrosse. At the time we were so young that for us it was the biggest thing in the world, our first taste of winning. At the time we thought it was such a huge deal. Looking back, you kind of laugh but it was a good group of guys we had on that team. We eventually ended up playing at the junior level together and then obviously winning again.
Growing up in Coquitlam our senior a team was pretty competitive and our junior team was the crème de la crème at the time. Getting to watch guys such as Dane Dobbie who was playing senior with the Adanacs, Nick Rose was the goalie, all these NLL-caliber players you got to watch two blocks away from your house on Saturday nights – it was pretty cool. And at the junior level, I watched guys such as Wes Berg, Ben McIntosh, Robert Church, all these guys that are littered across the NLL now were all Coquitlam products.
It really set the bar for what the expectation was, I was really fortunate to grow up playing minor lacrosse in Coquitlam.
My last year of midget would have been the first time I started practicing with Coquitlam Adanacs Junior A. My first year of junior was the first time I got to go out with the team. I was the young idiot on the team at the time so it was interesting. We had guys such as Challen Rogers and Mike Messenger as our leadership group, and they showed me how to carry myself and treat it like a professional.
Going into my later years I developed more of a leadership role on the team. There was a lot of pressure playing junior – I was supposed to be 'the guy' then because I was also in the NLL at the time. It was a fun couple of years in Coquitlam and we were able to capture the Minto Cup twice. There are not enough good things I can say about that experience.
I played with some of my current teammates back then, too. Tyler Pace was captain the first time we won the Minto and Eli Salama was also on that team. It's pretty funny how it's come full circle and we're back on the same team at the pro level.
There are plenty of guys you come across when you're young that you get involved with in the NLL, whether it's playing with or against them, everyone knows everyone. I like that about lacrosse, there's a lot of respect off the floor. Whether you win or lose if you see a guy after the game, you say hi and ask how their family is. It's kind of cool.
I didn't take the traditional route into the NLL because I didn't play in the NCAA. There really were no options or interest for me, no scholarships or anything. So as much as some people think it was a choice not to play college ball, it really wasn't.
But you make do with your situation. The opportunity came up after a good first year of junior to consider entering the draft and I was really fortunate to end up with an established program and team like Calgary. As a young kid I think if I were to have gone to a team that maybe didn't have such a good culture or such a strong team I could have gotten thrown into the fire a little too soon, and who knows where I'd be right now.
In 2015 I was in my backyard following the draft on Twitter. To be completely honest I didn't really know that I was going to be drafted 15th-overall until it happened. It was a surprise; I thought I was going two or three picks later to Vancouver. Luckily it worked out the way it did.
Curt Malawsky was the Coquitlam junior coach before my time playing there so we had seen each other at the arena, and he was still contributing with the junior program. Curt likes his Coquitlam guys so it really worked out for me.
The one thing we joke around with other guys in the league about Curt is when you talk to him there is absolutely nothing he does not have an answer for. You can pull up any scenario possible; three-on-four, four-on-three, what if we're up by two? What if the ref does that? He has it all planned out in his head. When you have a coach that prepared it's awesome.
My first year on the Roughnecks I got to see fellow goaltenders Mike Poulin and Frank Scigliano and they're just professionals. Seeing how they handled themselves through the ups and the downs and how they were able to support each other while still being competitors was great.
Sciggs and I are still really good buddies to this day, we live about a block away from each other. He was one of those guys that was just a good teammate. Whether that was organizing team dinners, or making sure everyone was involved. That was the biggest thing I learned from him, how to be a good teammate and a true professional.
There were a lot of hiccups early on for me. My first few years in Calgary was the first time in lacrosse I felt I was struggling and fighting it. You have to work through stuff like that sometimes. I grinded through it and I was fortunate enough to become the starter in Calgary.
My first win in Toronto a couple years back was awesome. I probably had three or four starts before that and every time I came up short, it was super frustrating. Getting that one win and realizing that you know what, I can play here was a great feeling. Once you're there you want to keep it so there was a lot of work I needed to put in.
In the 2017-18 season was when I really established myself as a starter. It was a great feeling. But it was the work I put in to get there that really matters. I was really happy when the fans started trusting me.
We have some of the most loyal fans in the league so once they're on your side you feel unstoppable. We have the best fans and the best stadium atmosphere in the NLL. When anyone scores a goal it's nuts in there. It's banging, the music's going, it's easy to get fired up for a game in the Scotiabank Saddledome. It's fast paced, it's loud. It feels like a professional atmosphere.
When we won the NLL title In 2019 it was pretty crazy. When we look back and talk about it, everything was firing on all cylinders at the right time. We had Jesse King come back from injury and he was a great boost to our offence. Our defence really bought in and we all played as a cohesive unit. We all had a feeling in the dressing room that we could do it. When you have that belief it becomes easier to have that success.
In overtime during Game 2 it was pretty intense. I think I owe Zach Currier on the save he made; I'm not sure if it hit the cross bar or him on that Dhane Smith shot. There was obviously a bit of a scramble but we managed to keep it out of the net somehow and then Rhys Duch did the rest.
Hoisting the cup was insanity. I remember going to the corner of the building where our friends and family were seated after the handshakes and I saw everyone going absolutely nuts. That's one thing, that moment, it's like a freeze frame in my head. Just how happy everyone was, and how big of a deal it was. It was incredible to be a part of.
Looking ahead, I just want to keep doing what makes me successful. Every day I want to get better, whether it's a little thing or a bigger stride. Just making sure I keep putting in all the ground work. If I have a bad season eventually and I worked hard and did everything I could – I can live with that.
But if I have a bad season, and maybe I slacked off a bit of didn't work as hard as I could that's where I'll have an issue. I couldn't live with that.