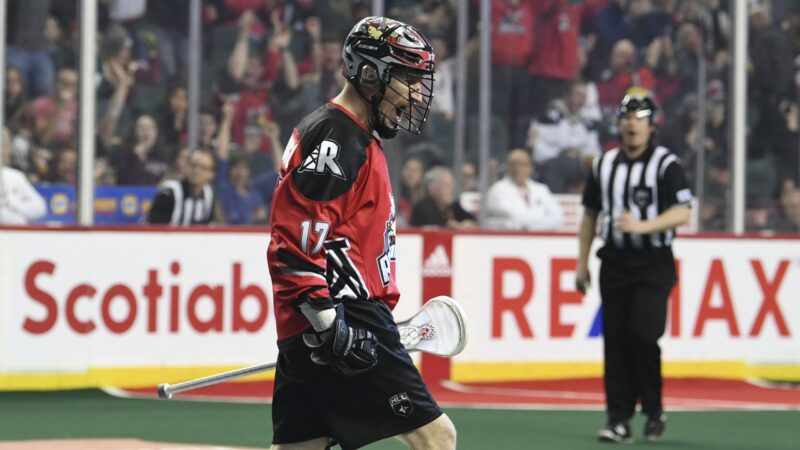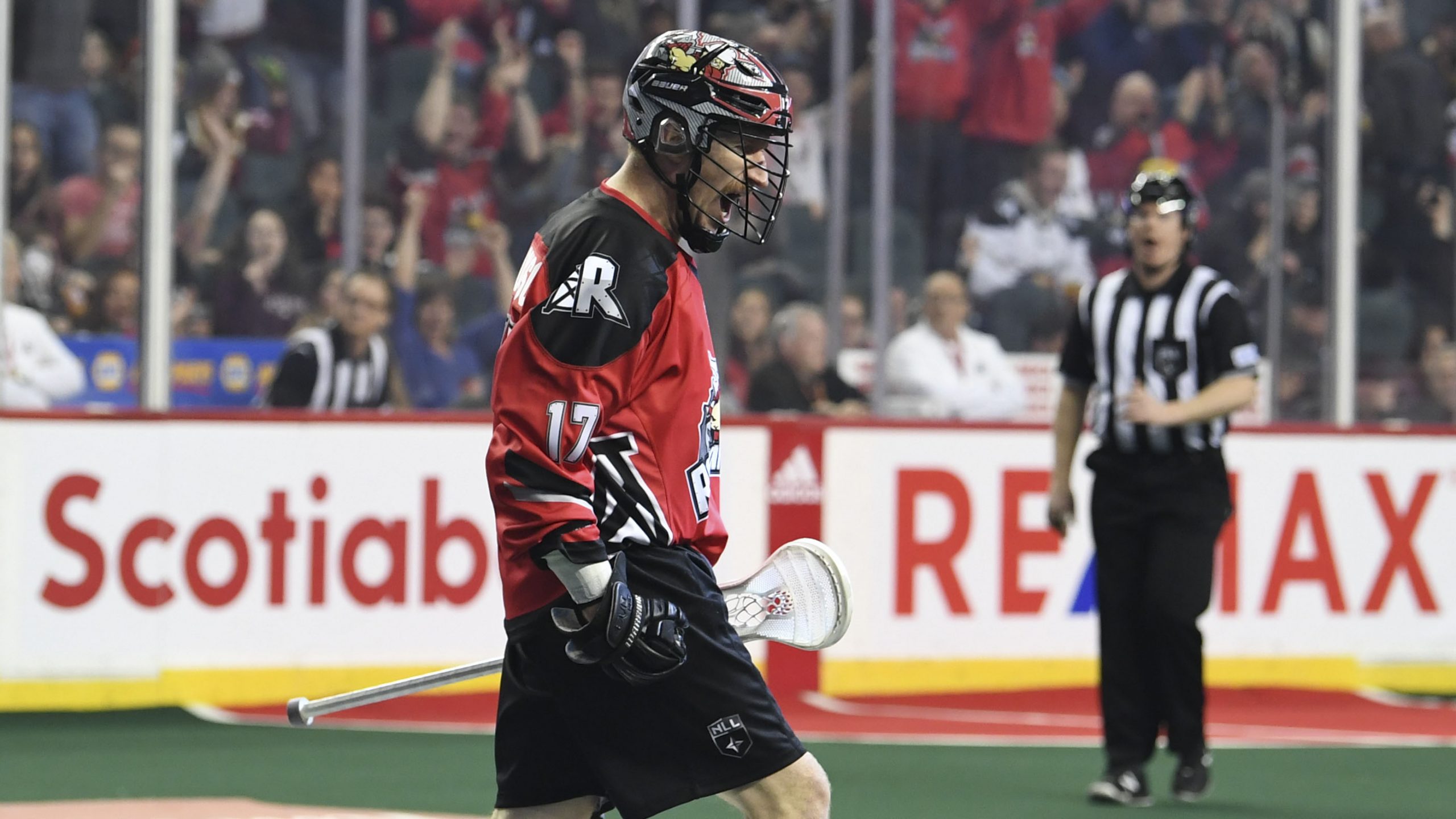 I started playing lacrosse pretty much when I was born. My dad, Derek Dickson, played growing up and he was always a really good player. He won Minto Cups in Burnaby and a Mann Cup in New Westminster out here. I started playing when I was two years old and he got me into organized lacrosse a year early, so I started playing mini-tyke when I was three years old.
He was the biggest lacrosse influence in my life. I owe a lot to my dad. He spent countless hours with me. We had an unfinished basement growing up so I was always down there throwing the ball against the concrete wall and he'd be taking me out to the lacrosse box to shoot and pass a couple of days a week. A lot goes to him for building my skill set and turning me into the player I am today.
There are ton of great memories from growing up, one being the Jack Crosby Tournament in B.C. It's kind of like an all-star tournament. I remember being in novice and playing in two of those tournaments. They were always tons of fun because there were teams that would travel from out of town or even all the way from Oakville, Ontario. Those were exciting times, to be able to play against the cream of the crop and the top competition.
I remember winning a provincial gold medal in pee wee pretty well, too. Curt Malawsky was actually our coach on that team. I still speak with a lot of guys that I played with back then and reminisce because we came up short for the rest of our minor careers – we got a few silver and bronze medals but that was about it. That gold medal is something we still talk about it to this day.
Growing up in B.C. had a big impact on my career and I attribute a lot of my success to it. I played against many guys who are some of the top players in the world now, guys like Kevin Crowley. You see plenty of talent coming for these parts of Canada.
Being able to play against the top competition makes you a better player. You see that more in Alberta now, the junior teams starting to play in Minto Cups and win games. It's only a matter of time before Alberta is on the same level as B.C. and Ontario when it comes to lacrosse.
When I went to the University of Delaware to play in the NCAA it was a bit of a culture shock, not a lot of Canadian guys from the West Coast were really going down to play yet. At that time it was just the start of when NCAA schools began recruiting from up here. A guy named Jordan Hall, who plays in the NLL now for the Georgia Swarm, recruited me. I played junior against him and he was a few years older than me. He went to Delaware at the time and was going into his last year. He approached me with the opportunity to have a scholarship and play in the States. He got me in touch with the coach and that started the whole process.
I remember I had to go take my SATs. If you've never taken one, it's probably the worst thing you'll do in your life: Six-hour test, you sit there and sweat over it.
But I got down there and the rest is history. It was four unbelievable years of lacrosse. Anyone who has been down in the States playing will tell you it's a grind but it's a lot of fun. You're practicing and playing six days a week for eight months of the year.
As a freshman, I sat on the bench for the first half of the year. Growing up I had always been one of the better players on my team so it was a bit of a shock to sit on the bench and watch. I had never done that before. There was an injury halfway through the season, so I got plugged in and they gave me a shot. I started every game from there on out. We ended up having a Cinderella run and went to the NCAA Final Four for the first time in our team's history.
It was awesome spending four years down there. I made tons of new friends, moved to the other side of the continent, learned to do my own dishes and laundry and all that fun stuff. It was a great experience.
When I was drafted in 2010, I was at home watching the stream on the computer with my family and I remember getting a call from coach Curt congratulating me that I went to Calgary. I was hanging on the edge of my seat, didn't know what was going to happen. Calgary made a trade to move up and picked me at three. I was happy about that, it was nice and close to home.
My first NLL game was against Buffalo at the Saddledome. I definitely had a lot of nerves because I had never played in an environment like that; an NHL arena packed with 10-thousand plus people. I remember after I chose number 17 (the number my dad wore when he played), the media was all over me asking if I should be wearing 17 because Tracey Kelusky just left. It felt like a decent amount of pressure on my shoulders to perform and live up to the number in the building.
The pressure was lifted pretty quickly because I scored 16 seconds into the first game I played. It was a pretty good start to my career, to say the least.
Coming into the league I was fairly one-dimensional. The ball would get in my stick and it would be tunnel vision. I was usually the go-to guy on my team – people usually relied on me to score. Playing at this high of a level everybody on the floor is capable of putting the ball in the net. It took a bit of time for me to understand that and put trust in other people.
The guys I was surrounded with were incredible, starting my career off with Kaleb Toth and Scott Ranger on the right side there. Those guys were seasoned veterans at the time and took me under their wing. I also had Dane Dobbie, Jeff Shattler, Daryl Veltman, the list goes on. I owe a ton to those guys. And the coaching, having Curt and a mind like that behind the bench to guide you in your first few years in the league was great.
I've played in Calgary for a decade now, it's crazy. Guys I never met in my life prior to coming to Calgary are some of the best friends now. Getting to hang out with the guys every weekend for basically 24 hours a day for half the year, you build those relationships and they're some of the best friends I have in the world. These guys will be in my wedding party when the day comes and I didn't even know they existed 10 years ago.
The relationships you're able to build is half the reason we come out every weekend and do what we do. Everyone knows we're not paid like other athletes but we do it for the love of the game and the love for the guys.
And for the love of the city, too – Calgary is incredible. I lived there for four seasons. I remember just going out grocery shopping and I'd get recognized and people were so friendly coming up and saying hello and pumping my tires. It's different than any other city. People who don't play here don't realize how good we get treated, how great the community is and how awesome it is to play in the Saddledome. It's wild, it's so much fun. The slogan Come for the Party, Stay for the Game doesn't ring truer than anywhere else but Calgary.
We have a lot to thank our fans for and we owe a lot to them. Especially pulling off the championship last year – they were a big part of that. There's nowhere else I would have rather spent the past 10 years than with Calgary, and I'm thankful every day I got chosen to play in that city.
Winning last year, it meant everything to me. Earlier in my career there was a lot of heartbreak. We always had a good, solid regular season but we'd fall short in the playoffs. And then in 2014, getting to where we did in Rochester and losing in heartbreaking fashion in the mini-game. There were a lot of ups-and-downs. Being able to turn the corner and pull it off to win the ultimate prize was incredible.
Playing with guys like Dobs, Greggy (Harnett) and Curtis Manning, those guys have been there with me from the start. Getting to lift that trophy and seeing the look on their faces – just relief. Finally doing that with those guys and being able to celebrate with them meant so much.
As for the future, well, I'm not a big five-year guy – I'm more of a what's happening tomorrow guy. I take it day-by-day. As you get older you start to realize how important taking care of your body and fitness is. I'm 32 this summer and I can definitely feel it more after games now. But with expansion the way it's going, I could pull a John Tavares and play into my forties here, you never know. The biggest thing I'm taking care of right now is staying in the gym and staying healthy to prolong my career for as long as I can.