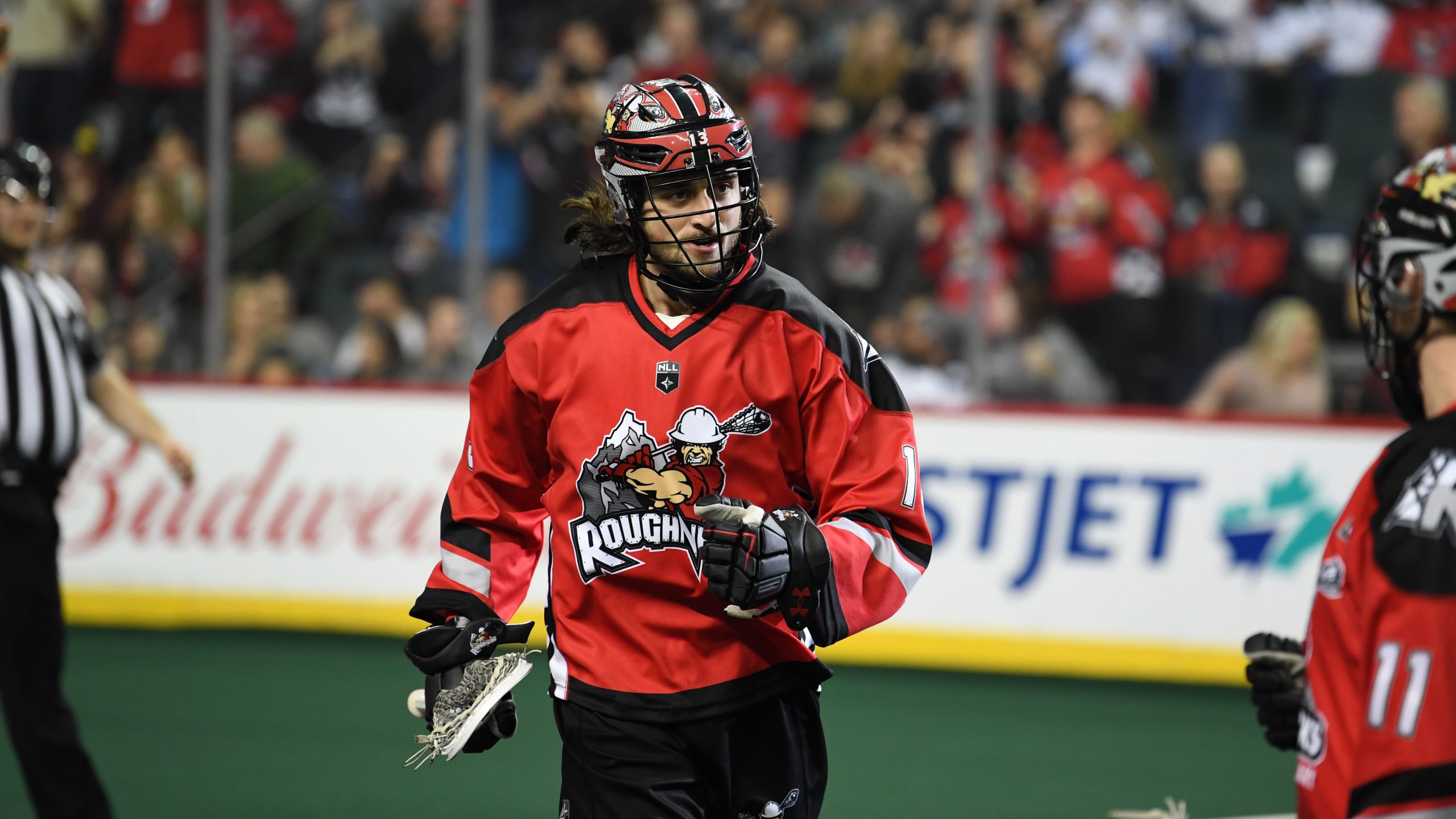 I started playing lacrosse in mini-tyke when I was about four or five. My parents were trying to decide which spring sport they wanted to put me in and it was either T-Ball or lacrosse. They decided they didn't want to watch a bunch of kids swing at a stationary ball, so they put me in lacrosse. I've been playing the game ever since.
Growing up my dad coached me for a long time, which was really fun. He always made an effort to coach us in sports; he didn't have any experience in lacrosse but he did his best when we were young. He taught us all the fundamentals, to enjoy the game the best we could, work on our teamwork and those kinds of skills. Going to practice with my dad, those are hard to beat memories from when I was growing up.
And Smith Box always stands out as another memory from when I was young. If you're a kid from Coquitlam, you know about it. That box, you can go there any given day in the summer and see some great players like the Cornwall brothers or whoever throwing the ball around. I had also seen Christian Del Bianco there many a time growing up, so that box has a lot of fond memories for me.
My junior career was really fun, I grew a lot. When I was in B.C. there used to be intermediate levels. My first year of intermediate was the first time I had ever made the top team for my age group, the first time I ever played A. It was pretty crazy because I had only played A2 growing up so it was a big accomplishment for me. I played two years of inter-A, then I played a year of junior B.
I was going to school at the time at the Rochester Institute of Technology (RIT) and wasn't getting a lot of playing time there because I was behind some great players. So when I came home I decided to play junior B and not try out for the junior-A team at the time. I wanted to get my confidence and mojo back and have the ability to play a lot of minutes.
In my third year of junior, I came back and did time between junior A and B, and that was the year we ended up winning the Minto Cup. I also played in provincials with the junior-B team and we won. That summer for me was when I came into my own I think, it was a big turning point for my box lacrosse career. Then in my final year, I played strictly junior A.
I was lucky enough to play with the Coquitlam Adanacs for my entire minor and junior career. It's an awesome organization, they do a great job. It's a winning tradition; they strive for winning seasons at every level, from A1 to C. I was blessed to be a part of that. I wouldn't be the lacrosse player I am without them.
Back then I played with a ton of guys I still do today, like Christian Del Bianco and Tyler Pace. I grew up looking up to Challen Rogers and Wesley Berg. I know Wes isn't with Calgary anymore, but when I got drafted I was excited to play with him. He was actually my "big buddy" in elementary school – I was in kindergarten when he was in grade five – and they paired us up for a reading program. It's a small world out there.
It's actually a small world, overall, for me. It feels like between RIT and Coquitlam, every game I play in the NLL I'm lucky enough to have a friend on our side and the other side.
When it came to the NCAA, I didn't have a lot of recruiting offers. I had three going into the summer of my senior year. I felt like RIT was the best fit, so I went there for my marketing major.
It's a cool atmosphere there because almost 50% of the roster is Canadian, it was like a home away from home. I got really lucky to play under some awesome players like JD Hall and Matt Hossack.
But that meant my first two years I didn't play a lot. I was playing behind guys who had their positions locked in. My junior and senior year I played more, and in my senior year I finally started games. I grew as a player when I got that playing time, it grew my confidence, and the coaches had a lot of faith in me. But those first two years were good for me to learn the ropes, understand the game, and become stronger mentally and physically.
If you have the opportunity to go to the NCAA to play competitively I'd recommend it to just about anybody.
When I was drafted in 2018 I was at my girlfriend's parents' place in Burlington, Ont. Before the draft I had some calls from coaches around the league, but I really thought I was going to get drafted by Calgary. I had a good hunch because I had seen coach Curt Malawsky at a ton of my games that summer in Langley. I was actually playing on the same team as Reece Callies that summer. Calgary had back-to-back picks that year and scooped up Reece and myself in one swoop.
It was really rewarding to hear my name called. I had played B level most of my life and I got lucky to end up on those A teams. Getting drafted felt like a start of a new journey, but the end of a long one at the same time.
I remember my first Training Camp, I was like 'wow, this is fast.' I've always thought of myself as a pretty fast guy, but my fellow rookie that year Shane Simpson came in and dispelled that pretty quickly. The ball was moving fast, everybody was bigger, stronger, and smarter. It was a tough transition.
My first NLL game was in Vancouver in front of a bunch of friends and family and I couldn't have scripted that better. The game was so fast, the ball is going a hundred miles an hour, and I was just trying to keep up at that point. But through the season you figure it out and you get quicker yourself, and it all starts coming together.
My first game at the 'Dome was special. Even when you're suiting up you can tell the fans don't mess around; it's the Rough House for a reason. It was a crazy experience. I didn't even have to go play in front of other fan bases to know that we had the best fans in the NLL. I knew it right off the bat.
We won the 2019 NLL Cup my first year, definitely knocked that one off the bucket list pretty quick. But we're all hungry for some more. I think as a team we really came together for that stretch. For whatever reason it felt like nothing could go wrong, it wasn't us being cocky but it was confidence. It was a streak that's very memorable, there are countless lessons I learnt during those games at the end of the year.
And that continued into this year. That's thanks to the coaches doing a great job, instilling confidence in us, talking us through our mistakes and how to learn from it all. This past year definitely felt like a coming of age season for me, unfortunately it got cut short.
Looking ahead I'm just trying to learn more. The guys have a lot to share on that team. My first year I had Dan MacRae, who was an awesome teacher. And I still have guys like Curtis Manning, Mitch Wilde and Chad Cummings that have great things to teach as well. I just want to learn and improve every year. When push comes to shove and I'm the old one, I'll try to teach those things and instill it in the young players so they can pass it down the line, too.
Oh, and I want another championship.
Actually, let's make that championships.