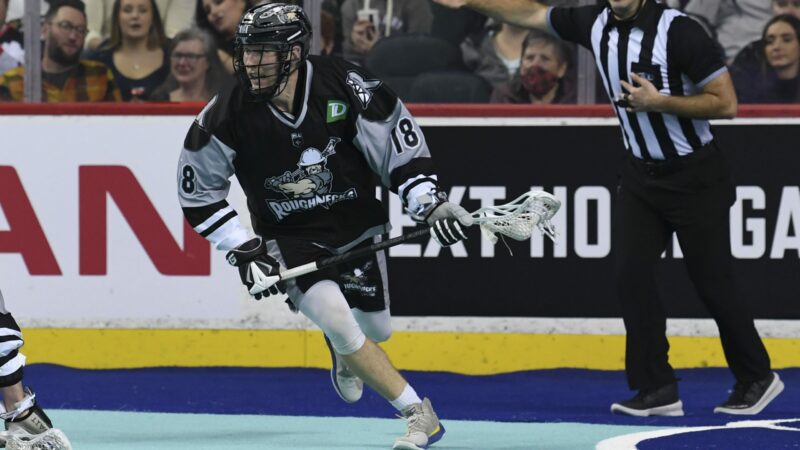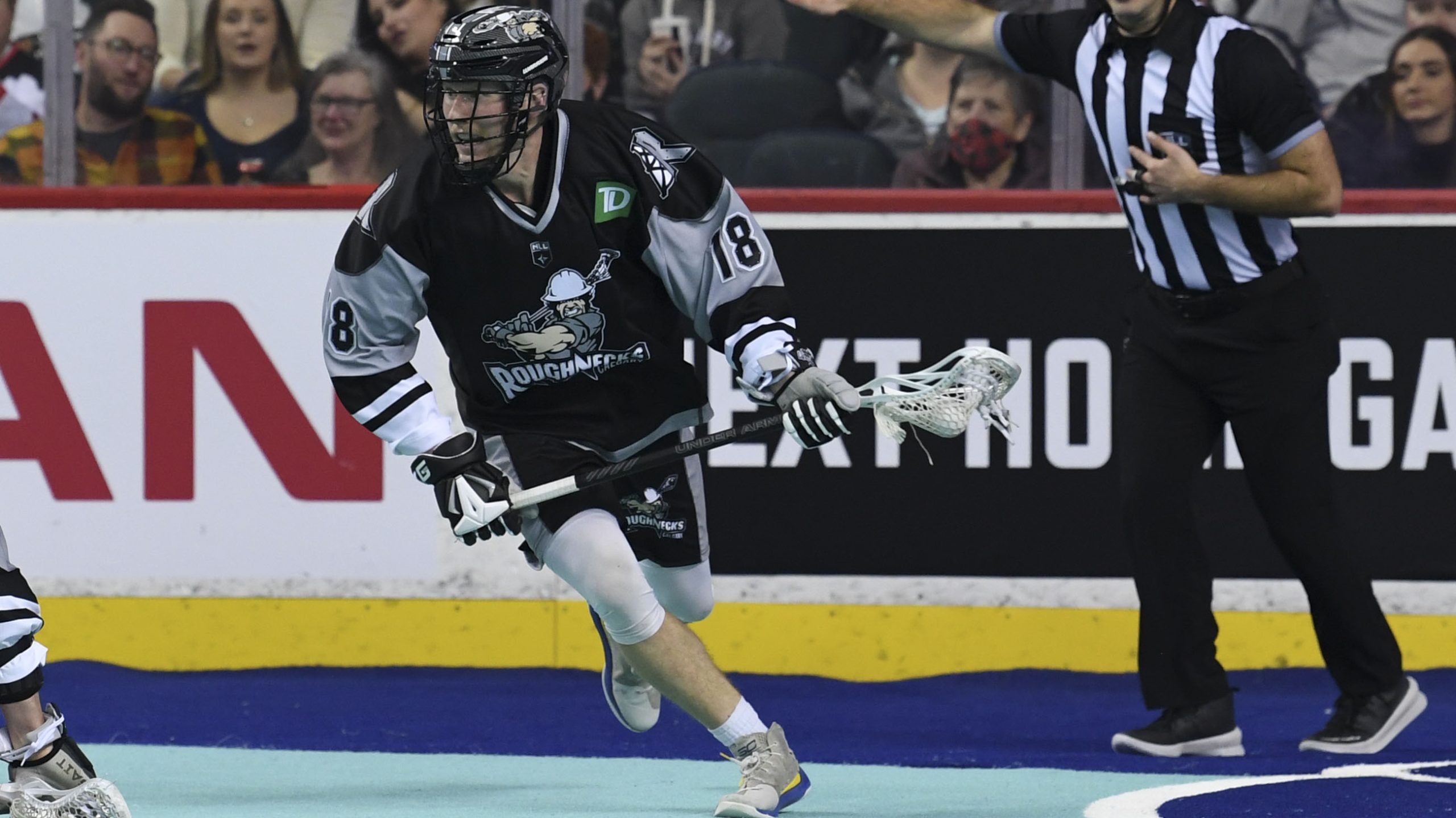 I started playing lacrosse when I was nine or ten years old. It really started when my parents and I were in the car on Crowchild Trail in Calgary and on one of the overpasses there was a big banner with Calgary Hornets registration information on it. I asked my parents if I could try lacrosse and try out for the Hornets, so my parents signed me up and that's where I got going. I ended up playing for the Hornets for my whole minor career.
I then played for the Okotoks Raiders for all five years of junior A. My first year in the league we had a pretty solid team and we won the Alberta championship and we played a pretty unbelievable Coquitlam team – that was a great experience. It was kind of my first taste of what really solid lacrosse was playing junior and playing against that Coquitlam team with guys on it like Challen Rogers, Christian Del Bianco in goal, and Tyler Pace.
Throughout my five years we won four Alberta championships and were able to go to the Minto Cup my final three years of junior. It was great to be a part of a couple of teams that showed that Alberta has what it takes to compete with teams from B.C. and Ontario. Not a lot of guys get the opportunity to play in Minto Cups and I was fortunate enough to be able to play in three. In my fifth year, we beat Victoria, which is a great memory. No Okotoks Raiders teams had ever beat a B.C. team before. And in my third year of junior, I scored four goals on Delbs so that was pretty cool – I've let him know a few times that I've got a couple on him.
I was also captain my fourth and fifth year of the Raiders, and it was a great honour. It was awesome to be a part of so many teams that were so successful in not only Alberta but on a national level.
After junior, I went into the NCAA and played at Stony Brook University while taking biology with a minor in linguistics. I chose it because they have so many Canadians on the team. The year before I got there they had Rogers and Brody Eastwood. When I got there myself, there was Brody McLean – who was also drafted by the Roughnecks – Derek Lloyd, Ryland Rees and more. We had so many Canadians on the team that I thought it'd be a great fit for myself. We had some really awesome teams, in my freshman year we started 5-0 and were nationally ranked in the top 15 and then I was fortunate enough to be captain of Stony Brook for my last three years there. We never did make a championship run, but it was a great experience going down to school and meeting people from all over the world and living in New York.
It kind of makes you grow up a little quicker, moving away, across the country and living on your own. But wouldn't trade it for anything in the world, I got to meet some lifelong friends who is stay in touch with and talk on a regular basis to, it was a great experience.
My favourite memory I have is from my freshman year, playing against Brown University. Brown was pretty high ranked and we had just come off of a two-game losing skid, and it was an absolute shootout. The final score was something ridiculous like 17-12, I just remember it was a game in the pouring rain, we were the underdogs going in and it was a really great effort. We had three-or-four of us freshman who were starting, it was an unreal game to be a part of and it's something I'll never forget.
All of that led me to the 2020 NLL Draft. It was like a dream come true being drafted – you kind of always work for it, it's in the back of your mind and you think of it happening one day. To actually hear your name be called is surreal. I don't know what I was expecting on draft day, but I wasn't expecting to have my name be called by Calgary. Obviously that's the dream you have when you're playing mini sticks in the backyard or lacrosse with your buddies, being drafted to your hometown team. A lot of guys don't have that opportunity and to hear my name be called by the Roughnecks, and to have Dan Taylor call my name – who coached me previously – it was really special.
I've always looked up to guys who played for the Roughnecks, like Andrew McBride who I had coach me throughout junior. I remember he had the long hair and big beard coming out onto the floor as captain of the Roughnecks, and guys like Jeff Shattler who would run the ball, score big goals, I've always really admired guys I watched growing up who were playing for Calgary.
I had to wait a while for training camp but once it came it was a crazy experience. Being able to go into the Saddledome, where I've been going to Flames, Roughnecks and Hitmen games for as long as I can remember and actually being downstairs, waking around and soaking it in – it was surreal. It was top class, the organization was taking care of us, it was awesome. It was almost like a blur because it was so cool and everything was happening so fast, but it was really great.
I've got three games under my belt now in the NLL and it's been pretty crazy, it's a big step up from college and junior lacrosse. Every guy on offence is a weapon, it's just been really getting my game up to speed, but I've been loving it and I've had so much fun so far. It's such a good group of guys on the team, it makes coming to the rink every weekend the best.
My biggest lesson I've learned in those three games is you can't really dwell on your mistakes. You need to have a short memory and be able to pick yourself back up after a mistake. In junior lacrosse, teams don't really go on runs like they do in the NLL. In the NLL you have to be there and be present and if you make a mistake, you have to let it go. If you dwell on it teams will go on runs.
Moving forward I'm just hoping to get some more links onto the belt, get more transition opportunities and do whatever it takes for the team to be successful. That's what drives me; my teammates are my biggest motivator. It's a team sport and you never want to let the guys in the lockers beside you down. My motivation is grinding for the guys next to me.
Looking back throughout my lacrosse career my biggest supporter has always been my parents. I was just in the backseat of a car asking to try out for some sport they had never heard of, that I had never seen or played before. They signed me up and were just fully committed to helping me succeed, going through college, trying to find a school, playing lacrosse and training hard, they have supported me since Day 1.
I've learnt a lot throughout all of this. But the biggest lesson I've learned so far in my lacrosse career actually came from COVID. It's to go out and play like it's your last game all the time because you never know when your last game will come. Nobody really knew that COVID was going to have such a big impact. I remember on my NCAA team we had been on a four games in 10 days, tough grind and we were all pretty tired. Next thing we knew the season was over and that's the end of your NCAA career. I just don't take anything for granted and give everything 100% because you never know when it's going to be your last opportunity.