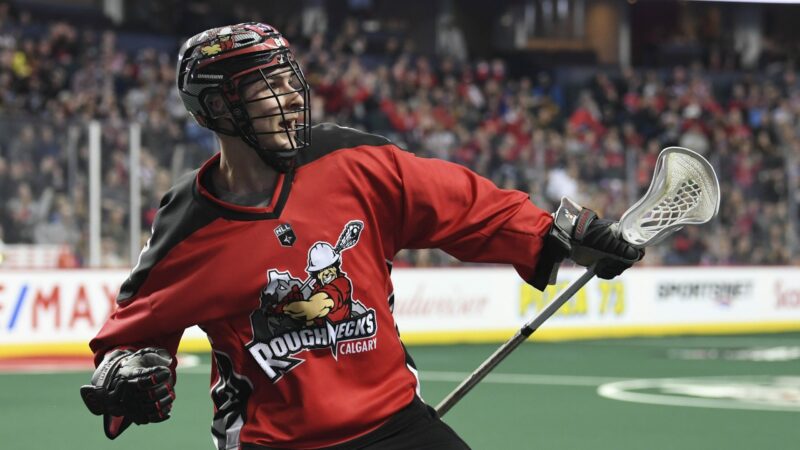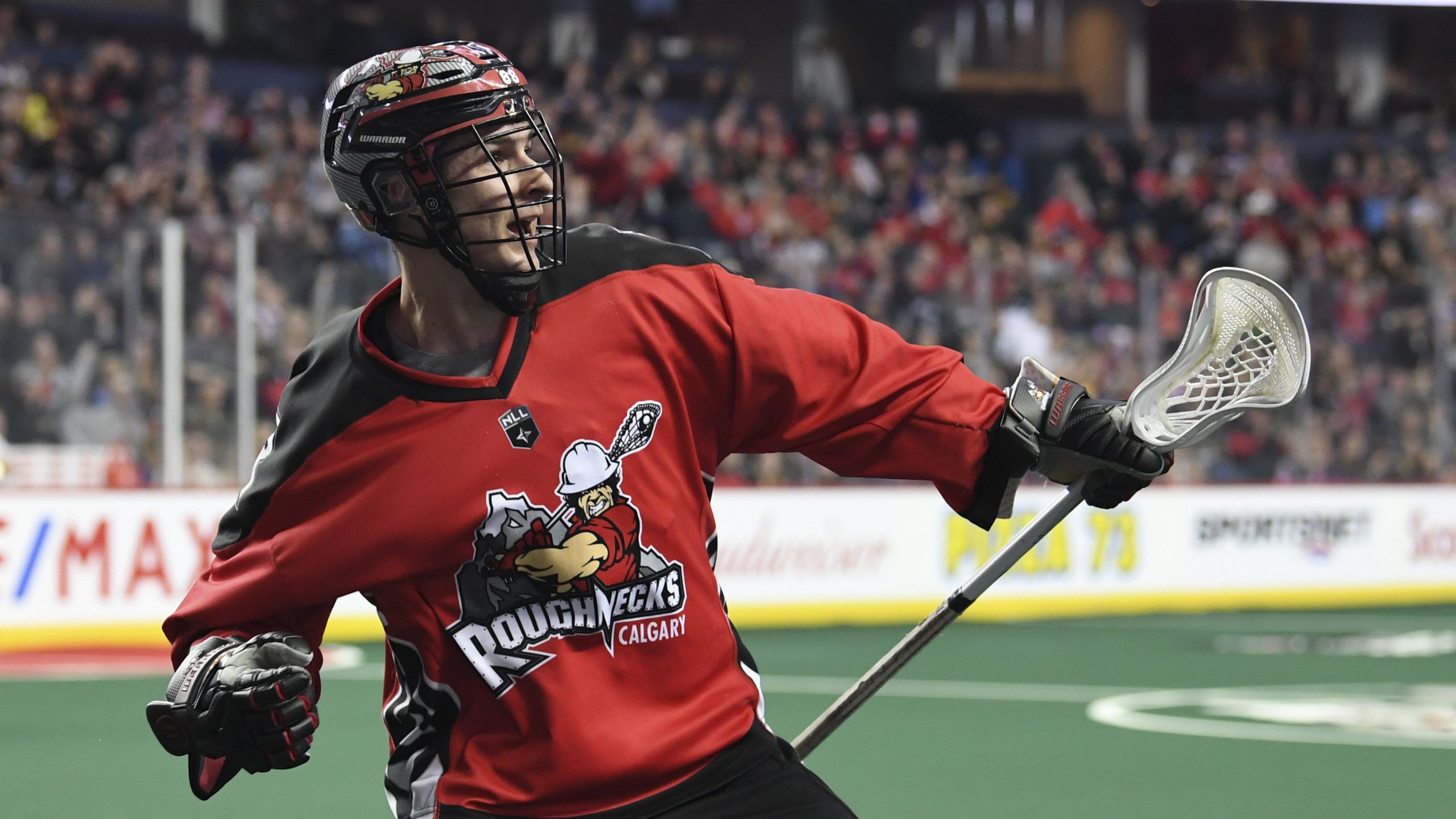 I started playing when I was three years old. At the time I was big into soccer as well. My mom was always a big soccer player, and my grandpa is from Italy so it was always kind of a thing for me to play soccer. I started with that, and then I wanted something else to do, so I tried other sports, like hockey.
But once I picked up lacrosse, I never looked back. I fell in love with the sport right away. Growing up there are a few moments that come to mind as memorable for me.
I remember one year when I was in novice, I broke my arm. I wasn't able to play for a lot of the season, and I was so upset that my mom finally agreed to let me play in the final tournament with a full arm cast on. I guess since I was that young, I wouldn't let anything stop me from playing. That weekend I played with a broken arm, no pads were on, but I had pieces of giant foam from a mattress topper to cover my cast. That was ridiculous.
I started my junior career in Port Coquitlam. My second year I ended up getting traded to the Coquitlam Adanacs at the trade deadline. After that, I made it so that I could play with them moving forward. The following season, Port Coquitlam was expecting me back in their locker-room, but we ended up moving that off-season and I ended up in Coquitlam, where I was able to stay there for the rest of my junior career. We went to four Minto Cups, we only won one, but I'm glad we could win it to end my career and cap things off. At the time, it was one of the best feelings I had ever had in lacrosse. I also had the opportunity to play under Curt Malawsky in junior, as well as with my Roughneck teammates, Eli Salama and Christian Del Bianco.
And then, it was time for me to go to college.
I recommend NCAA for everybody. That was a goal of mine growing up, to go play college lacrosse. The only games that were on TV when I was younger were the NCAA championship games on random channels. I ended up watching one year, it was Cornell vs. Syracuse. It was one of the best games I had ever seen, it changed my mindset to wanting to go play college lacrosse at that time.
When I got to the recruitable age there weren't many schools looking at me, but there were a few good ones. Denver ended up being the best of the bunch in my opinion, because it was close to home. They had a pipeline of Canadian players. The offensive coach, Matt Brown, recruited me. He is from Burnaby so he gets the whole junior lacrosse thing. He was actually on the dynasty team in Burnaby that won three or four Minto Cups in row.
My first year at the University of Denver we went to the Final Four. We lost to Duke but playing in front of 40,000 people in a football stadium in Baltimore was a surreal experience. We got back to championship weekend three out of my four seasons, and winning one of them in 2015 was one of the coolest moments of my life.
We played Maryland, the game wasn't too exciting. We won 10-5 I believe. But the feeling of winning was surreal. We were all so excited, the fans were excited. We had flown to the championship weekend on a chartered plane, and we flew back on one, as well, so on the way back it was just us having some fun.
When we got back to Denver that night everybody was out celebrating the win. It was a great experience to be the guys who brought home a championship. It meant more in Denver because we were the first team not from the East Coast to have won an NCAA lacrosse championship. We made history that year.
After university, I was drafted to the NLL. I ended up going in the first round which was exciting. Mouse (Curt Malawsky) reached out to me right away because we got Zach Currier third and then I ended up going ninth, and he texted me right away saying "We got you and Currier, this is awesome!"
I was super excited to play under Mouse. Zach, while he was at Princeton, he was one of my favourite players to watch in college. He did everything then, and he's continuing to do that now. To be able to play with him, and the rest of the team, I knew it was going to be good. And to have Mouse being the head coach meant there was a bit of familiarity. He knew what to expect from me, and I knew what to expect from him, so it wasn't a huge culture shock.
My first year, I started off playing defence, which is something I hadn't done in a long time. It was a big change but I knew eventually I'd earn my spot playing offence, and it worked out later that year. It took me a while to get my first goal, but when it happened I gained some confidence. Obviously playing with guys like Curtis Dickson, Tyler Digby and Wesley Berg that year taught me a lot about how to be successful in the league. But I knew that I had a lot more to prove after my first season, I knew I had more in me.
In 2019, I felt that on our right side with Dickson, Duchee and I, we had a good thing going. The left side was stacked, too. We knew our roles and we were able to play off each other very well. Having that confidence in knowing the next guy is going to make the right play was a big part of what helped us win last year.
That championship win means a lot to me, but I know it means a lot more to some of the older guys who haven't had those chances. I still feel like I have a lot of chances. I know these things don't come around often, but I'm an optimist when it comes to winning lacrosse games.
Having that checked off my bucket list so early is great. But, in a lot of situations it could make it so you think you don't have to work as hard anymore. For me personally, I want to win as much as I can, that's why I play lacrosse: To win. I know how hard it was to get there, but I want to be able to win two, three, four or five more championships. I know how good of a feeling it was and that motivates me to get back to that spot.
Looking back, some role models in my career were coach Bill Tierney and coach Brown at Denver. Just the way coach Tierney approaches the game and leads his team, he's like a general. He'll help any player on-and-off the field that he can. He loves to win and he's won so many times, but it's more about building a culture and having the kids believe in him.
Coach Brown was a role model because of the way that he has come from Canada, and become one of the best – if not the best – offensive coordinator in the States. He's building this giant US Boxla program down there right now, and it's super cool to see it grow.
What I want to do with my life is coach and help kids get to the next level. And that's because of what they have down in Denver and what coach Brown has done with lacrosse.
They have this giant field program there helping kids get scholarships to different schools across the country, and they have a box lacrosse program to help kids learn the box game.
Coming from that back home, I noticed we didn't really have anything like that in Vancouver at the time, so I started Pro Caliber Lacrosse. We've been pretty successful, we've got 24 kids that have received scholarships in the last few years. That really what the goal is: To get these kids to University.
There are so many schools willing to give our athletes opportunities, give them the experience of playing college lacrosse, the opportunity to get an education and the chance to possibly go play on a pro team.
My goal is to have the dream stay alive for these kids and push them to have a certain work ethic that they'll keep with them for the rest of their lives.