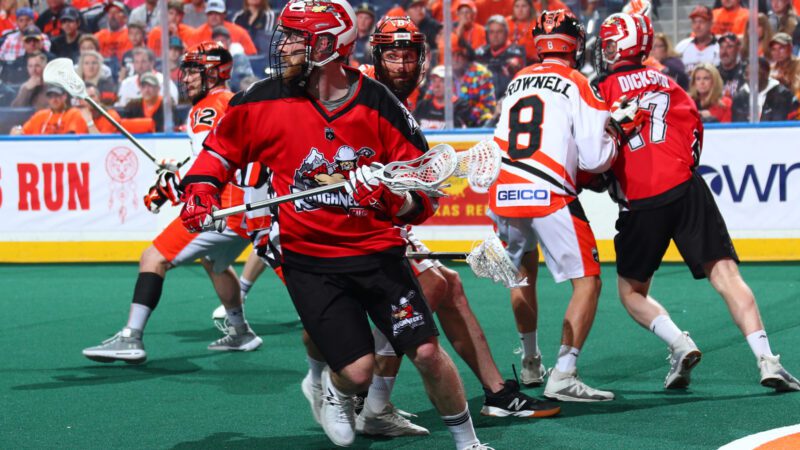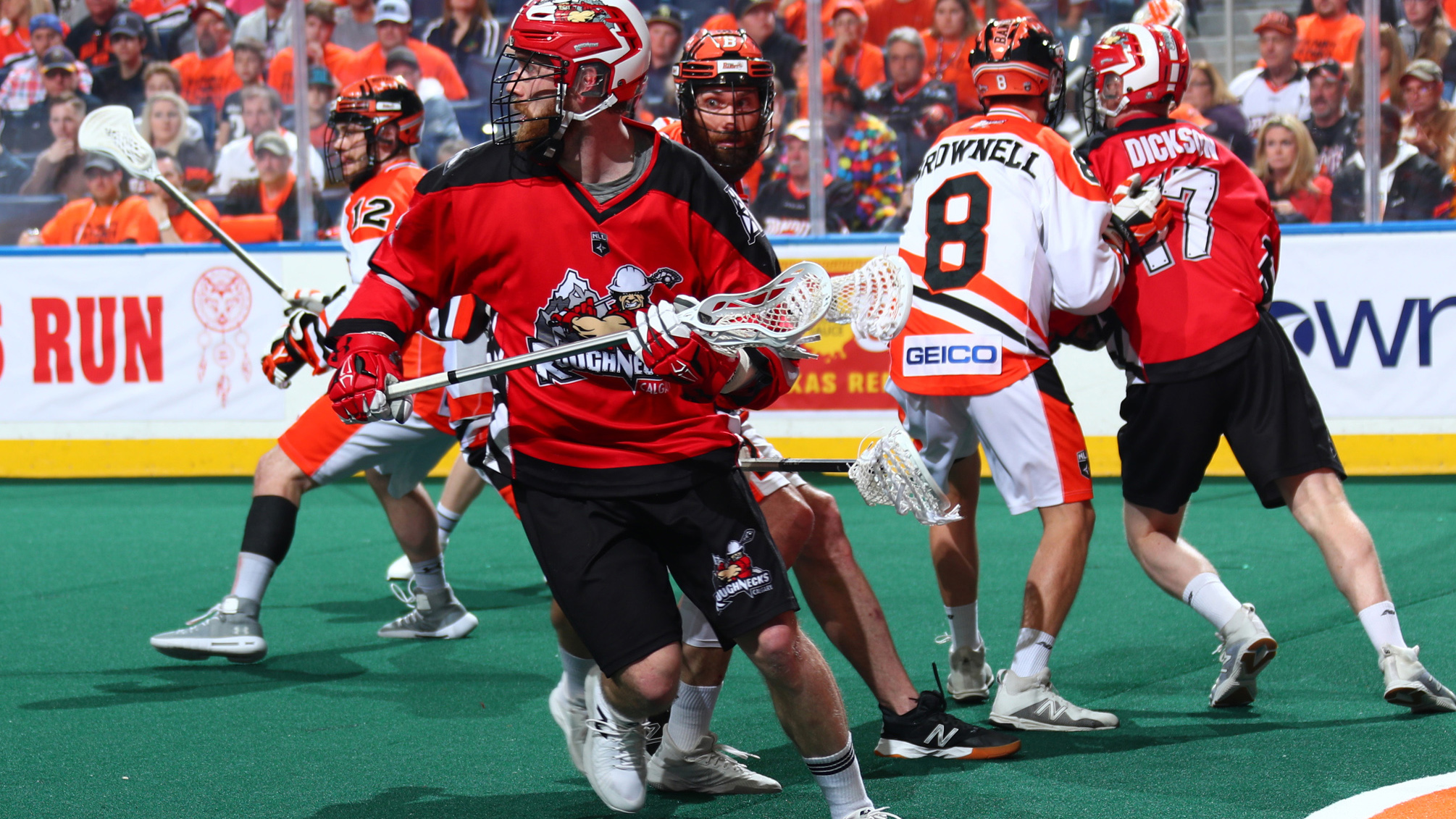 SERIES SCHEDULE:
Game 1: Roughnecks 10, Bandits 7
Game 2: May 25, 7:00 p.m. – Scotiabank Saddledome (Tickets)
x-Game 3: May 31, 6:00 p.m. – KeyBank Center
x-if necessary
LEADING PLAYOFF SCORERS:
Roughnecks:
Dane Dobbie (8-11: 19 pts.)
Curtis Dickson (7-6: 13)
Jesse King (5-6: 11)
Bandits:
Dhane Smith (4-10: 14)
Shawn Evans (6-7: 13)
Corey Small (7-3: 10)
SPECIAL TEAMS:
Powerplay:
Roughnecks – 64.3%
Bandits – 61.5%
Penalty-kill:
Roughnecks – 80%
Bandits – 61.5%
SETTIN' IT UP:
One more win.
That's all they need.
The Roughnecks put up another stellar defensive performance against the Bandits last Saturday at the KeyBank Center in Buffalo to win the first game of the best-of-three NLL Finals 10-7.
It was tight early on — tied at two at the end of the first half — but the lull in scoring was broken by Roughnecks' captain Dan MacRae in the third quarter.
The Riggers followed their captain's lead and scored six of the next seven goals in the contest, finding themselves with a 9-4 lead with just 10 minutes left in the game.
Buffalo tallied the next three to make it close before Mitch Wilde scored the empty-net dagger against his old team, putting the Riggers up by three with 1:26 to go.
With the victory, the Roughnecks halted the Bandits' winning streak at four games, while pushing their own streak to six.
The Roughnecks will be looking for more of the same going into Game 2 Saturday night at the Scotiabank Saddledome with a chance to clinch the championship. The Bandits will be trying to turn the tides and force a series-deciding Game 3 back in Buffalo May 31.
THIS, THAT, & THE OTHER:
THIS: Through three games this postseason, Riggers' goalie Christian Del Bianco has put up a playoff-leading and downright staggering .863 save percentage, allowing only 22 goals… THAT: MacRae scored his first career playoff goal on Saturday. Through his eight seasons in the playoffs, the defender has notched five assists — and now one goal — in 24 games… THE OTHER: Jesse King has scored the Roughnecks' last two game-winning-goals. His fourth-quarter tally in last weekend's game with Buffalo, as well as his third-quarter powerplay marker in the West Final, ended up being deciding factors in their respective games.