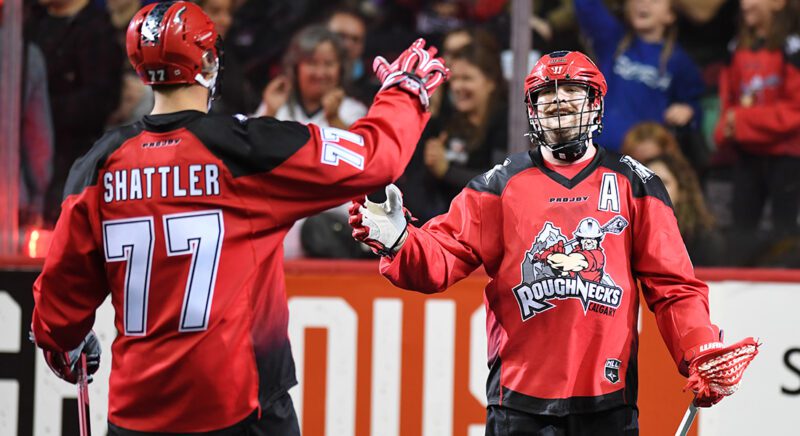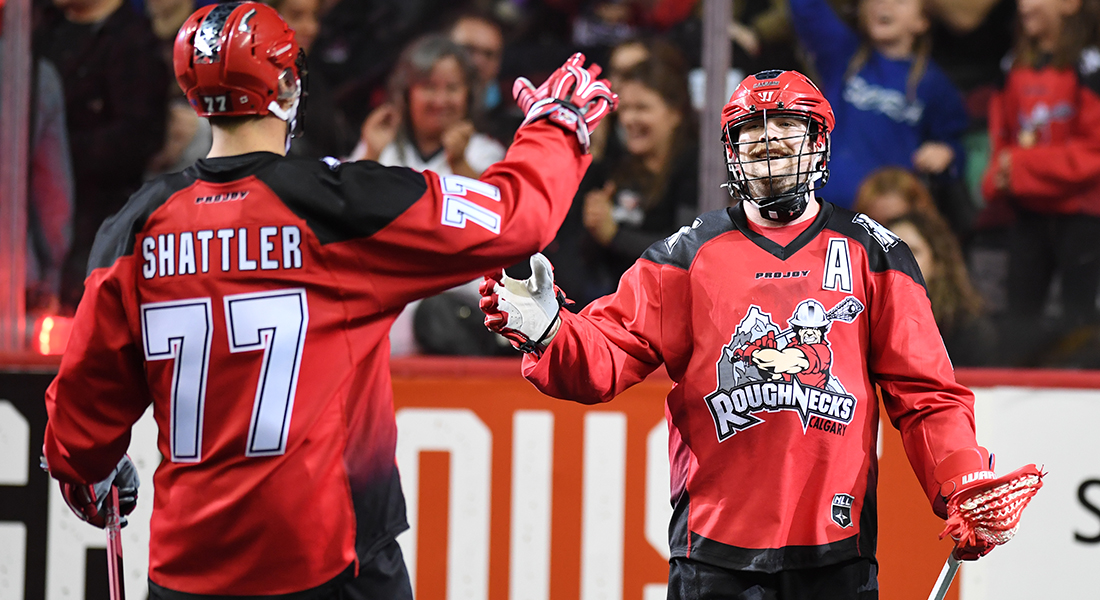 A new Roughnecks franchise scoring leader may be crowned on Saturday.
Dane Dobbie sits just three points back of the record set by former teammate Jeff Shattler, who owns the title with 685 points in the red and black.
The current scoring king would be thrilled to see his good friend pass him.
"I'll be super happy that he gets it," admitted Shattler. "He deserves it. He's a great player and he's one of the best players offensively, he's in the top 10. He's a guy who does whatever needs to be done and he sacrifices his body. He deserves an honour like that.
"We played a lot of years together and he put up a lot of numbers. To be a part of an organization and for him to still be part of it, he had a good run and I'm super happy for him."
Shattler left the Roughnecks this off-season after 11 seasons, 183 games played, 684 points, an MVP award, and a Champion's Cup. He made the decision to sign a free-agent contract with the Saskatchewan Rush.
Now, with his new team, Shattler will be making his first return to the Scotiabank Saddledome on Saturday.
So he'll have a front-row seat to watch as Dobbie tries to break his mark.
"[If Dobbie gets the record] I'll give him a big congratulations," said Shattler. "I'm looking forward to it. He's going to get it either way, so it's just a matter of when."
The 'when' could be as early as this Saturday.
Given Dobbie's career 3.2 points per game average this season, there's a great chance to complete the feat against Shattler and the Rush.
Shattler became the franchise's all-time points leader last year on Feb. 14, 2017 at the team's Star Wars Party. Interestingly, just under a year later, Dobbie can claim that same distinction on the same theme night.
Having played with Dobbie for 10 seasons in Calgary, the two stars formed one of the league's best two-man games. Together they combined for over 750 goals and 1,300 points on the Riggers left side.
"Playing with Dobbie, we had a lot of ups and downs, but playing together, I can't say enough about him," Shattler said. "Having the opportunity to play with him for so many years, he's a great teammate, a great player to play with and we had some great chemistry over the years."
Shattler also praised Dobbie's contributions off the floor.
"He's a heart-and-soul kind of guy," explained Shattler. "He gives everything he has to his team. What he's put into lacrosse over the years, he's a guy that you want to look up to. Kind of like Mouse (Riggers coach Curt Malawsky), Dobbie gives everything he has, he'll sacrifice his body and he has no fear, that's his biggest attribute playing lacrosse.
"The way he presents himself off the floor and on the floor, going in to the rink, his tenacity, he really gives everything he has, his heart and soul to the game. You can tell with the way that he talks that he commands people's respect and that's part of what makes him a great player. I thought he was a great leader and I looked up to him."