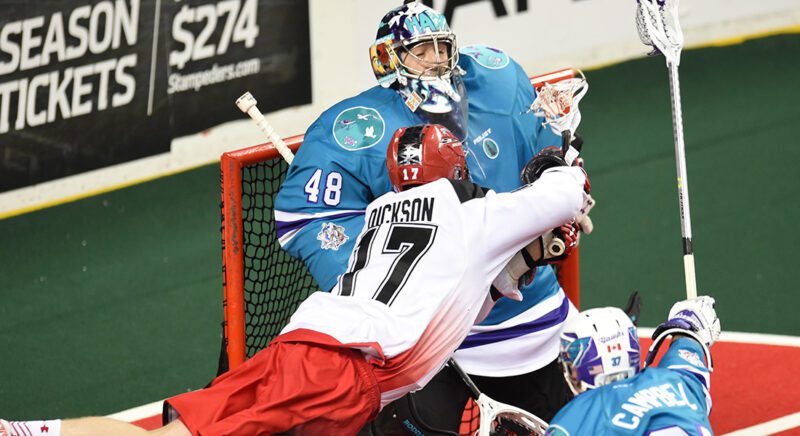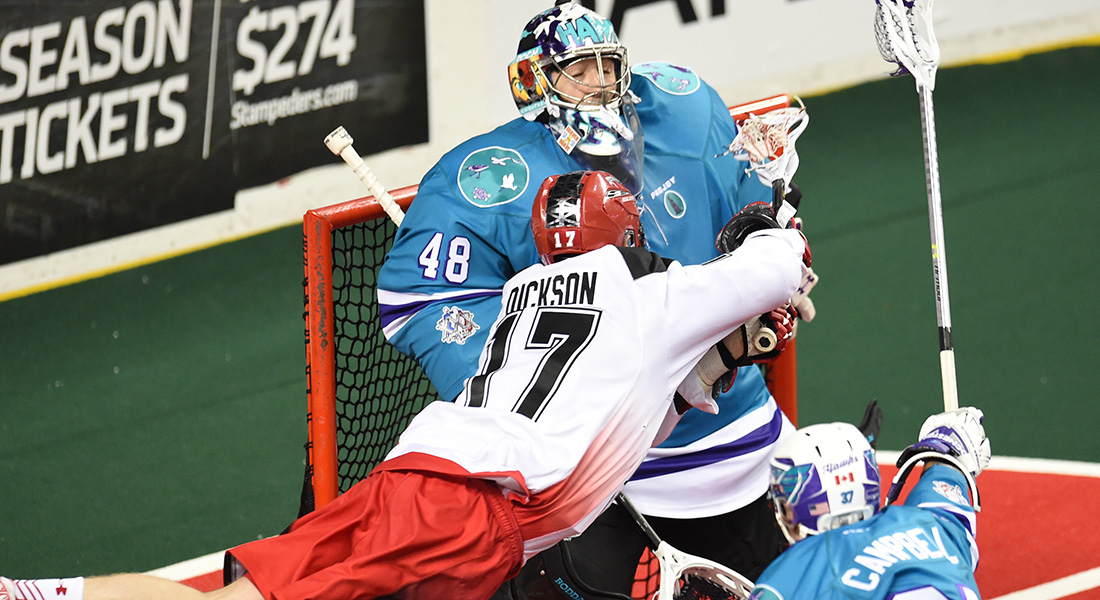 CALGARY ROUGHNECKS (0-0) vs. ROCHESTER KNIGHTHAWKS (0-0)
WHEN: Saturday, December 9, 2017 at 5:30 p.m. MT
WHERE: Blue Cross Arena
TV/RADIO: NLLTV.com
SERIES: 0-0
LAST MEETING: Calgary won, 11-9, in Rochester on April 1, 2017
The Roughnecks are road tripping to start the season, with the Rochester Knighthawks waiting for them in New York.
After a sub .500 season from both team's in 2017, these two squads will be looking to start things off right.
Rochester finished last season tied for last place with the Buffalo Bandits and were awarded the second overall selection in this year's draft, just a pick ahead of the Roughnecks. With the first of three first round picks, they selected Jake Withers, a defender and face-off specialist. They added right-handed forward Austin Shanks and left-handed forward Eric Fannell with the fourth and fifth overall selections, respectively.
The team's biggest move in free agency was to nab rough and tough defender Billy Dee Smith from the Bandits. Through trades, free agency, and roster cuts, some big names found their way out of Knighthawks territory. Defenders Jarrett Davis, Adam Bomberry, and Andrew Suitor are no longer with the purple and teal.
Adding a pair of forwards in the draft should only help Rochester's offence that put up a league-low 175 goals in 2017. That total put them 27 goals behind the next team lowest team and is an area they'll need to improve if they hope to get back into the playoff picture.
The last time these two team's met at the Blue Cross Arena, the Roughnecks beat the Knighthawks 11-9. With changes on both sides of the ball, which team will take the win on Saturday in the first game of the season?
STATISTICS:
| | | |
| --- | --- | --- |
| | ROUGHNECKS | KNIGHTHAWKS |
| Leading Scorer from 2017 | Curtis Dickson (54g, 53a) | Joe Resetarits (27g, 39a) |
| Leading Goaltender from 2017 | Frank Scigliano (12.00 GAA, .773 sv%) | Matt Vinc (11.37 GAA, .776 sv%) |
| 2017 Powerplay | 51% | 40.3% |
| 2017 Penalty Kill | 50% | 51.3% |
KEY PLAYERS TO WATCH:
CGY – Holden Cattoni
After a 48-goal summer with the Peterborough Lakers, Cattoni's stock has risen significantly heading into the 2017-18 NLL season. He'll immediately expect to see more touches as he and Riley Loewen look to fill the void left by Jeff Shattler. With coach Curt Malawsky giving him the green light to shoot this season, fans can expect to see a lot of Cattoni's cannon. Teammate's with Matt Vinc on the Lakers, Cattoni is familiar with the netminders tendencies, which could give the 23-year old an advantage heading into Saturday's contest.
ROC – Kyle Jackson
The Knighthawks also have a talented, young lefty worth keeping an eye on. Jackson enters his sophomore year in the NLL, a year after scoring 26 goals and 60 points and finishing the season as a finalist for the Rookie of the Year award. An athletic, skilled forward, Jackson can beat you from both the inside and the outside, so he'll command a lot of focus from the Roughnecks defenders. Keeping him in check will be important if the Riggers hope to earn a season-opting win.
KEYS TO THE GAME:
For the Roughnecks to come out of Rochester victorious, they'll need to find a way to beat to the Knighthawks stingy defence. Their defence allowed just 209 goals all of last season, the third fewest in the NLL. Backstopped by one the league's best in Matt Vinc and with big names such as Graeme Hossack and Billy Dee Smith in front of him, it's not going to be a walk in the park for the Riggers forwards. Calgary will need quick ball movement and great off-ball work to open up the space needed to get clean shots on net. With a fired up Knighthawks squad looking to perform in front of their fans on opening night, it's going to be a battle for every inch in the offensive zone.