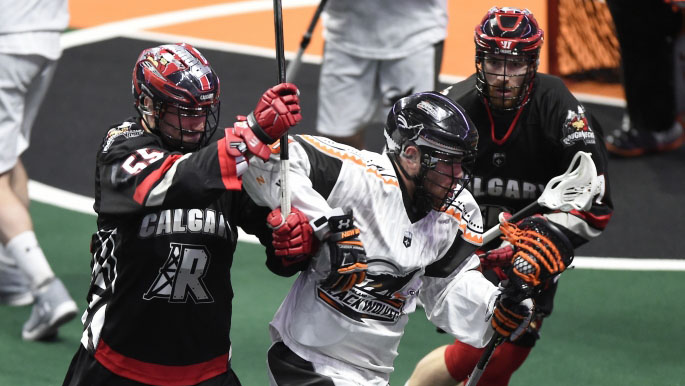 The boys are back in town.
The Roughnecks (3-1) hit the Scotiabank Saddledome floor this Saturday, taking on the New England Black Wolves (1-1) starting at 7 p.m.
After tearing it up in the West for three weeks, the Riggers face a new test with their first East Division opponent of the season.
"The eastern brand of lacrosse is different than the western brand," said head coach Curt Malawsky. "Watching film on New England they're strong – they're a strong defensive team with a good goaltender. I know the coach personally, they're very well coached, and they've got some dynamic players up front."
The Riggers are looking to keep their three-game win streak alive, the most recent an 11-8 victory over the Mammoth on Jan. 6 in Denver.
The Black Wolves have had a few weeks to rest after defeating the Saskatchewan Rush on Dec. 28.
"They beat the defending champions so we've got our hands more than full this weekend," Malawsky said. "We're going to prepare ourselves for the Black Wolves but our main focus will be on what we've done to this date."
In their last meeting, the Black Wolves beat the Roughnecks for the first time since 2015, edging the Riggers 13-12 in overtime on April 8, 2018.
This will be their only meeting this year.
"We only see New England maybe once a year," said defender Mike Carnegie. "Not seeing their tendencies year-in and year-out is the biggest challenge.
"You're back to just trusting in the systems and trusting in the game that you played and loved for the past twenty years."
Former Roughnecks forward Tyler Digby – who was traded for a fourth-round pick at the 2019 draft in July – is off to a hot start for the Black Wolves. He's already put up seven points (3g, 4a) in two games.
Along with Digby, containing Callum Crawford (5g, 7a) and Reilly O'Connor (7g, 4a) will also be a challenge this weekend.
It doesn't matter who's going to be playing to Carnegie, though. He's confident the Riggers can win against anyone in the NLL
"It comes down to who's going to work the hardest, because there's so much parity in this league," he said. "We just need to trust in what we're doing and what's made us successful this season.
"If we play our game we can win on any given night."