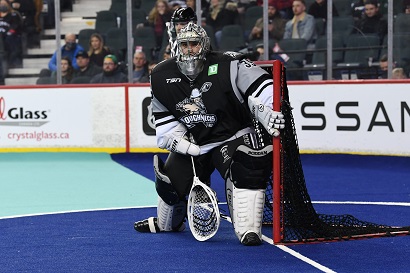 SETTIN' IT UP:
Welcome to Calgary, Panther City.
Roughnecks fans will get their first live look at the Panther City Lacrosse Club Saturday night when the Roughnecks host the expansion team at WestJet Field at ScotiaBank Saddledome (7 p.m. MTN, watch on tsn.ca/ESPN+)
PCLC had a tough start to the season but have won three in a row and are battling the Roughnecks and Vancouver for the third playoff spot in the West.
The Roughnecks head into Saturday's tilt 4-6 on the season and are coming off a huge 14-12 victory over the visiting Rush on Thursday. Calgary sits fourth in the West, one win back of Vancouver.
Panther City is currently 4-8 this season and fifth in the West, just one spot back of the Roughnecks due to games in hand. This one has huge playoff implications.
Saturday's battle will be the second of three clashes this season. Panther City will be back in Calgary April 9 to close out the season series.
2021-22 HEAD-TO-HEAD:
These two teams played in Fort Worth, Tex., earlier this season with the Roughnecks edging Panther City 13-12.
Tyler Pace dominated that game with three goals and eight points.
Christian Del Bianco made 38 saves in the win.
2021-22 SCORING LEADERS:
Roughnecks:
Jesse King – 53 pts. (13g, 40a)
Curtis Dickson – 31 pts. (17g, 14a)
Tyler Pace – 28 pts. (12g, 16a)
Panther City:
Patrick Dodds – 55 pts. (19g, 36a)
Will Malcom – 53 pts. (18g, 35a)
Phil Caputo – 34 pts. (22g, 12a)
2021-22 GOALTENDING HEAD-TO-HEAD
Christian Del Bianco:
GAA – 12.02
SV % – .759
Nick Damude:
GAA – 12.71
SV % – .744
THIS, THAT, & THE OTHER:
THIS: Jesse King is eight in the NLL in assists with less games played than most ahead of him. He has 40 and is just four back of second in the league.
THAT: CDB is up to 10 assists on the season after putting up four helpers on Thursday. He leads the league in that category.
THE OTHER: Panther City goalie Nick Damude is the only goalie to have scored this season.