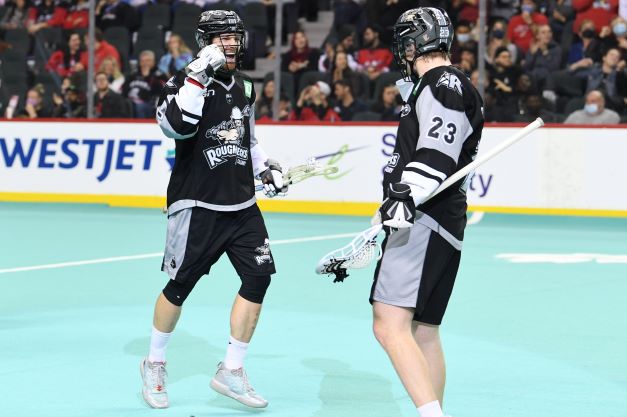 SETTIN' IT UP:
The Rush are back in town for the first time since 2019.
And with that, a bitter rivalry will be renewed Thursday night when the Roughnecks host the Saskatchewan Rush at WestJet Field at ScotiaBank Saddledome (7 p.m. MTN, watch on tsn.ca/ESPN+)
It really has been almost three years since the Rush last made a stop in Calgary. The Roughnecks haven't hosted Saskatchewan since April 20, 2019 due to the shortened and canceled seasons of the last two years.
It will be the second Alterna Cup matchup between the Riggers and the Rush. Calgary took out Sask 11-10 back on Dec. 11 in Saskatoon.
The Roughnecks head into Thursday's battle 3-6 on the season and are coming off a bye week and sit fourth in the West Division. The Rush have struggled to a 3-8 record this season, dropping a close 10-9 decision to the Seals last week. They currently sit last in the West.
Thursday's tilt will be the second of three clashes between these two this season with the final game coming March 26 in Saskatoon.
2021-22 HEAD-TO-HEAD:
As mentioned above, the Roughnecks won the only battle this season between these two teams, edging the homeside 11-10 back on Dec. 11. Jesse King led the way offensively (1G, 6A) while Haiden Dickson chipped in three goals.
CDB made 49 saves in the win and had an assist.
2021-22 SCORING LEADERS:
Roughnecks:
Jesse King – 46 pts. (10g, 37a)
Curtis Dickson – 25 pts. (16g, 9a)
Tyler Pace – 24 pts. (10g, 14a)
Rush:
Robert Church – 53 pts. (25g, 28a)
Mark Matthews – 53 pts. (19g, 34a)
Ryan Keenan – 38 pts. (9g, 29a)
2021-22 GOALTENDING HEAD-TO-HEAD
Christian Del Bianco:
GAA – 12.02
SV % – .753
Adam Shute:
GAA – 10.10
SV % – .759
THIS, THAT, & THE OTHER:
THIS: This will be the first St. Patrick's Day game since the 2019 season which saw the Riggers fall 11-9 to Colorado. The Roughnecks would only lose one more game that entire season on their way to the NLL title.
THAT:  The Roughnecks are 30-21 against the Rush all time, including a 12-10 record at the 'Dome.
THE OTHER: Look out for Jesse King who is just two assists away from 150 in his NLL career.