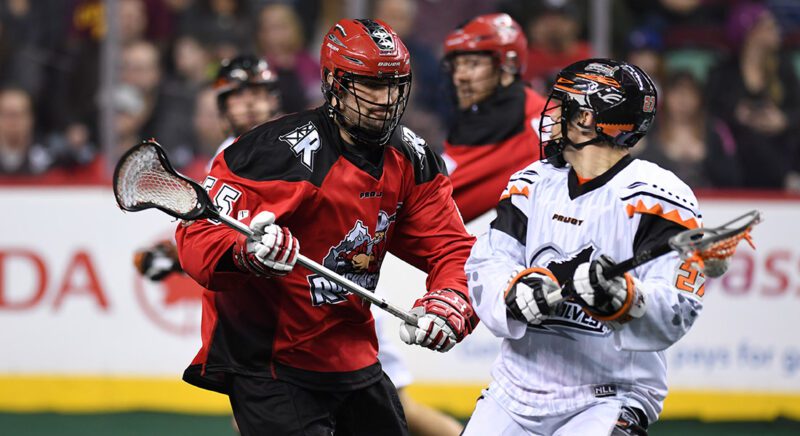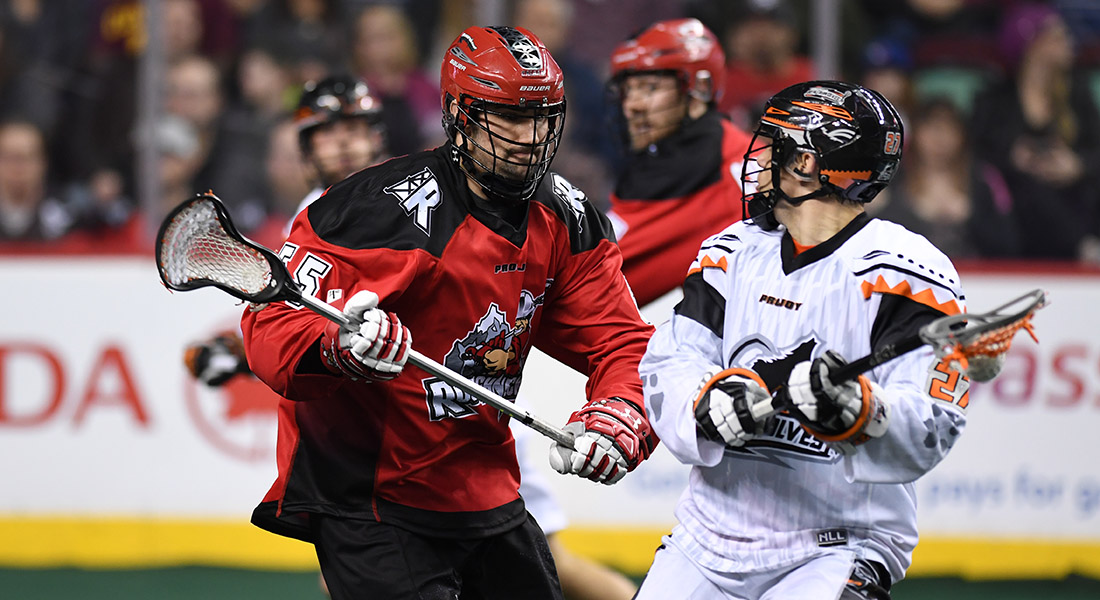 As they say, defence wins championships.
Conversely, if your defence is struggling your chances for success aren't very good.
Especially in the NLL.
So after a disappointing season where the Riggers missed the playoffs and stopping the opposition from scoring was one of the big reasons why, the club brass broke everything down this past off-season looking for ways to improve.
"We spent some time in the off-season, coach [Bob] McMahon ran a bunch of analytics," said coach Curt Malawsky. "We sat down as a group and we ascertained where we were getting beat.
"We felt that offences are now dictating where the defences are going. You're playing as a defence system and the offences are putting you into a spot where they want you and they're exposing you. There were certain areas where we certainly got exposed last year."
In 2017, the Roughnecks defence allowed 220 goals against, which placed them fifth among the league's nine teams.
That's an average of 12.22 goals per game, which puts a lot of pressure on the offence to score if you want to win night-in and night-out.
"You probably have the best record in the league if you keep them under 10 every night," stated Malawsky. "That is a tough target and it's probably team dependent. If you've got an offensive juggernaut like the Georgia Swarm coming in where it's really tough to keep that team under ten or there might be more of a defensive-minded team where you can target that. A lot of times in the NLL, your defensive game plan is based on your opponent.
"Last year we made some adjustments in game, we made some adjustments opponent to opponent and personnel to personnel. But when we're doing that, it could add some confusion if there's too much thinking for the d guys."
This season, the coaching staff has made some tweaks to the system they think will eliminate easy chances for their opponents. They're also hoping that the simplicity of their systematic rules will reduce the time players spend thinking of what they need to do in each situation.
"We're going to have a uniform system this year where we don't have to bounce around and our guys can get really good at that one thing," Malawsky said. "We won't have to take guys out of their comfort zone.
"Like anything, you try to simplify it and make it easier for them," explained Malawsky. "So what we've done is we've created some systematic rules where we take some of the thinking out and remove some of those high-percentage opportunities that the other teams were getting. That being said, when you put the defensive system in, you can potentially facilitate your transition off of it. That's what we were looking at. Stopping the goals from certain positions on the floor and then also, how can we facilitate the transition. We spent some time going through our system and we made some appropriate tweaks based on those two big factors."
The defence has many of the same players returning to the line-up, except for the recently traded Vaughn Harris and Scott Carnegie, who was released. To replace those players, the Riggers have added rookies Zach Currier, Anthony Kalinich, and Tyler Pace.
It's never a simple task to install a new system in just a few weeks of training camp, but the coaching staff is already seeing things come together with the success of the preview party exhibition game, where they held the Vancouver Stealth to just five goals.
Part of the reason for the success may be that the team has received insights from the players on how the defensive schemes should operate.
With their contributions to the decision-making process, all of the players have bought into the new system.
"We've been chatting with them and finding out how they feel and what they think of the new defensive system and it's been a real collaborative effort," said Malawsky. "You have the player buy into the system and we've always had that, the players have been nothing but respectful and understanding and trusting of what we're doing as a coaching staff. I think when you really let the players be invested in what you're trying to accomplish back there, they take an ownership of it. They all bought in, they all agreed to it, and they all had off-season chats before we even implemented it in training camp, so these guys have been a part of it and when they feel a part of it, that will translate well to us having good results on the floor."
Key Additions: Zach Currier, Anthony Kalinich, Tyler Pace
Key Losses: Vaughn Harris, Scott Carnegie