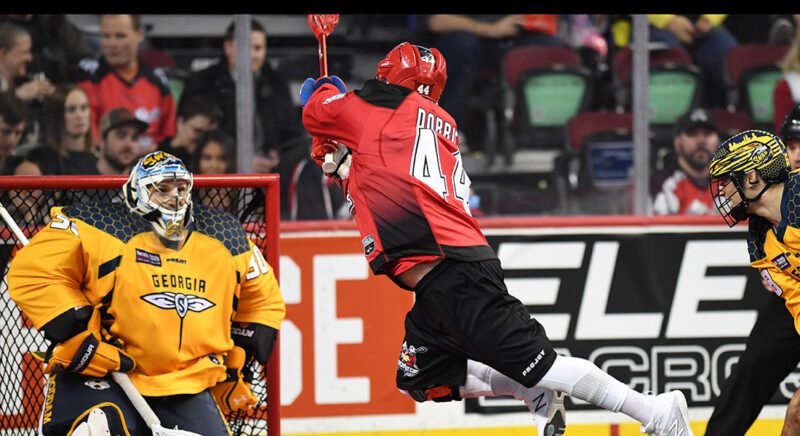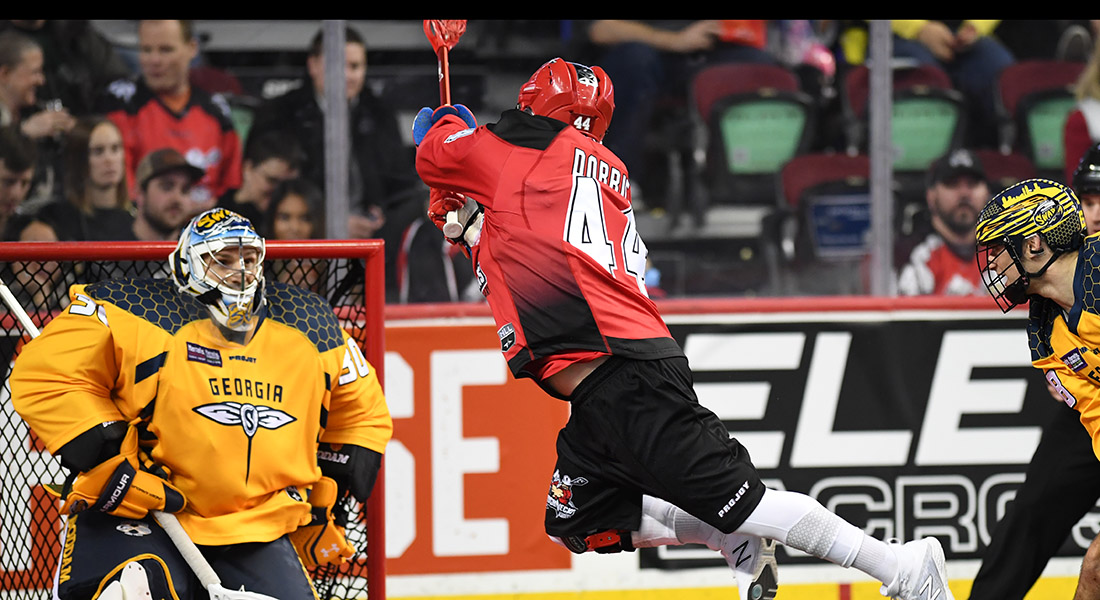 CALGARY ROUGHNECKS (1-3) vs. GEORGIA (1-3)
WHEN: Saturday, Jan. 13, 2017 at 7:00 p.m. MT
WHERE: Scotiabank Saddledome
TV/RADIO: NLLTV.com
SERIES: 0-0
LAST MEETING: Georgia won, 17-8, at the Infinite Energy Arena on March 17, 2017.
The Roughnecks return home this weekend after a 13-8 loss to the Bandits in Buffalo on Jan. 6.
Georgia, coming off of a 13-9 Champion's Cup rematch loss to the Saskatchewan Rush, will make the trip out west to face the Riggers this Saturday.
The two squads hold matching 1-3 records so far this season and both have their eyes set on earning an important win this weekend.
While the majority of the Swarm's 2017 Champion's Cup winning roster remains intact, they did lose the services of lefty Jordan Hall in the off-season. However, they brought back a top lefty in Jesse King, who returned from and ACL injury that kept him out last season. They also added transition players Zed Williams and Frank Brown through the draft.
One area of optimism for the Swarm has been their ability to avoid the penalty box. With just 25 penalty minutes so far this season, they have the second fewest in the NLL and 19 less than the Roughnecks.
With neither team firing on all cylinders, Saturday could become a battle of effort. All of the loose ball battles, the face-offs, and the hustle up and down the floor could be the difference between a win and a loss.
STATISTICS:
| | | |
| --- | --- | --- |
| | Roughnecks | Swarm |
| Leading Scorer | Curtis Dickson (7g, 6a) | Lyle Thompson (7g, 14a) |
| Leading Goaltender | Frank Scigliano (13.27 GAA, .773 sv%) | Mike Poulin (12.50 GAA, .757 sv%) |
| 2017/18 Powerplay | 38.9% | 29.4% |
| 2017/18 Penalty Kill | 57.9% | 60.0% |
KEY PLAYERS TO WATCH:
CGY – Dane Dobbie
Dobbie is fresh off of a two-goal performance against this Bandits and is looking to keep upping his offensive production. He'll have a tough go against the defending champions and their talented netminder — and former Roughneck — Mike Poulin. Then again, in the same situation last year, Dobbie went off against his old teammate for seven goals and four assists in a win over the Swarm on March 4.
GA – Lyle Thompson
Last season's Most Valuable Player just keeps on filling the net. Through the first four games of the year, Thompson has 21 points, which puts him in the top-10 for scoring. A dynamic player by himself, he is extremely tough because of the great chemistry he's formed with his brother Miles Thompson and Randy Staats on the right side of the Swarm's offence. Keep an eye on this elite point producer come Saturday night.
KEYS TO THE GAME:
With the Thompson Brothers and Staats on one side, Shayne Jackson, Jesse King, and Johnny Powless on the other, it's not an easy task to stop the Georgia offence. It will take a complete effort from Frank Scigliano and the Roughnecks defence to slow this unit. It's almost impossible to stop this offence, but if the Riggers defence plays to their strengths and don't make many mistakes, they can make life difficult for one of the league's top units.