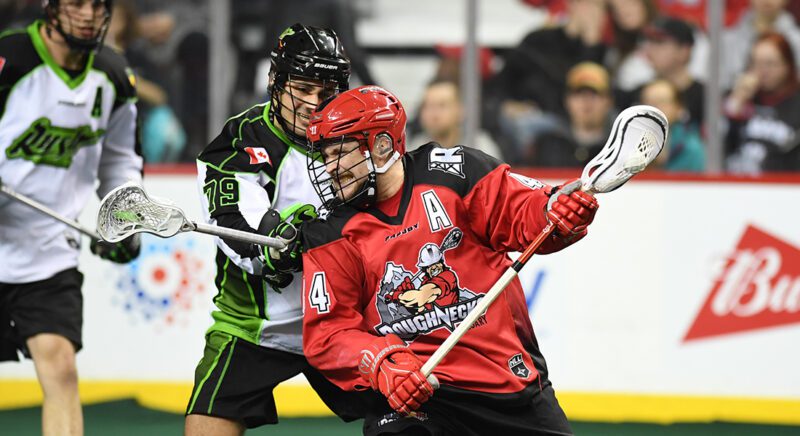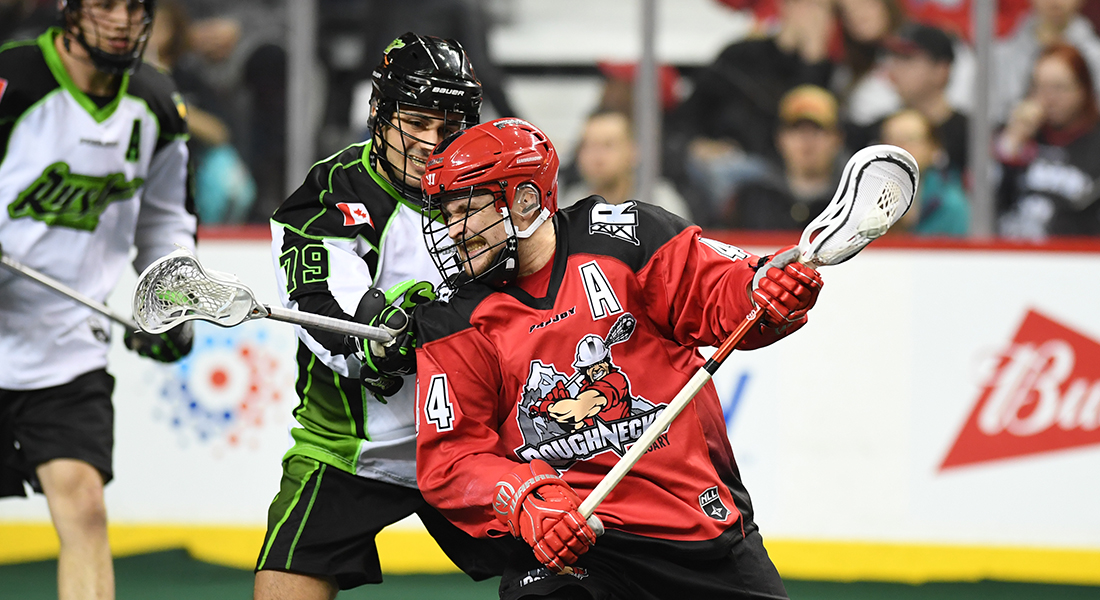 CALGARY ROUGHNECKS (1-4) vs. SASKATCHEWAN RUSH (4-1)
WHEN: Saturday, Jan. 27, 2017 at 7:00 p.m. MT
WHERE: Scotiabank Saddledome
TV/RADIO: NLLTV.com
SERIES: 0-0
LAST MEETING: Calgary won, 14-7, at the Scotiabank Saddledome on April 29, 2017.
The bye week is over and the Roughnecks are ready to get back to work.
First up on the to-do list: beating their archi-rivals, the Saskatchewan Rush.
Saskatchewan is coming off a loss to the Buffalo Bandits on Jan. 19, in which they relinquished a six-goal lead on home turf and lost in overtime on a goal by Pat Saunders.
They'll be looking to get back on track when they come to Calgary for the first of three match-ups this season.
In the off-season, the Rush made some big moves, signing former Roughneck Jeff Shattler in free agency, trading away left-handed forward Adam Jones to the Toronto Rock, and trading goaltender Aaron Bold to the New England Black Wolves for netminder Evan Kirk.
Those changes have paid dividends so far, helping them to a West Division leading 4-1 record, three games ahead of the Roughnecks.
STATISTICS:
| | | |
| --- | --- | --- |
| | Roughnecks | Rush |
| Leading Scorer | Curtis Dickson (8g, 9a) | Mark Matthews (11g, 25a) |
| Leading Goaltender | Frank Scigliano (14.03 GAA, .760 sv%) | Evan Kirk (11.33 GAA, .765 sv%) |
| 2017/18 Powerplay | 40.9% | 66.7% |
| 2017/18 Penalty Kill | 57.1% | 52.2% |
KEY PLAYERS TO WATCH:
CGY – Wesley Berg
Coming off of a four-goal game against the Georgia Swarm on Jan. 13, Berg is playing his best lacrosse of the season. He was one of the Roughnecks most consistent forwards against the Rush last year, scoring nine times and adding 13 assists in four games against the divisional foe. Look for him to be active in the offensive zone for the Riggers.
SAS – Ben McIntosh
The younger brother of Roughnecks defender Garrett McIntosh, Ben has become a goal-scoring force in the NLL. He currently sits atop the league with 16 markers in just five games. In four games against Calgary last season, McIntosh scored seven goals and five assists, helping his team win three of the four games.
KEYS TO THE GAME:
Saskatchewan's offence is rolling early on this season. They lead the league with 86 goals through five games, averaging 17.2 tallies per game. The Roughnecks haven't scored more than 15 in a game yet this season, so finding a way to slow the potent Rush offence will be a major key in Saturday's contest. It won't be easy, as the Rush boast players such as Mark Matthews, Robert Church, and McIntosh, but the Riggers managed to contain them to just seven goals in the season finale last year.