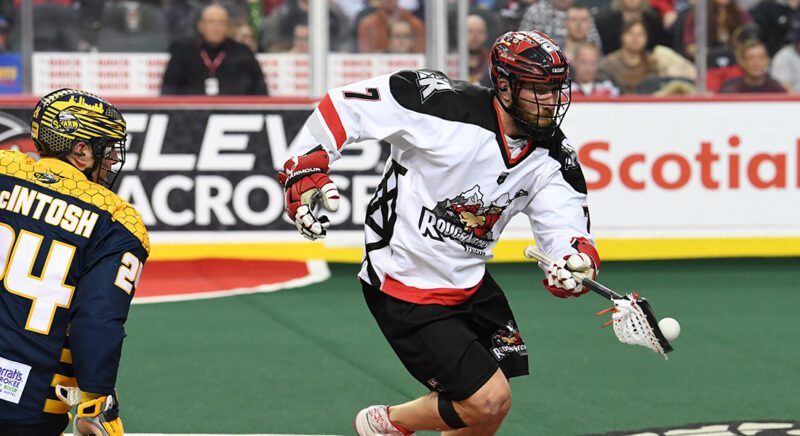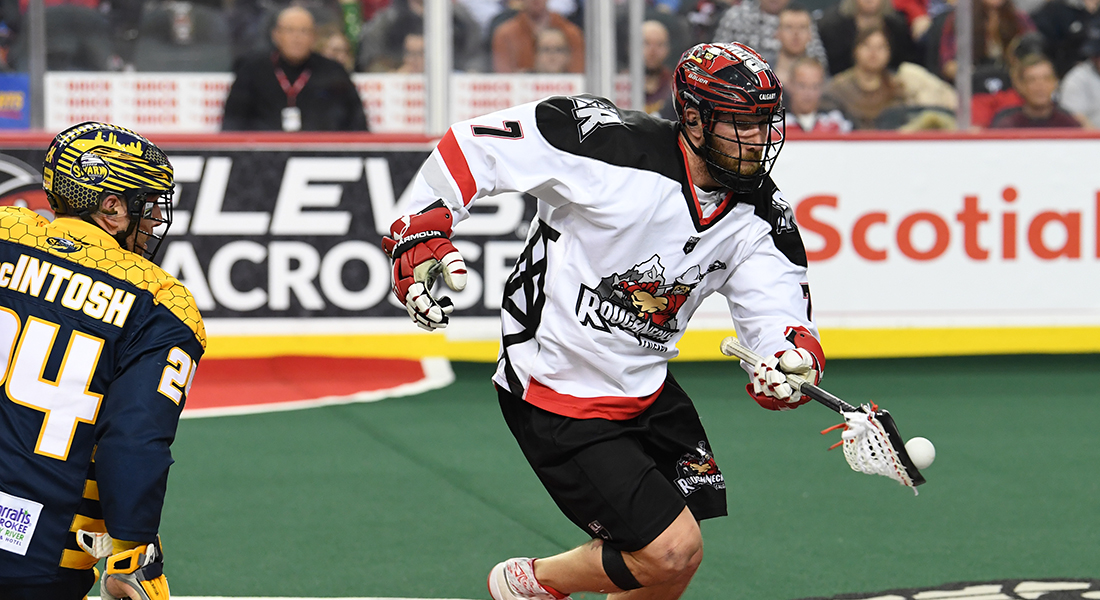 If you find yourself taking a faceoff against Tyler Burton, you're probably going to lose.
The 29-year-old defender, now in his third season with the Riggers, sits first in the NLL in faceoff percentage among players that have taken more than 20 draws this season.
After missing the team's season-opener against Rochester, Burton has won 58 of his 87 draws over four matches this season, gaining ball possession for his team at a remarkable 66.7% rate. He'll look to improve upon that mark on Jan. 27, when the Rigger take on the Saskatchewan Rush at the Scotiabank Saddledome.
Rochester rookie Jake Withers (67-102, 65.7%) and Toronto's Brad Kri (61-99, 61.6%) are the only other players that come close to touching Burton's dominance in the dot.
The win percentage may show up only in his statline, but Burton insists it's been earned by committee.
"I haven't really read into the stats so much this year because of how good the guys around me are," said the native of London, Ont. "Even if I lose a faceoff while I'm in the dot, those guys are able to pick up ground balls and get the win for me."
While different players rely on different techniques to win a faceoff, with some placing emphasis on speed, timing and visual queues from the referee's body language, Burton's approach to the draw is fairly straightforward.
"I'm more of just a power guy, I try to scrum things up," he said with a chuckle. "My first thing is defence, so if I'm not allowing (the opposition) to get a fast break, that's a win for me. And just getting the ball into places where we can have guys there to pick it up or at least make it a 50/50 ball, that's a win for me, too."
That rough-and-tumble style carries over to his play outside the dot, where Burton plays a physical, defensively-minded game.
"Tyler's hard-working, he's probably one of the hardest-working guys on our team," said fellow Rigger Bob Snider. "He gets the guys fired up with a big hit or a big play, not necessarily a flashy player but definitely a blue-collar, hard-working guy and that's sometimes what you need at this level, is that guts and that hard-working play to get the guys fired up."
Snider and Burton have handled the lion's share of faceoff duties for the Roughnecks over the past three seasons, and often discuss tactics and techniques during practices and training sessions.
"He's eager to learn, I think he's hard on himself at times, he's still learning some things; watching him compete, he's always asking questions," said Snider, who won 11 of 14 draws (78.6%) in Calgary's Dec. 15 win over Vancouver before being sidelined with an injury. "What I respect and appreciate about him is he's constantly learning and eager to get better and grow."
The next challenge for Burton and his Roughnecks comes on Saturday, when he'll face Jeremy Thompson, one of the premier face-off men in the league.
"It's kind of a back-against-the-wall game, that's the way we're thinking of it," said Burton. "I think every guy in our dressing room is going to be playing with a little bit more."