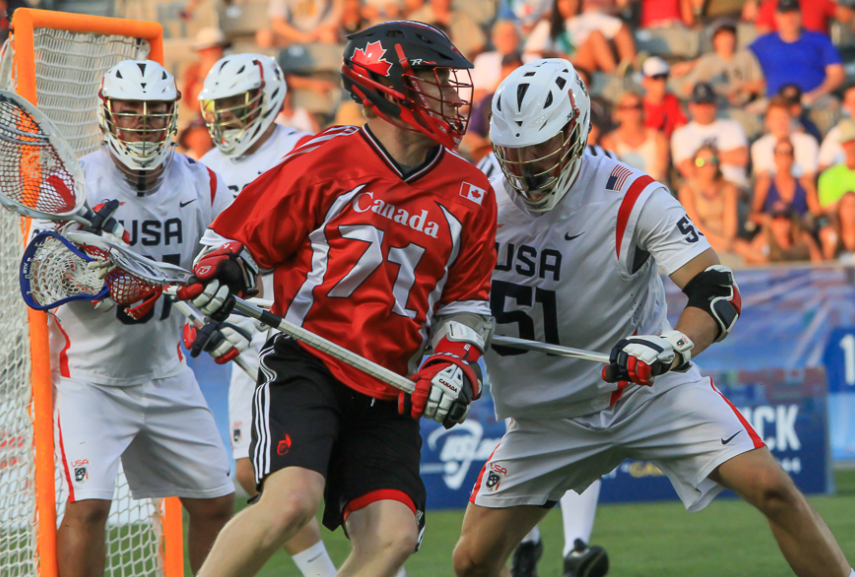 It's a feeling that never gets old.
Roughnecks Forward Curtis Dickson, along with three other Riggers and one alumnus (Tyson Bell, Zach Currier, Wesley Berg, and Geoff Snider) will represent Canada in Netanya, Israel, for the 2018 FIL World Lacrosse Championships.
Canada opens the field-lacrosse tournament, which runs through July 21, Friday against England.
It will be Dickson's third opportunity to don the Maple Leaf on the world stage – but he anticipates the experience will feel just like his first time.
"I'm still going to get those same butterflies," said Dickson. "I'm going to have that same excitement stepping on the field the first time, it's going to be awesome.
"Any opportunity you have to represent your country at the highest stage is a huge honour."
Dickson has been a contributor to two separate gold medals for Canada in his career. He played on the national team at the 2014 FIL World Lacrosse Championships, when the national team took gold after defeating the U.S. in Denver.
In 2015, Dickson also played in the FIL World Indoor Championships in Syracuse – where Team Canada won their fourth indoor title.
"It was incredible," Dickson described the 2014 championship. "Getting to go play on the U.S. soil, it was my first taste of international lacrosse, and a lot of my family got to be there, it wasn't too far from home.
"It's an experience like nothing else."
It's also a lacrosse tournament like nothing else, as the world lacrosse champhionship features 48 countries from six continents.
"It's very interesting to see, it's totally different," Dickson explained. "The international field game is not like anything I've ever played in the pro leagues.
"We played against team Japan in 2014, and those guys are nearly impossible to keep up with. Our defence was pretty gassed because those guys are so quick, and they're in such good shape.
"It's just cool how lacrosse varies from country-to-country, seeing the different playing styles, and you get to experience that and play against it."