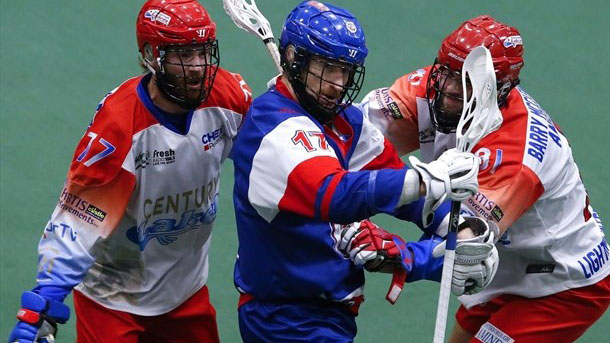 Photo courtesy: Clifford Skarstedt/Peterborough Examiner.
The Lake Show is 2-0.
The Eastern champion Peterborough Lakers are in the driver's seat of the the best-of-seven Mann Cup final after back-to-back home victories over B.C.'s Maple Ridge Burrards this past weekend.
It was a close opening to the series Friday, with the Lakers squeaking by the Burrards 14-13 in double overtime.
Roughnecks on both sides of the floor had great nights in Game 1 – Holden Cattoni recorded one goal and an assist, and Zach Currier tallied three helpers for the Lakers.
On the western squad, Curtis Dickson notched a hat-trick and seven points, Dan Taylor notched two goals and six points, Mitch Wilde finished with a goal and an assist, and Riley Loewen tallied three helpers for the Burrards.
In Game 2 Saturday, however, it was a much different story, as the Lakers defeated the Burrards 10-1. It was a big game for Cattoni, who led the Lakers in scoring (3+1). Taylor was the lone Roughneck to earn points on the Burrards' side, with one assist.
Game 3 gets underway tonight in Peterborough, starting at 6 p.m. MT.