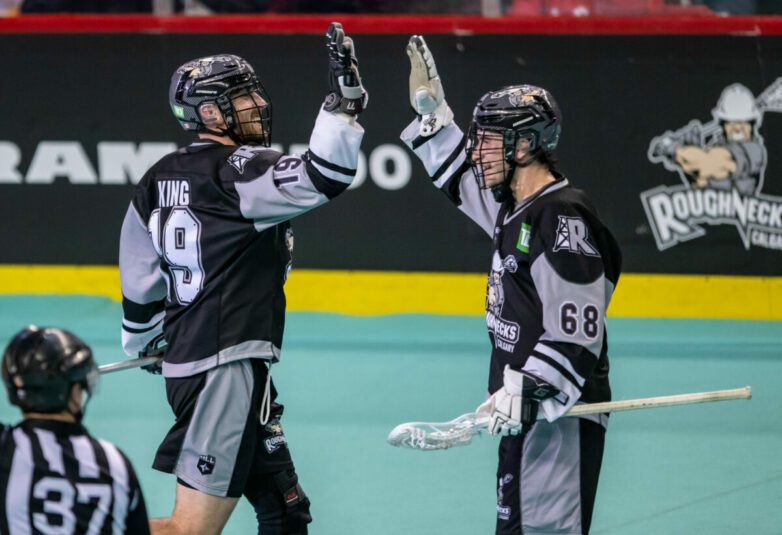 By: Riley Pollock – 20-01-23
The Riggers are back in action Jan. 28 at the Rough House against the Toronto Rock TICKETS. After five games, they sit at 3-2 and will look to build off a big win against San Diego last weekend. During this bye-week, let's dive deeper into the team's numbers so far this season.
1) The amount of goals needed for the newest Roughneck, Josh Currier, to get to 100 in his career. Currier had one goal and four assists in his Riggers debut against San Diego.
2.6) Riggers captain Jesse King is averaging 2.6 goals per game so far this season. He set a career high with 29 last season and is on pace to blow well past that. If he continues on this trajectory he will finish around 47 goals this year.
8) Christian Del Bianco has eight assists so far. His career high is 17 set last season, while the NLL record for a goalie is 23. He is on pace to clear 28 assists this year.
8) That's the number of defence/transition players that have scored for the Riggers this season, the most in the NLL. Shane Simpson leads the way with eight goals, which is the second most goals on the team behind Jesse King.
199) CDB has made 199 saves this season which is tied for the most in the NLL. Stretched over the 18 game season that would be on pace for 716 saves which is the exact number he made when the Roughnecks won the Championship in 2019.
Now you're caught up on the numbers for the Riggers through five games this season.