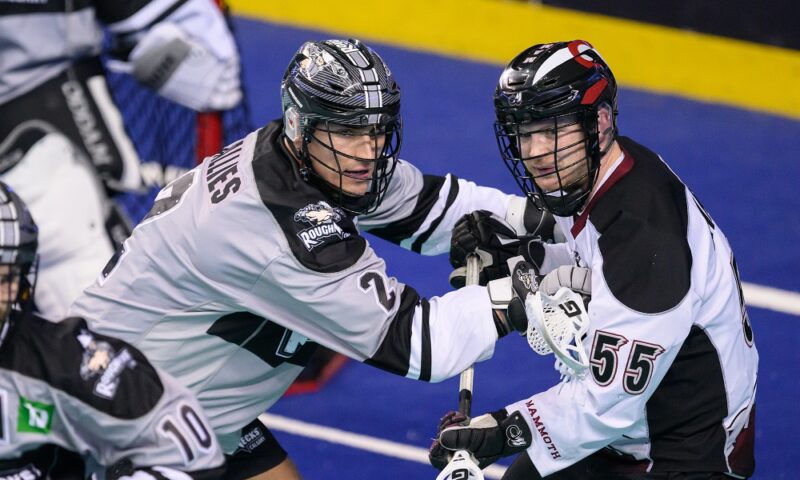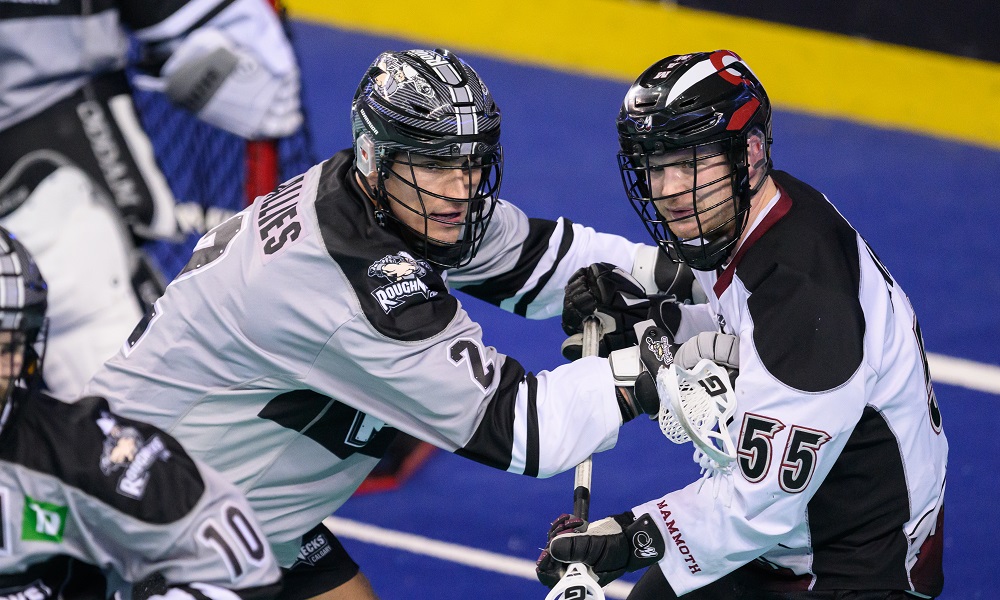 By: Riley Pollock – 21-02-23
Domination.
Likely the best way to describe the Roughnecks backend so far this campaign.
The team has given up more than 12 goals just once and sit second in the league in goals-against-per-game averaging just 9.6.
Roughnecks defender Reece Callies said the key has been consistency, on a night-in, night-out basis.
"Just being able to stay the course and play our game and presenting that every night regardless of our opponent, I think that's something we can pride ourselves on," said Callies. "It's showing. Regardless of who we're playing, (our effort) is something we've been able to hang our hat on every night."
The Roughnecks are backstopped by arguably the league MVP so far this season in Christian Del Bianco. He sits first in save percentage and second in goals-against average. He also has 16 assists, which are by far the most in the NLL.
Callies says playing in front of him always makes things easier.
"As a defensive core all of our consensus is that our job is a little bit easier every night when we've got Christian Del Bianco between the pipes," he explained. "It definitely gives us a little bit of an ease of mind. But, ultimately, it's a group effort so us being able to present him the shots that he's most comfortable seeing every night has been a key to our success."
The Roughnecks have been extremely physical with opposing forwards but don't get involved in many after the whistle scrums and have yet to have a fight this year. Callies said that being disciplined is something the group talks about.
"It's always one of our core values," he said. "I think we're most valuable when every single guy in our lineup is able to play and be involved in the game, so the best we can do is put the freshest five guys out there and if we aren't having to worry about guys in the penalty box it definitely keeps our systems in order."
The club has dealt with some injuries on the back end with Shane Simpson, Ethan Ticehurst and, most recently, Jeff Cornwall missing games, However, rookie defenders such as Seth Van Schepen and Kieran McKay have stepped up when called upon.
Finding young guys through the draft to fill important roles is something Callies said they've always been good at doing.
"I think that's one of the best parts of the Calgary Roughnecks organization, year-in and year-out," he said. "Once upon a time that was me; it feels like it was yesterday but it's not, it's been a little while.
"The moment the opportunity arises they step up and relish the moment. That's been a huge driving part of our team because even if you look at last year and the year prior we've had these young guys step in, in various moments and sometimes they've never left the lineup again."
Sitting at an impressive 7-3 so far this season, the team has likely turned a few heads in the league.
"We maybe weren't talked about as much as we are now," he said. "But that maybe let us fly under the radar a little bit and ultimately we've just come together as a group even more even with the roster movement in our lineup."
The Roughnecks will look to stymie the expansion Las Vegas Desert Dogs on Friday when they battle with their new Western Conference rivals for the first time. Game time from Vegas is 8:30 p.m. on TSN.