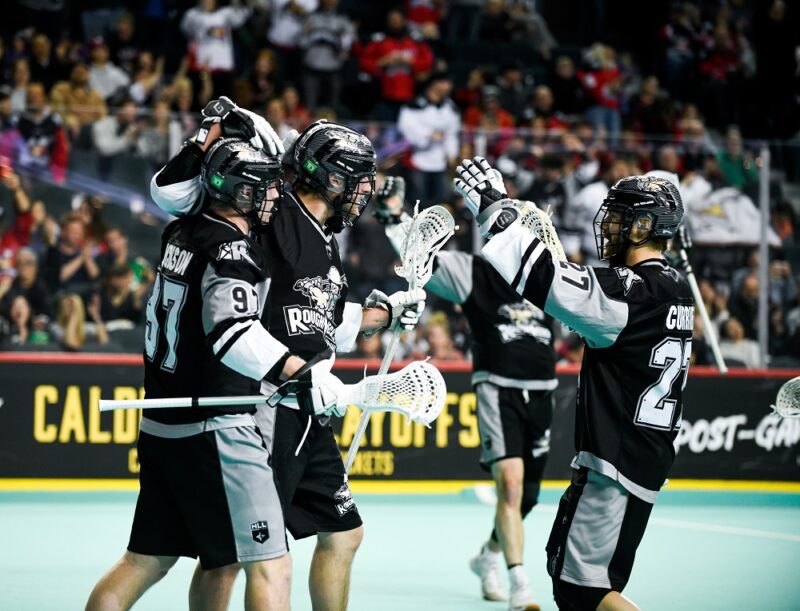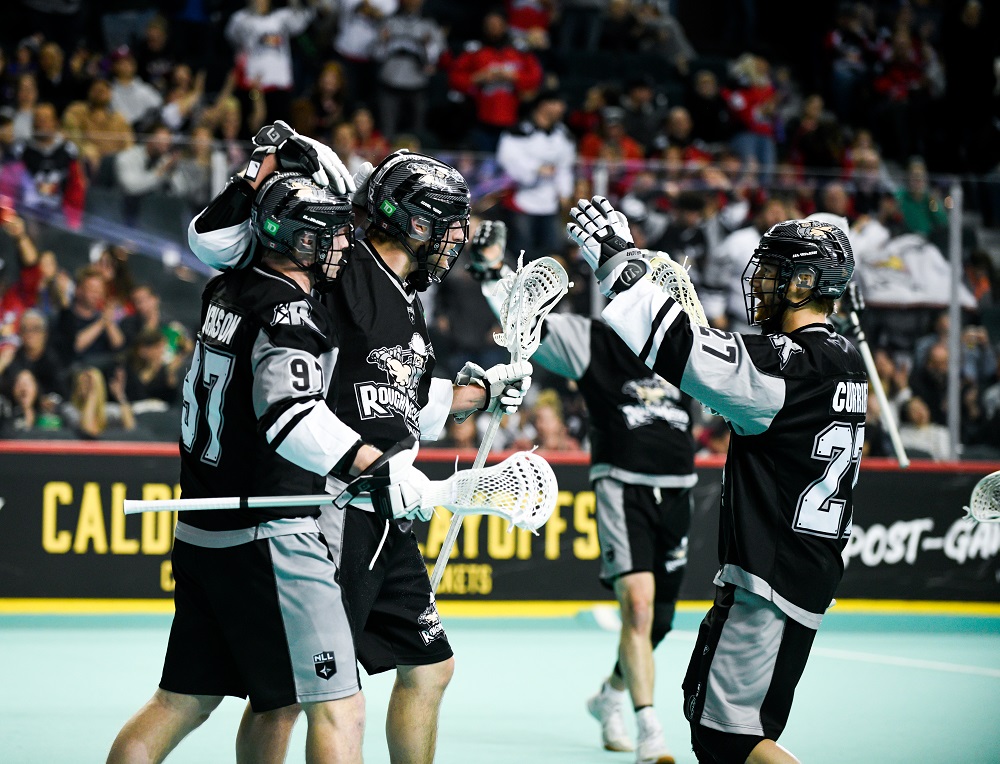 By: Laurence Heinen – 14-04-23
The Roughnecks exacted a measure of revenge against the Desert Dogs on Friday in front of 12,998 jubilant fans at the Rough House.
Jesse King scored two goals and added five assists to lead the Roughnecks (12-5) a 12-7 triumph over the visitors from Las Vegas on WestJet Field at the Scotiabank Saddledome.
The victory helped the Riggers avenge an 11-9 setback they suffered to the expansion squad at the Michelob Ultra Arena in Las Vegas on Feb. 24.
Tanner Cook also had two goals to go with four helpers and his big night gave him 100 points for his young NLL career.
Goalie Christian Del Bianco finished with 31 saves to backstop the 'Necks to the win.
After the Dogs opened the scoring three minutes into the game, the Riggers responded with goals by Cook and Jeff Cornwall to take a 2-1 lead through one quarter of play. Haiden Dickson and King tallied goals early in the second to build Calgary's lead up to 4-1.
The visitors then tallied a pair of quick markers to pull within one before Josh Currier scored a clutch goal with 0.5 seconds left on the clock in the first half to put the Riggers up 5-3.
Shane Simpson and Eli Salama notched a pair of transition goals early in the second half, while Tyler Pace scored back-to-back goals 2:12 apart late in the third quarter to extend the home side's lead to 9-6.
Kyle Waters, Cook and King got in on the action with goals in the final frame as the Riggers ran to their second straight win and fifth in their past six contests.
COACH'S COMMENT
"We had the bad taste in our mouth from when (the Desert Dogs) beat us down at their place – we went in the tank – and then last year (current Las Vegas goalie) Joel Watson shut us down in Rochester. So we remember all that stuff and our guys are competitors – they don't want to take their foot off the gas, so it was a good message for our guys to see how we could battle back from that. It's another learning step for us, and it was good."
"I don't look at a lot of stats. So we'll play in the moment. We haven't looked at the scoreboard and the standings all year long. I think that's been the secret to our success. We play in five-minute segments and grind them out. You're going to have good segments, and you're going to have bad segments. We're going to go down there (to Texas to play Panther City Lacrosse Club), we're going to be prepared, and we're going to play hard and we're going to play 60 minutes and see how we make out in the end."
BY THE NUMBERS:
Jesse King 2g, 5a
Tanner Cook 2g, 4a
Tyler Pace 2g, 1a
Josh Currier 1g, 3a
Jeff Cornwall 1g, 1a
Kyle Waters 1g
Shane Simpson 1g
Haiden Dickson 1g
Eli Salama 1g
Christian Del Bianco 31 saves
SAY WHAT:
"We were just having fun. One time Nickelback came on and those are my guys. It got me a little fired up there and I put the ball in the net, so it was good." – Tanner Cook
"We knew that we came out and we kind of sh#* the bed there in Vegas, so we knew we had to come out and make it at least an even series, so that's the best we could do and we did it." – Cook
"It's a big game for us. We want to keep the momentum going into the playoffs here. We always come out and try to do our best out there. We got a little sloppy at times, but it's a great win for us." – Seth Van Schepen
NEXT UP:
The Riggers will head out on the road for the final time in the regular season to face Panther City Lacrosse Club next Friday (6:30 p.m. MT) at Dickies Arena in Fort Worth, Texas.