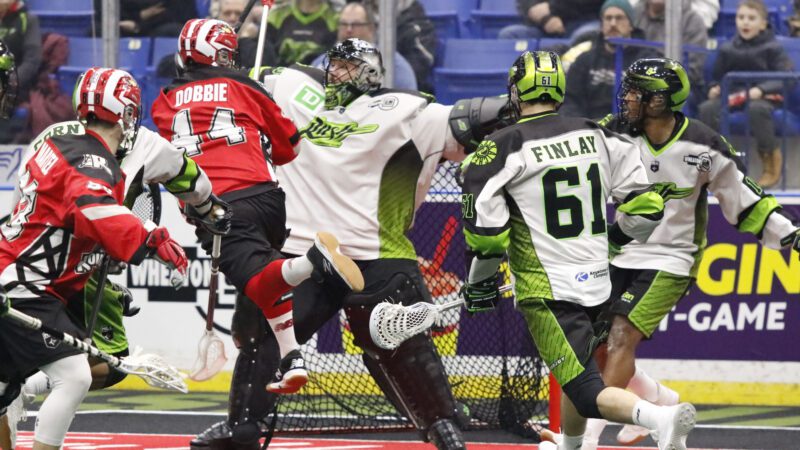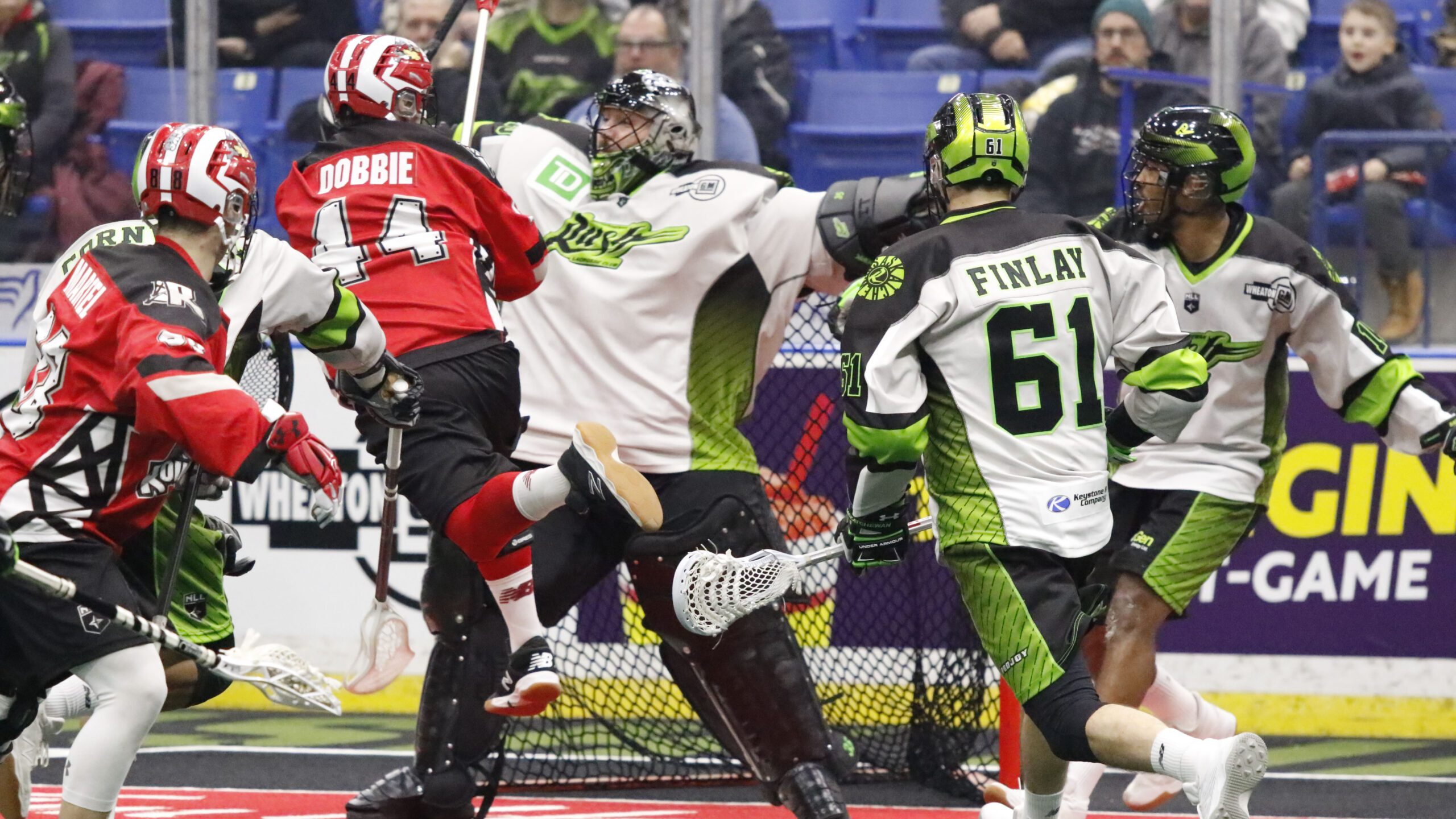 SASKATOON – It was a monumental win.
The Roughnecks rallied back after a tough start to defeat the Saskatchewan Rush 17-12 at the SaskTel Centre, their first ever win in Saskatoon and first win over the defending champs since April 29, 2017.
"Of course it's awesome, that's the first time we've beaten this guys in a meaningful game in a long time," admitted star forward Curtis Dickson. "There was a lot on the line tonight. That was a game for first place in the west and we haven't been this high in the standings at this point in the season in a long time. It's nice to win one of these – I don't want to say must-win – but that a huge game for us."
"We knew that we hadn't won here, obviously," echoed coach Curt Malawsky.
"We were tired of it."
Dickson (4g, 7a) had his best game offensively this season, while Dane Dobbie (4g, 6a) dropped a ten-spot on the board – his most productive outing of the campaign.
Tyler Pace (4g, 3a), Rhys Duch (4a), Mitch Wilde (1g, 2a), and Zach Currier (3a) were the other top contributors on the evening.
"You know what?" queried Malawsky. "Curtis Dickson is a special player. We'll always have Dickson's back. His best interest is always team-first, no matter what. We know that, we know what he's like in the room, the organization knows what he's like, and the fans know it. He went out and did his job tonight and did it really well."
The Riggers weren't solid out of the gate, allowing the Rush to take a 5-2 lead after fifteen minutes.
Dan Taylor (1g), Dickson, and Dobbie strung together three goals to tie the game at five in the opening five minutes of the second quarter and would finish the half tied at seven.
"We emphasized before the game that we didn't want to have a slow start, but unfortunately it happened," said Dickson. "We wanted to weather the storm and stop the bleeding and I thought we did a good job of that. We played really well in the third and fourth quarters, obviously. It was a good 50+ minutes of lacrosse tonight, so that's promising."
The Riggers then dialed up a sensational second half.
Things began to click on both ends of the floor and the team was able rack up a season-high seventeen goals.
"We played lights out," said Dickson of the offence. "We got out to a slow start there, but after the first half of the first quarter, it was the best lacrosse I've played in a long time, so it's promising moving forward for sure."
"They got one late in the third quarter, maybe their first goal of the quarter and I know you don't want to give up a goal in the first or last minute of the quarter, but they were great," Malawsky said of his defence. "When something slips up in the backend, Delbs is there to bail us out. Our defensive guys did a good job on their offensive guys, and they didn't make it easy for them. We played well as a unit and I thought our communication instilled that trust in each other. It was a really nice job out of the backend by our D guys."
Dobbie, the Roughnecks franchise leader in points, set the bar even higher as he eclipsed the 800-point plateau on an assist of Tyler Pace's third-quarter tally.
"I don't know what else you can say about the guy," Dickson laughed. "He's something special. He's a treat to watch and to play with out there. He's been doing it for the eight-and-a-half years that I've been here and at the rate that he's going; he could probably do it for another ten years. He's our leader out there and he picked us up tonight. We go off of him, so it was nice to see him up the numbers he did and the numbers as a whole."
"His stats speak for themselves," stated Malawsky. "His game-winning goals and his clutch goals speak for themselves, but the one thing that stands out for me is his leadership. People don't realize how much of a competitor he is, how important it is to win, how selfless he is. That's the thing I'll always remember Dane Dobbie for is his selflessness and his leadership amongst the young guys. He's a big, big part of this group."