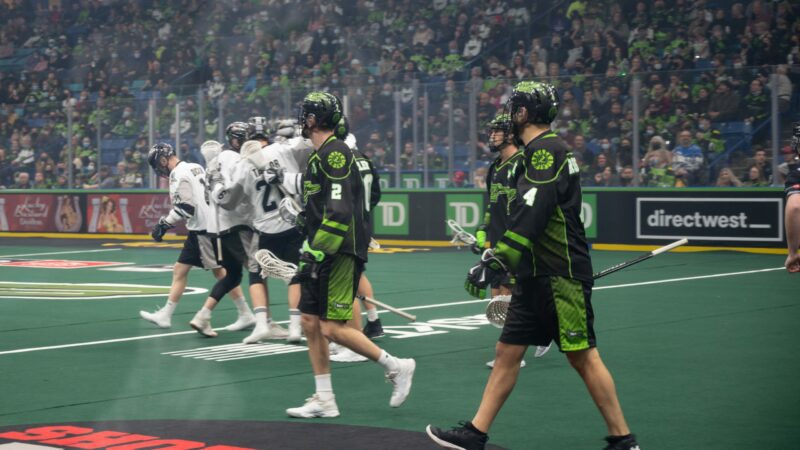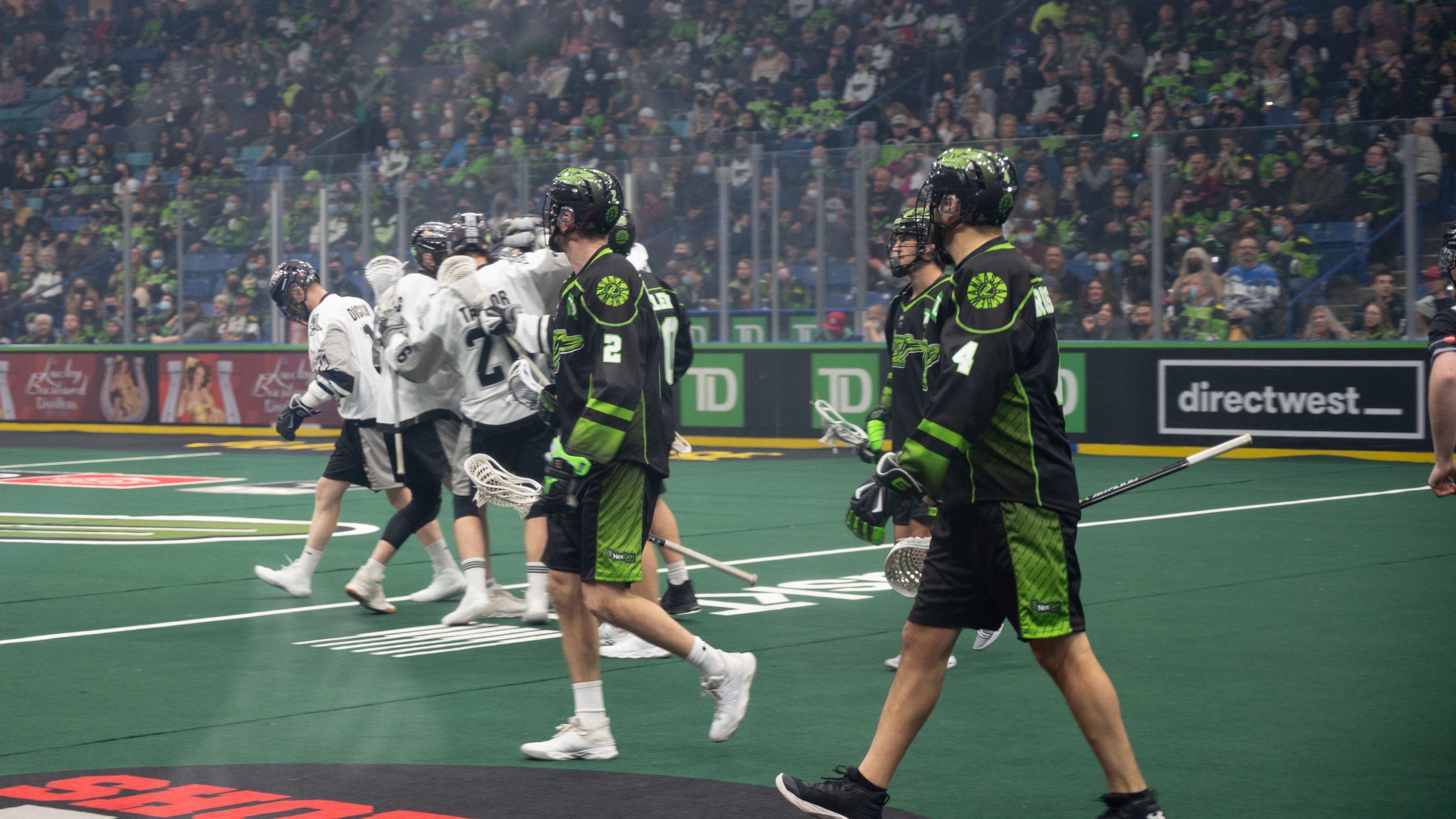 Saturday night's Battle of the Prairies lived up to the hype, and Roughnecks came out on top with an 11-10 victory over the Rush at the SaskTel Centre.
It was a back and forth game that started with three goals from Calgary, shortly matched by three in a row from Saskatchewan. Roughnecks controlled the pace in the first quarter, keeping the Rush off the scoreboard until 5:21. The youngsters were the stars of the first with goals from Tyler Pace, Tanner Cook, Haiden Dickson and Zach Currier.
In the second, we saw two goals from each side both teams scoring on the power play. But Robert Church would trigger a teddy bear toss just over three minutes in. With that we would head into the second half tied 6-6.
Bring out the spotlight because the second half was Del Bianco's half. With the Rush outshooting the Roughnecks, Del Bianco had to be on his toes and it showed. Liam LeClair opened up the third with his first NLL goal and Haiden Dickson notched a hat-trick.
Calgary started the 4th up by two, but Saskatchewan came out hot with goals from Josh Currier and Jeff Shattler tying the game 10-10, causing everyone to scoot a little closer to the edge of their seats. It would be Zach Herreweyers from Jesse King and Tanner Cook that would secure the win for the Roughnecks, ending the game with a score of 11-10.
The Roughnecks are now 1-1 on the season and the Rush are 0-2.
COACHES CORNER:
"You know late in that game they got it close, they tied it up and it was a battle but you know… for a moment there we kind of sat back and played on our heels and they were dictating and it was time for us to turn it around. We weren't going to bed tonight whining about what happened and what we could have done, we stepped up and the boys stepped up in a big way, made a difference and clutched up at the end."
BY THE NUMBERS:
Haiden Dickson, 3g, 4 shots
Curtis Manning, 1g, 1 shot
Tanner Cook, 1g, 2a, 4 shots
Curtis Dickson, 2a, 7 shots
Jesse King, 1g, 6a, 6 shots
Shane Simpson, 3a, 3 shots
Liam LeClair, 1g, 1 shot
Dan Taylor, 2a, 4 shots
Tyler Pace, 2g, 1a, 4 shots
Zach Herreweyers, 1g, 1 shot
Zach Currier, 1g, 1 shot
Reece Callies, 1a
Christian Del Bianco, 49 saves
SAY WHAT:
"I think I just played it honest, there's times where certain guys got a couple goals right and rather than guessing I just stuck to what makes me good and saw the ball and reacted. Some nights you do everything right and it goes great, some nights you do everything right and it goes bad and there's other nights the opposite way around. So I think just doing everything that you can to stick to your game and not kind of go out of your bubble to try to make stuff happen." – Christian Del Bianco
"It feels amazing, definitely a team effort out there, all the guys just gave it their all, we wanted a big win and came out on top." – Haiden Dickson
UP NEXT:
The Roughnecks are now headed home to Calgary, playing host to the San Diego Seals for their Home Opener presented by TD Bank Friday, December 17th. Game time is 7:00 PM, TD will be putting on a special half-time show and the game will feature a number of Indigenous artists.