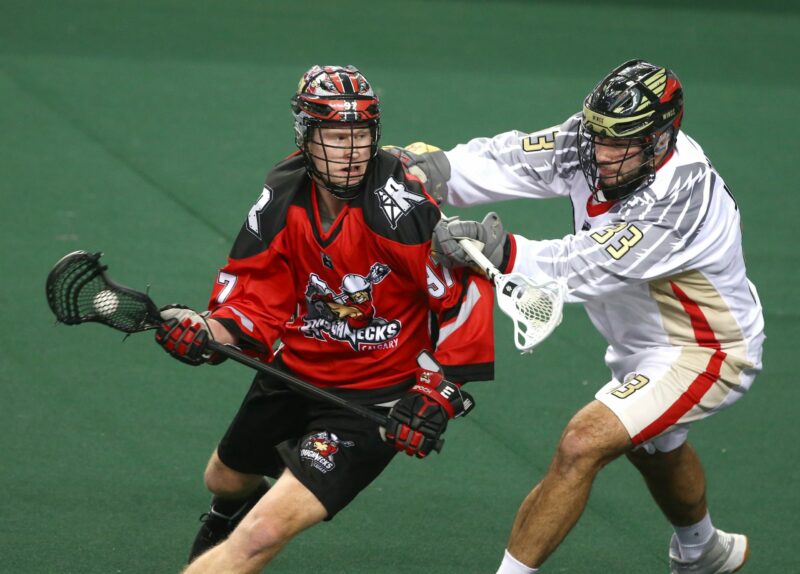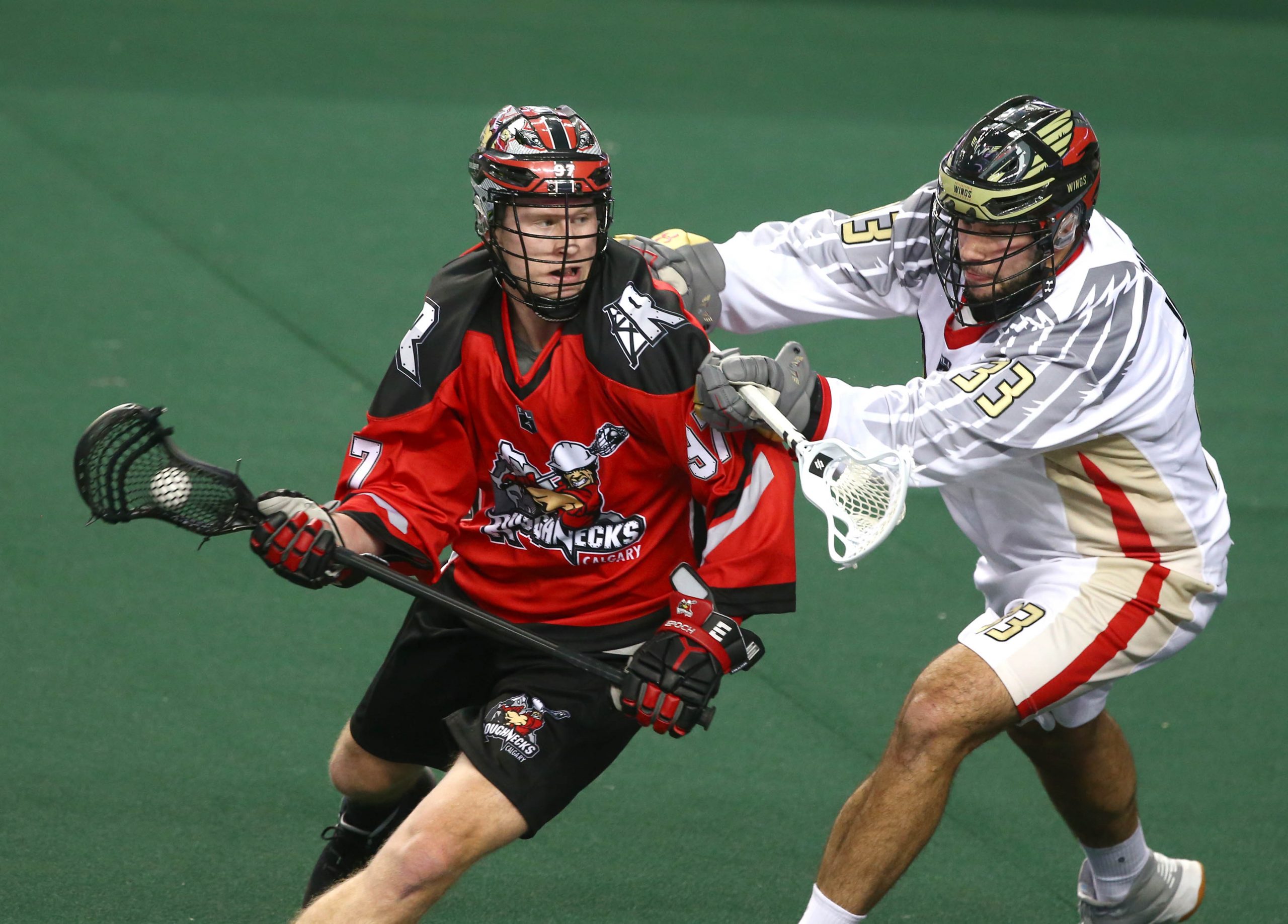 No excuses.
That was the message from the Roughneck players and coaching staff following their heart-breaking 8-7 loss in front of 11,352 fans at the Scotiabank Saddledome on Saturday night.
Despite holding leads of 4-3, 5-4 and 6-5, the Roughnecks (2-2) fell 8-7 to the visiting Philadelphia Wings (1-1), who were propelled to the win thanks to Matt Rambo's second goal of the game with just 1.8 seconds left on the clock.
Following an emotional 16-11 road win over the San Diego Seals one night earlier, the Riggers travelled back to Calgary on Saturday and only arrived to the Dome half an hour before warm-ups.
After scoring twice to surpass the 400-goal plateau in San Diego, Curtis Dickson kept up his hot hand with a hat trick and an assist in a losing cause against the Wings.
The Riggers fell behind 3-1 early in the first quarter, before Dan Taylor, Dickson and Mitch Wilde fired consecutive goals to give the 'Necks their first lead of the game.
After the visitors evened the score late in the opening frame, Dickson scored the lone goal of the second quarter to give the home side a 5-4 advantage heading into the half-time intermission.
The low-scoring affair continued in the third quarter as Kevin Crowley scored for the Wings before Dickson completed his hat trick to put the Riggers back up 6-5.
The visitors then scored the next two goals before Taylor scored his second of the game to give the 'Necks hope.
Rambo eventually counted his second of the contest to dash those dreams of a second straight win for the Riggers.
COACH'S CORNER:
"I thought Mike Board and the Calgary Roughneck organization did one heck of a job in negotiating our travel. That's not an easy trip to play back-to-back, but then when you've got to cross the border, it's very difficult and then we were able to move the time here (back to an 8:15 p.m. start). I'm not sure why we got a two-minute penalty to start the game when everyone knew that the game was going to start a little later, so that was a weird one. It is what it is. It just seems that sometimes things are stacked up against us. You've just got to battle through. It builds character, it builds adversity."
"Was it a tough weekend? Yeah. Did it build a lot of character in that room? Absolutely. We've had a lot of adversity over the first four games of the season. You need that to build a good identity. You need that to build a real good foundation. We're a different team than we were last year, so it's nice to have some adversity and have to battle through it and get hardened up for the rest of the way."
"I thought it was (Tyson Bell's) best game as a Roughneck really. I said it was his best game in years and it might be his best game. He played up front, he played on the back end, he scored a huge goal, tons of loose balls. It was inspiring to see how he played. I've talked to him about giving a little bit more and man, that's the Tyson Bell that we drafted and that's the Tyson Bell that the fans love when he comes out of that tunnel. That's the way that he should play. If he can model that and bottle that, that would be a big bonus for us Roughnecks. Knowing the man that he is, I'm sure we'll get more of that this year."
BY THE NUMBERS:
Curtis Dickson – 3g, 1a, 17 shots
Dan Taylor – 2g, 1a, 10 shots
Tyson Bell – 1g, 1a, 13 loose balls.
Mitch Wilde – 1g
Zach Currier – 1a, 14 loose balls
Marshal King – 3a
Christian Del Bianco – 47 saves
SAY WHAT:
"It was tough. It wasn't easy – flight this afternoon at one o'clock and getting here half an hour before (warm-up), it sucked, but we're going to put it all past us and we're going to focus on the next coming games." – Tyson Bell
"I'm going to remember that and I'm going to take it over this break here and improve. It can only get better from here." – Bell in regards to Malawsky's comment that it was his best game as a Roughneck
"There's always things you can take away from the game. I thought the effort was definitely there and coach mentioned that at the end of the game. There was no give up. The guys played the full 60 and that's tough to do. Execution, especially on the offensive end, we've got to be better and I think we know that and we can't have hot games like last night and then cold games like tonight. We've got to keep it consistent." – Dan Taylor
NEXT UP:
The Roughnecks now have a two-week bye before traveling to Rochester on Jan. 18 to face the Knighthawks, one of the 2019 expansion teams. The next home game is Jan. 25 when Calgary hosts the new-market Halifax Thunderbirds. It's an East Coast Kitchen Party with a 'kiss the cod' station and the Nova Scotiables performing live at halftime.